The first sign of winter and monsoon is the perfect indicator to get a storm door for your house. Storm doors might seem like an unnecessary investment, but the protection these doors provide during lousy weather is genuinely remarkable.
As a homeowner, it's easy to get overwhelmed by the number of brands if you are on the market for a storm door. So, here I will compare two of the most popular storm door manufacturers, LARSON and Pella.
At the end of the discussion, you should get a directive about which brand you should go for.
Quick Comparison Between The Two Storm Doors
Take a quick look at the table below to learn about the critical differences between LARSON and Pella.
| | | |
| --- | --- | --- |
| Specifications | LARSON Doors | Pella Doors |
| Material | Steel and wood | Aluminum |
| View Type | Full-View, Mid-View, High-View | Full-View, Mid-View |
| Screen type | Versatile options | Limited |
| Insulation | Tempered, Low-E, Single Glazed | Tempered and Low-E |
| Design | Excellent | Decent |
| Warranty | 5 years to a lifetime | 20 years |
| Cost | More expensive | Less expensive |
Key Differences Between LARSON And Pella Storm Doors

Now that you have some primary idea about the difference let's head into the details. I have discussed the differences in various aspects below.
A storm door needs durability and insulation to offer protection against bad weather. Now, different materials have different durability and insulation.
So, choosing a suitable material is very important. LARSON storm doors are made of either steel or wood.
On the other hand, Pella storm doors are made from steel. Steel is much more durable than aluminum, but it's not excellent against corrosion. Also, the wood adds variety to LARSON storm doors.
Storm doors have different views with various screens and glass panels. There are three basic view types for storm doors, full view, mid view, and top view.
Lucky for customers, LARSON storm doors come in all three variants. A complete view door will allow the light to enter your house and allow you to enjoy the view outside.
Then, the mid-view doors create the perfect balance of incoming light and durability.
Lastly, if you are serious about durability and withstanding heavy traffic is your goal, then you should opt for high-view storm doors. Contrary to LARSON, Pella only offers a complete view and mid-view storm doors.
The screen might not be integral to the performance of the storm door. But if you happen to use one with a door before, you should know how useful door screens are. The screen allows the user to control the view and enjoy the outdoors.
In this case, Pella only offers interchangeable and retractable screens with their storm doors. On the other hand, LARSON has types of screens, retractable, interchangeable, fixed, and self-storing.
So, more options from LARSON give you more freedom to get something according to your preference.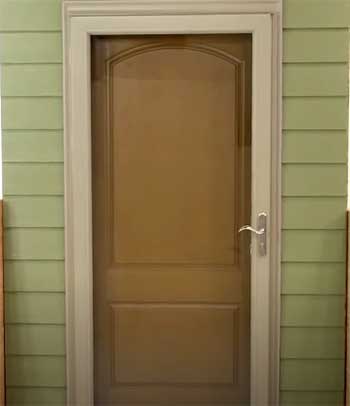 Insulation is one of the key objectives of installing storm doors.
So, you must ensure your door has the proper glass insulation to fulfill that objective.
LARSON offers Low-E, tempered, and single-glazed glasses with their storm doors.
Low-E means low emission, with a cote of metal oxide on the glass to contain the heat inside.
Tempered glass is mostly about strength.
Lastly, single-glazed is not a good option due to its condensation issues and heat loss.
On the other hand, Pella storm doors only offer tempered and Low-E glasses.
Storm doors are all about protection and energy efficiency. But there is nothing wrong if you can get a design that suits your house. In the design department, picking a brand is tricky because the design is a subjective choice.
However, LARSON should attract you more with their designs in terms of variety and color options. On the other hand, Pella storm doors are great too, but they lack colors and uniqueness.
Warranty is another critical aspect of storm door purchase. Storm doors aren't something you invest in frequently. So, you must ensure your investment is secure for years ahead. In that regard, both brands are offering a pretty sweet warranty period.
While Pella provides 20 years of warranty across the board, Larson has a different warranty period for other parts. Those part warranties range from five years to a lifetime.
None of the doors at your home comes cheap. So, when it comes to storm doors, no one wants to break their banks.
However, since the cost defines the value of the doors' worth, Pella storm doors seem more affordable, with options available in the $200-$400 range. On the other hand, most LARSON storm doors cost around $400-$600.
Which One Will Be The Best Fit For Your House?
As you can see above, both brands have their ups and downs in different aspects. So, the decision is going to be subjective according to individual priorities.
However, Pella offers most of the basics of a balanced storm door with suitable material, insulation, and affordability. So, if you are looking for a balanced storm door for your house, look no further and get one from Pella.
Frequently Asked Question (FAQs)
Are Pella and LARSON storm doors the same?
No, Pella and LARSON are two different brands that sell storm doors. Though both have high quality and a broad user base, some key differences exist between their products.
Does LARSON make a good storm door?
Yes, Larson storm doors are known for their quality and versatility. If you are willing to spend some money, you'll love the insulation and durability Larson storm doors offer.
Who makes LARSON storm doors?
Before, Larson used to manufacture their doors. After the acquisitions in 2020, LARSON is now manufactured under Fortune brands.
Are LARSON doors made in the USA?
Yes, Larson, all the Larson doors are made in the USA with strict quality control. The manufacturing plants are in Brookings, South Dakota, Mills, Iowa, and Mocksville, North Carolina.
Final Words
That's a wrap for today. I hope my article was helpful enough to demonstrate the critical differences between LARSON and Pella storm doors. There is no clear winner between these two, and you can go for any brand you prefer.
But no matter what storm doors you choose, they'll provide you with the best protection and insulation.