Do you live in an area where you face a lot of storms?
Then, you might be thinking of getting a storm door for your home. When looking for storm doors, a very common dilemma you may face is choosing between EMCO vs. Larson storm doors.
Both the doors have excellent quality, so choosing one from the two is difficult. That's why I am here to help you out with the comparison. Here, I will dive deep into the qualities and flaws of each door.
Let's get going.
A Quick Comparison Table
Before diving into the details, let's take a quick look at the different factors of both doors. It's just a quick comparison table to give you a slight idea of both doors.
| | | |
| --- | --- | --- |
| Specifications | EMCO Storm Door | Larson Storm Door |
| Materials | Vinyl and Aluminum | Vinyl, Aluminum, Wood |
| Quality | Pretty good | Premium |
| Construction | Decent | Excellent |
| Glass types | Variety of types | Low E glass, clear glass |
| Installation | Professional installation offer | Needs professional installation |
Well, I am sure this little comparison information isn't enough for you. So, I am going to get into the details now to understand both doors better.
Key Differences Between EMCO And Larson Storm Doors

I will go through different factors for both doors and share the details with you. There are several differences between these doors when you consider those factors in.
Let's check out the different aspects of the two doors –
Starting with the materials for both doors, I have to say that you don't get too many differences in them. Both the doors come in Vinyl and Aluminum materials. However, with Larson storm doors, you also get the option for wooden doors.
Larson will be a clear choice for anyone looking to match up their storm doors as wooden doors for their home. But if you are looking to get either vinyl or aluminum doors, then EMCO is still an option you might want to explore.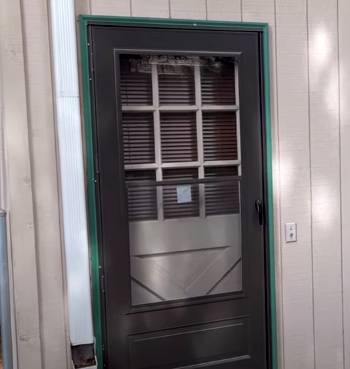 When you talk about doors, the features they offer can be a very crucial factor. It can dictate your choice, especially if you want something specific from your storm doors.
First, EMCO has several features like a defense panel system and a pet-friendly option.
They also easily change the doors, dual finger latch, lower glass panel, etc. You also get to see quite thick aluminum frames on the doors.
On the other hand, with Larson doors, you can expect to get excellent ventilation facilities.
They also offer excellent weather protection on the doors and added value for a storm door.
Also, there is the quick-fit handles technology and a pretty clean glass design with a decorative angle.
Now, what features excite you is entirely your personal preference. Whether you are looking for a solid defense panel on your storm door or want the best ventilation is up to you.
With the knowledge of both these doors, you can easily decide which suits your needs the best out of the two of them.
Doors have to be durable. There is no question about that. Especially when it's storm doors, they are all about durability. Luckily, both the options here have decent durability.
However, if you are looking for a door that's strong and built to last, then I would say go for Larson doors. The construction on these doors is pretty heavy-duty and solid.
Does that mean EMCO isn't that good in construction?
Well, I wouldn't say that. The construction for EMCO doors is quite average, and it's not as good as Larson.
So, considering the construction of the doors, I would give the winning point to Larson without second thoughts.
I don't think there is a clear winner here because of the poor quality. It's just about what you prefer and like. For example, EMCO doors are pretty good in quality and won't disappoint you.
But if you are into premium quality doors, then Larson is the perfect pick for you. These doors come with excellent quality and will provide you with a premium outlook.
Here's the thing with installation, EMCO offers you the professional installation feature. This makes your life much easier as you don't have to look for professionals to install it.
As with Larson, you don't have that option. For Larson doors, you will need to find a professional who can install the doors for you.
Which Storm Door Is Better For Your Purpose?
If you want better durability and rigidity on the doors, then pick Larson. If you want more options on the glass types or styles of doors, then go for EMCO.
Either way, you will end up with a quality choice. But that's the easiest way to decide on these choices.
Frequently Asked Question (FAQ)
How good are EMCO storm doors?
EMCO storm doors are pretty great when it comes to functionality and better looks. They can be an excellent addition to your home. They also offer plenty of options, and they provide a professional installation facility for everyone.
Who manufactures EMCO storm doors?
Andersen Corporation is the official manufacturer of EMCO storm doors. EMCO is a subsidiary of the company.
Does LARSON make a good storm door?
Yes, Larson makes high-quality storm doors that give you a premium feel and plenty of other features. They are also pricier, and their durability is excellent on them.
Is EMCO good?
EMCO is an excellent choice for storm doors with several options. You can get plenty of designs and styles of doors. Also, they come in a variety of glass types as well. So, you will never run out of options. Overall, the door quality is excellent.
Conclusion
To conclude the debate of EMCO vs. Larson storm doors, I would say Larson will be more of a premium choice. In contrast, EMCO provides more convenience and value from their doors.
Also, it's less troublesome considering that you can get professional installation from the brand service.