Who doesn't love to transform their indoor living experience with a magnificent view of the outdoors? Now, imagine having a panoramic window that captures nature and helps you have a unique indoor getaway?
It feels as impressive as it sounds, and you're about to discover how in this article. We'll talk about every little detail on why and how the Larson Scenix windows can uplift your mood, set the scene, and elevate your house's architecture too.
So, keep reading!
Features of Larson Scenix Windows

So, the question is, what makes the Larson Scenix windows better than the rest?
Hold on tight because, in this next section, we will hold up some of the most notable features of these windows that convince you about their wellness.
Let's dive in!
Get ready for every season with the Larson Scenix tempered glass, renowned for its four times stronger construction that beats generic windows and glasses. Moreover, these glasses have solid solar control that protects the insides of your house while giving you a mighty taste of the outdoors.
So, if you're worried about the UV rays and unbearable heat coming through these panoramic view glasses, don't be as the manufacturers have covered it!
The best part is that these expansive view glasses protect you and your indoor furniture due to efficient heat control.
The retractable top and bottom screens will be a blissful delight for users as it offers an enhanced protective design with unique elements to keep the bugs out.
But, other than those safety features, the retractable screens are an absolute must-have for all homes as it lets fresh air circulate within your homes and ventilate them.
The generic fiberglass screens have an upgraded 4-in-1 screening superior design, which offers optimized insect control, strength, enhanced privacy, and solar protection throughout the day.
Moreover, the screens also have a dual-slash patented design, making sliding and operating the windows as smooth as cutting through butter!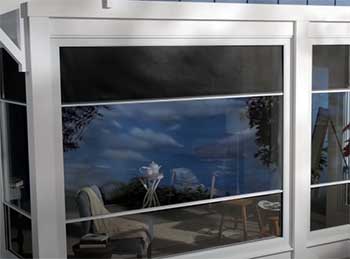 Now, we all want something more and something different for our homes. Luckily, Larson lets you have customized selections you've been craving in every model.
You can personalize and revamp your window color and design in a blink.
Moreover, the color selections range from black, brown, sandstone, and white, with sizes and dimensions that can be customized too!
But that's not the only best part about Larson Scenix windows. You can take these customizations one step further and upgrade the glass and screen. Simply pick from the standard fiberglass or upgraded TuffScreen No-See-Um selection.
The No-See-Um choice is vinyl-coated polyester, tightly woven, and durable design, which can offer high daytime privacy with extensive insect control. On the other hand, the upgraded glass blocks 76% UV rays and comes in gray, bronze, and standard tint range.
These windows' reliable and smooth operation comes from the quad-pulley balanced function. Moreover, you will never face unfortunate incidents of rainwater and insects gushing through the windows as the double slashes and interlocked rails have optimized weather strips and the tightest seal.
However, users love the windows' ventilation capacities the most as the counterbalanced sashes merge effortlessly with the stainless steel's sturdy cables.
Lastly, even though we know that the Larson windows have the tightest locks for undeniable protection, you can relax further as these windows aim to make your lives even easier with their super easy and straightforward installation.
So, you don't have to spend an arm and a leg on professionals!
Lastly, customers rave about the product because they've never been disappointed with its unparalleled performance. Even though the price point might seem a bit hefty in
What Could've Been Better With Larson Scenix Windows?
So far, we've seen that the Larson Scenix windows are full of advantages that can pose the best views for nature lovers while being a bullseye investment.
But, no product can slip away that easily. Thus, let's check out some of the cons customers have complained about, so you can better understand what you might be dealing with in this purchase.
After thorough usage, most of the wear and tear in this product can be seen at the top and bottom of the screen windows. As a panoramic window with a view, these don't usually come with the sturdiest stabilizers that generic windows have.
Therefore, it's evident that the first wear and tear begin at the top or bottom of the screens. This also often leads to the windows falling out of the tracks sometimes.
However, the issue can be a good set of professional stabilizer setups or a much more careful approach while sliding the windows along the track lines.
The Larson Scenix windows come with plastic sliding bars on each side of the screen's panels. The issue with the plastic bar is that they sometimes tend to break off at the bottom due to cheap plastic construction.
For the price point, users think that's a low blow and should replace the plastic bars with something sturdier with a better lifetime value and performance to match the standards of the windows.
The windows come with a DIY label which seems like a fun project for anyone as you don't have to be a professional to set them up. However, customers complain about the vague instructions that it comes with.
The instructions are vague and explanations more complicated than necessary, with some sections missing entirely. This setback might not be a problem for experts.
However, amateur homeowners might get frustrated during the installation process. So, watch this installation video for a better installation.
Frequently Asked Question (FAQ)
Are scenix windows insulated?
The Scenix porch windows have a 3-season room design. These also apply to storms, window panes, multiple screens, and non-insulated rooms.
Can you put windows on a screened-in porch?
Yes, it's possible to set up windows in screened porches. However, it's said that glass windows can entirely alter the porch's scenic view and feel, whereas typical glasses can elevate the outdoor space tremendously.
How do you make a storm window for a screened porch?
Here's how you can alter storm windows for screened porch. Follow the steps below.
1) Ensure the width and length of your current porch windows.
2) Build a storm window utilizing a 1/2-inch piece of oak or pine.
3) Use double-sided bonding tape to tape the frame to a plastic shrink. Ensure that the wrap is thick for better sturdiness.
4) Make a gasket utilizing a polyethylene plastic strip and create folds in a layered effect. Staple the polyethylene strips tightly in place.
5) Place your new storm window into the current window utilizing wood screws to drill them around the corners for the best fit.
 Is it possible to turn a screen porch into a sunroom?
People love adding sunrooms to their houses by converting the screen porch. Screen porches can be converted to sunrooms and 3-season rooms to utilize the space better.
Conclusion
Having a scenic view to look at now and then keeps you refreshed and energized to go on with your tiring day. And although our Larson Scenix windows reviews did point out some minor drawbacks about the product, most users overlook them as they're so negligible.
These top-tier panoramic windows have valuable features that make up for the buck and leave homeowners satisfied in the long run. So, don't delay this investment – you won't be disappointed!