Lane furniture is suitable for long-term usage due to its solid construction and classic designs. In contrast, Ashley Furniture is a more appropriate choice for short-term usage. The first one has fewer customizable options than the latter.
When it comes to furniture, they need to have intense value, style, comfort, and durability. Are you looking for the differences between Lane and Ashley furniture?
Here we come up with some in-depth details about both brands to help you choose the best option.
A Quick Comparison Table
Since furniture is a considerable investment, you want to get the best value. Here is a small table to give brief information about both furniture brands.
| | | |
| --- | --- | --- |
| Specifications | Lane Furniture | Ashley Furniture |
| Bed Options | Panel, Storage, Sleigh, Poster, Slat, Canopy, Metal, Headboards, etc. | Queen, King, Full, and Twin |
| Sofa Options | Sectionals, Recliners, Loveseats, Chaises, and Stationary | Standard, Reclining, Chaises, Sleeper, Futons, Loveseats, etc. |
| Accents | Cabinets, chairs, ottomans, benches, etc. | Chairs, tables, sofas, bar carts, benches, cabinets, etc. |
| Customizable Options | Limited customizing options | Huge customizing options |
| Using purposes | Living room, bedroom, and dining room | Living room, bedroom, kitchen & dining room, home office, entryway, home theater, etc. |
| Durability | Higher | Lower |
| Warranty | 1 year to 7 years of warranty | 1 to 5 years Limited Warranty |
| Cost | Slightly higher | More affordable |
In-Depth Differences Between Lane And Ashley Furniture
When choosing reliable furniture, considering all essential aspects is crucial. Check out this head-to-head comparison session to get a complete overview.
Lane Furniture is available in 8+ bed options. For example, its panel beds can give increased comfort when used with a box spring. They also offer Sleigh beds, which have big heads and footboards to give you a cozy and extra refreshed feeling while sleeping.
On the contrary, Ashley offers mainly four types of beds. King beds are ideal for ample space and breathability, whereas queen beds allow two people to sleep comfortably.
You can install twin beds for your kid's room since they are compact but versatile.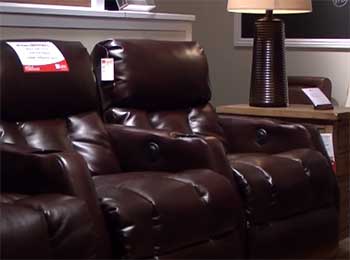 Lane offers five types of sofas, whereas Ashley sells more than six types of sofas.
Sectional sofas are a great choice to add comfort and style. They can easily change your room's appearance. You can install Chaise sofas to utilize the corners of your room fully.
Loveseat sofas are perfect for tiny, awkward rooms since they have the excellent matching ability and good design.
But if you prefer lightweight and highly portable sofas, Futons are the best choice.
Lane offers more than four types of accents. Their accent chairs have unique textures and colors to improve the color scheme of your room. But ottomans are highly Multifunctional, and they never go out of style.
You can even use them for extra seating space.
Ashley comes with more than six types of accents. Their bar carts can be perfect for keeping your everyday items in a stunning display.
You can take them outside and Kitchen Islands. But if you are space-conscious, benches are an excellent choice to provide extra storage space.
Lane has a decent level of customizing options. They offer a wide range of dressers, chests, nightstands, tables, etc. However, a limited number of color options are available for their products.
On the contrary, Ashley offers a huge customizing option. For example, its high-quality sofa is available in 15 colors, 3 sizes, 8 styles, and 4 designs.
Their sofas are available in 10+ materials depending upon the product lines. Plus, you can add various upholstery features.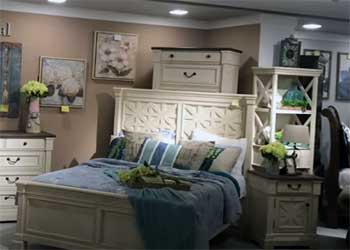 Lane Furniture is more suitable for living rooms, bedrooms, and dining rooms.
For example, they offer various beds, dressers, chests, nightstands, and mattresses for bedrooms.
And various sofas, recliners, end & side tables, cocktail tables, and chairs are available for living rooms.
They also sell dining chairs, tables, and sets for dining rooms.
On the other hand, Ashley manufactures a vast range of furniture for Living rooms, bedrooms, kitchen & dining room, home office, entryway, and home theater. This makes them a highly versatile brand to get almost any furniture you prefer.
Lane Furniture has solid construction. They can have a decent period if you take of them appropriately. However, like costly options, you can't expect them to last for decades.
In contrast, Ashley Furniture has a short lifespan. They can only last a few years. But it is worth the money you spend. You get the value for the particular period you use it.  
Furniture from the Lane brand has 1 year to 5 years warranty depending on the product. For example, its parts of Sinuous Springs & System have 5 years warranty.
Plus, they offer 7 years warranty for reclining mech and 3 years for wood & metal bases.
On the contrary, Ashley furniture 1 to 5 years limited warranty. For instance, their sleeper mechanism has 3 years limited warranty, and Recliner Mechanisms have 5 years warranty. They also offer a 1-year warranty on leather and upholstery fabric.
How much are you ready to pay to buy a set of sofas or dining tables and chairs?
It depends on the quality and how long you prefer to use them. Furniture from Lane is neither highly affordable nor expensive. But their mid-range price will add tremendous value as a long-term investment.
On the contrary, Ashley Furniture is incredibly affordable. You can get a beautiful set of dining tables and chairs for a few hundred dollars. Their stylish appearance and matching capability make them a top choice.
However, don't expect them to last an extended period.
Which Furniture Brand Is The Best For Your Home?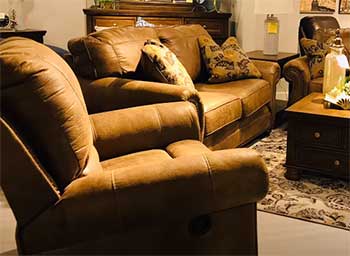 Choosing a particular furniture brand requires you first to determine what types of items you need and your use purposes.
For example, if you want to buy different types of furniture in your permanent location for long-term use, Lane Furniture will add significant value.
On the contrary, Ashley Furniture is a more appropriate choice for people who want to use furniture for short-term purposes.
Their colossal collection and aesthetic designs will give you a modern feeling in your house. More importantly, they are incredibly affordable, unlike competitors.
Frequently Asked Questions (FAQ)
Is Lane owned by Ashley?
United Furniture Industries owns Lane, whereas Ashley Furniture Industries own Ashley furniture.
Is Lane Furniture American made?
Lane furniture is originally made in America. United Furniture Industries manufactures all products of this brand. They use industrial-grade materials to add value.
Which brand is best for sofa?
IKEA, Lane, Ashley, Apt2B, Maiden Home, Lovesac, Burrow, The Inside, Allform, etc., are the top choice for comfortable and innovative sofas.
What furniture is comparable to Broyhill?
Big Lots, La-Z-Boy, IKEA, Wayfair, Havertys, Ethan Allen, Crate & Barrel, etc., are a few brands you can compare with Broyhill if you prefer high-quality furniture at a reasonable price.
Bottom Lines
When choosing furniture, you want to consider its design, comfort, price, color, style, durability, utility, beauty, and size. Also, noting down the amount of your house is crucial. Your chosen furniture might be costly but may not add value due to the wrong option.
On the other hand, incredibly affordable furniture may add tremendous value to your home since they match your house style. We have mentioned all crucial aspects in this Lane vs. Ashley furniture discussion.
Now, you can go for either brand according to your requirements.