When it comes to making curved cuts in wood, band saws are the best choice. Compared to portable saws, they are more efficient for slicing larger, denser pieces of wood.
Since many options are there, choosing a reliable band saw may not be as simple as it appears.
After digging in-depth market research, we found two top-rated brands for band saws: Laguna and Harvey. Since both companies manufacture good-quality products, you may feel confused about choosing between Laguna vs. Harvey bandsaw?
 Read this article to learn all differences.
A Quick Comparison Table
Are you in a hurry? You can glance at this small table to get a quick idea about both band saws.
| | | |
| --- | --- | --- |
| Specification | Laguna Band Saw | Harvey Band Saw |
| Frame | Welded Steel | Solid steel frame |
| Resaw capacity | 13 inches | 14 inches |
| Maximum blade width | 19 mm | 25 mm |
| Weight | Less weighty | More weighty |
| Motor power | Decent motor power | More powerful motor |
| Performance | Good | Better |
| Cost | Lower | Higher |
| Durability | Less | More |
In-depth Differences Between Laguna And Harvey Band Saw
So, you already got a short idea about both band saws. But are these enough to make a wiser decision? Learning each feature in detail will help you know the main benefits they offer in different cutting conditions.
Both Laguna and Harvey have almost similar frame construction. Laguna band saws are made with welded steel frames, while Harvey saws have a solid steel frame.
This type of steel frame is better than cast iron for absorbing vibration. So, you will feel more convenient while cutting heavy items. 
The resaw capacity of the band saw mainly determines how it cuts larger sections of wood or timber into smaller sections.
The maximum resaw capacity for Laguna is 13 inches and for Harvey is 14 inches. Hence, you can slice a little bit larger woods or timbers with Harvey.
However, 13 inches of resaw capacity is still more than enough for regular timber cutting.
Harvey will provide additional benefits if you work with more than average-sized timbers.
Blade width plays a crucial role in your wood cutting ability. The higher the blade width, the better cutting ability it will have.
The maximum blade width for the Laguna band saw is 19 mm. This is generally ideal for performing a range of regular-based jobs in our day-to-day life.  
In contrast, Harvey band saws have a 25 mm blade width, making them ideal for deep or long edge ripping. With this tool, you can work on thick, medium, and hardwood.
Most experts agree that larger band saws are better than smaller versions. Compared to Laguna band saws, Harvey offers more heavy machines that are effective in better cutting.
For example, the weight of the Laguna 14/12 Bandsaw CE Model is 117kgs. Though it doesn't have as powerful cutting as a heavier band saw, it will give your more control for precise cutting.
On the contrary, a Harvey HW614E 14 Inch Bandsaw weights 180kgs. Since each part of this machine are heavy-duty materials, the overall weight has increased.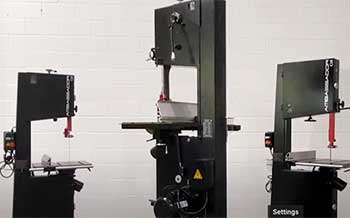 Most band saws are equipped with an electric motor.
A motor plays a key role in controlling the speed of the band saw. Compared to Laguna, Harvey has a more powerful motor.
A lot of band saws from Harvey have a 3 HP motor, known as over-optimistic.
But, you will need around 220 volts to operate this type of machine. This will increase your electricity cost.
This type of motor is ideal for commercial purposes to handle massive projects. Its powerful engine will show consistent performance while working one after another.
Contrastly, a good number of Laguna band saws come with a 2 HP motor. This type of motor is good enough for any DIYer or hobbyist woodworker.
You will need around 120 volts to operate this type of motor. Apart from household works, you can use them for small and medium woodwork for any professional purposes.
What factors do you consider to measure the performance of a band saw?
When choosing a reliable band saw, you need to consider several factors such as frame styles, sturdy base, motor power, types of guides, resawing capacity, height adjustments, guards, etc.
When you consider all these things, Harvey is slightly better than Laguna. However, not all people will need only Harvey band saws since our woodworks will vary from each other.
How much are you ready to pay to buy a band saw?
You may have already got a hint about the price of both brands. Since Harvey band saws have a high-powered motor and many advanced features, their price a relatively higher than Laguna.
In contrast, Laguna band saws are available at a little affordable price. They are a better choice for anyone planning to enter into a woodworking journey. Performing basic tasks will be hassle-free with such type saws.
The construction quality of a band saw will determine its durability. Though Laguna and Harvey can for a considerable period, Harvey appears more durable than the other option.
The reason is that the manufacturer uses more heavy-duty parts to make the overall construction more solid. They can take on more heavy workloads.
However, regular maintenance is essential. Otherwise, the quality of band saws will degrade over time regardless of how powerful the machine is.
Which Bandsaw Is The Best Choice For You?
Since our woodworking tasks will vary from each other, we don't need the same machine. As a hobbyist or DIYer, you don't need powerful band saws.
Plus, this will cost extra money though you don't need it. That's why Laguna is the best choice for light woodworkers.
On the other hand, a durable and reliable band saw is crucial if you are a regular woodworker who handles small, medium, and large woodworking projects.
A Harvey band saw appears to be a more practical choice since it will go a long way.
Frequently Asked Questions (FAQs)
Are Harvey and Laguna the same?
No, Harvey and Laguna are two different individual brands. Laguna mainly sells more standard and beginner-friendly band saws. In contrast, Harvey band saws have a professional quality to handle heavy-duty woodwork.
Where are Laguna band saws made?
Most new and advanced Laguna band saws are made in Grand Prairie, Texas. But before 2020, their all products were manufactured in Irvine, California
What is the best rated bandsaw?
When it comes to top-quality band saws, many brands are available such as WEN, DEWALT, Delta, Laguna, Harvey, and many more. But many of them are suitable for particular purposes to get the best result.
Where are Harvey band saws made?
Harvey band saws are mainly made in Yangzhou, China. Yangzhou Harvey Industries Company has made chiefly all the band saws of Harvey
Conclusion
So, which option seems more appropriate for your woodworks: Laguna vs. Harvey bandsaw? Before choosing a particular option, considering their cutting ability, flexibility, cost, maintenance, and other things are important.
After all, you should aim at getting the best value for the money you spend. You can select either option that meets your working requirements. Hopefully, the above guideline has given you some valuable details for both band saws.
Thanks for reading!