It is already 2022, and we are still waiting for a competitor for Sawstop. So, what is so special about Sawstop?
Its finger-saving technology and patented micro-guard keep you protected while working on your wood projects. It also ensures better visibility and reduced interference.
However, the price of Sawstop is so expensive that not everyone can buy them. So, what is the best Sawstop alternative in 2022? Though there is no table saw as good as Sawstop, a few are still in the market that can be a substitute for Sawstop.
Let's check them out!
Sawstop Substitutes To Cut Woods
There is nothing new to talk about Sawstop since it has been dominating the market for almost 2 decades. If you have not yet used Sawstop, you might be using another alternative option.
If not, you can check out this write-up to figure out the best alternative for Sawstop. This will help you utilize the tool when you don't have Sawstop.
Powermatic is another good substitute for Sawstop.
Their table saws can provide exceptional and smooth, powerful cuts repeatedly and consistently.
The brand includes super strong and incredibly sharp blades to slice harder hardwoods like a champ.
With its ergonomic handwheels, adjusting the blade depth and length is simple.
Since these table saws have beefy cast iron components, they are made to last for an extended time. You will appreciate the ability of the accurate fence to cut wood precisely. 
DEWALT and "High-end tools" are both synonyms for each other.
This brand has already introduced many table saws that can show tough competition against many premium brands like Sawstop.
One of the key features of their table saws is Site-Pro Modular Guarding System.
Getting quick and accurate cuts is what you will love about it. So, you will save time significantly.
In addition, many DEWALT models feature onboard storage systems to ensure simple accessibility to the blade guard areas and other parts. 
Apart from that, a flip-over ripping fence is included for narrow-cut quality. You don't have to worry about friction issues since the unit has a coated table surface.
Grizzly table saws are one of the best affordable alternatives to Sawstop.
Whether you are a DIYer, hobbyist, or homeowner, they are perfect for average everyday work.
Precisely cutting wood is what you will appreciate about these machines.
Besides, you can adjust the micro and macro fence to handle various wood projects.
Plus, an outfeed extension bar is included to cut larger woods smoothly.
Apart from regular works, some models of Grizzly (G0699) can handle heavy-duty work. You can use it to cut wood at different lengths and depths. Moreover, this model features a blade guard to provide safety and preciseness.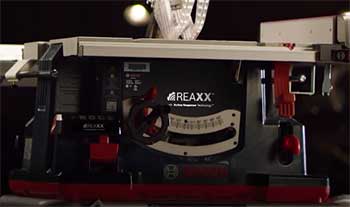 Bosch REAXX table saw was known as one of the best alternatives to Sawstop. It first came on the market in 2015.
Due to its flesh-sensing technology, people would often compare it with Sawstop.
The debuted version is a little bit job site-type table saw. It had both positive and negative reviews.
One of the major complaints about this table saw is its cutting quality.
According to many users, its flesh-sensing technology was extremely sensitive. This led to many users using it manually.
So, it started reducing customers since customers were paying the premium price but not getting what they wanted.
However, Bosch is still available in some markets in Canada. But experts believe if Bosch had survived just one more year in the US markets, people now would see the biggest competitor of Sawstop.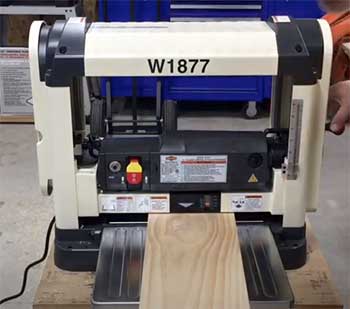 If you are looking for professional-grade or light-commercial table saws, Shop Fox is an excellent alternative to Sawstop.
Its powerful motor and super-speed blade can cut even the densest hardwoods like a pro.
Their table saws have a wealth of cast-iron components, so you have no reason to stress about construction quality.
Moreover, these powerful cutting tools meet the safety standard of US law.
A blade guard, anti-kickback pawls, and a riving knife are added to each table saw.
A single-phase motor is included in a steady, reasonably quiet, and solid operation to cut even thick hardwoods and other materials.
You can use the handles for precise adjustments and control the blade height and bevel. Since they are made with cast iron, durability is ensured.
Delta UNISAW is one of the best alternatives to Sawstop for professional woodworking projects. This type of table saw has excellent tight tolerances to get accurate results.
Moving and securing the item's location before cutting won't be a problem since it features a cam lock lever action.
Their table saws feature an extensive BIESEMEYER fence system to get ample stability. Adjusting the blade height and bevel will be easy-going with two front cranks.
You can precisely adjust the blade angle using the bevel dial for better fine-tuning. Additionally, a Tool-free split guard is added for improved visibility of the blade line.
The tool is also equipped with a single cast trunnion system to ensure efficient cutting and convenient machine operation. Overall, it is an excellent tool for wood cutting.
When it comes to safety, Jet table saws are the best substitutes for Sawstop. These table saws come with a low-profile riving knife for better protection against kickback while touching the woods.
Accurately cutting even the hardest wood is what you will appreciate.
In addition, they feature a Poly-V drive belt system to ensure reduced vibration and almost quiet operation. Achieving the maximum cutting depth with these table saws is easygoing due to the 45 degrees of bevel capacity.
For added safety measures, the manufacturer added a built-in overload protection system. If there is any imbalanced power while operating the machine, it will turn off automatically.
Overall, this brand manufactures great cutting-ability table saws with added safety.
Consider Silksaw if you are a beginner looking for a complete setup to install a Saw system inside your home or workspace.
The company makes small, safe table saws to serve the beginner line of work.
These Sawstop are easy to set up, operate, maintain, and use over the long or desired period, even if the cutting depth of these Silksaw is not that great.
But if you are here to learn the ropes, this will make a great investment for your next Saw project.
The price is also much cheaper than a Sawstop, which makes it another great alternative!
Something similar to Sawstop as they utilize the same technology being used by the Sawstop, a great alternative you can explore.
These Savesystems, as the name specifies, stop the blades with their added benefits and perks of eliminating kickbacks and push sticks.
One can have these Savesystems at the component level, which can then be used over the pre-installed tale saws.
These systems help you further enhance your current machine's safety and other protective qualities. That means a great alternative to consider at the place of Sawstop.
A little but the most affordable tale that comes at a very easy price of even less than $300.
It doesn't let you compromise on the safety features and can be a good alternative to Sawstop.
The affordable price of this option is one thing, yet, on the other side, it is a heavy-duty machine with excellent safety provided through solid fencing and stable operations.
Here, one can have a more precise cut and complete the job on a significant table. This goes from 0 to 45 degrees providing the maximum level of accuracy.
The extra versatility comes with an aligning rip fence and additional guides that ensure your cuts are according to the desired needs.
Hence, if you are on a budget and investing in a Sawstop seems costly, this is something you should consider.
The construction and weight of the GoPlus Portable machine make it a great selection even under the cheaper budget!
It's a brand offering over 20,000 woodworking tools that inspire customers to look for an alternative to Sawstop.
Here, one can explore the website and find something whose usage purpose is somewhat similar to the Sawstop.
The website is a competitor to Sawstop, so I've added it as an alternative to the brand.
Is Sawstop Worth It?
When you go through the reviews of Sawstop, you will hear nothing but wonderful things about the quality of this machine. Though they are super expensive, this powerful and heavy-duty machine is almost incomparable.
Its remarkable saw tolerance level can easily absorb intense impact force. Getting precise alignment and less vibration is what you will love about this super high-end table saw.
Its powerful motor and blade-spinning ability is almost second to none.
Frequently Asked Questions (FAQ)
Can I add Sawstop to any table saw?
You can't add a Sawstop to any table saw since you need to change the whole structure to make it compatible with the safety system.
Can you use any blade with Sawstop?
You can use any regular blades with Sawstop unless there is any restriction. For example, Teflon-coated blades are often prohibited from using on Sawstop.
Does Sawstop patent expire?
The patent of Sawstop will expire in August 2023, but it can be extended to some more years as the company has around 100 patents.
Where are Grizzly saws made?
Grizzly saws are made in China, but their primary manufacturing location is in Lake City, FL, United States
Final Thought
So, which Sawstop alternative have you decided to go for after reading this post?
We know no options are as good as Sawstop. But the price you pay to choose other table saws is not that bad either. They are made for a specific purpose to handle the job precisely.
You can choose an alternative option that seems appropriate to handle your woodworking projects. But make sure it provides the optimal safety that you need.