Imagine having a woodworking place that has a bad bandsaw because there is no denying the fact that bandsaws are very much critical for a woodworking shop.
With a quality bandsaw, you can easily shape your wood according to your projects. A very competitive battle of bandsaws you can come across is Jet JWBS-14SFXor Rikon 10-326.
Whenever you are dealing with this kind of confusion between two choices, a comparison helps a lot. Keeping up with that, I bring you a comparison between these two bandsaws so that you can choose the perfect one for your woodworking shop.
Let's dive in.
A Quick Comparison Between The Two Bandsaws
| | | |
| --- | --- | --- |
| Specifications | Jet JWBS-14 SFX | Rikon 10-326 |
| Speed options  | Single speed | Double speed |
| Blade speed | 3000ft/min | 2950ft/min, 1440ft/min |
| Usability | A bit difficult to use | Very easy to use |
| Table dimension   | 21 ½ x 16 inches  | 22 x 16 inches |
| Pricing | Affordable | More expensive |
Key Differences Between Rikon 10-326 And Jet JWBS-14SFX Bandsaws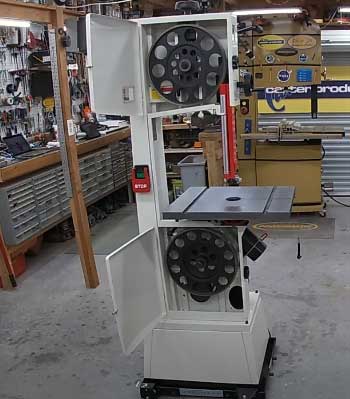 The speed of the bandsaws can be a big deal when looking for a performance.
You see a significant difference in the speed properties in the two choices I have here.
The Jet JWBS-14 SFX comes with a fixed speed option. You get only a one-speed feature that you have to work with.
You get two different speed options in the Rikon 10-326 bandsaw. 
This makes you wonder, is there any benefit of having multiple speed options?
Well, of course, there is an advantage. You can adjust the bandsaw according to your project requirements with variations in speed.
So, between the two bandsaws, I would keep Rikon 10-326 ahead in terms of versatility. You can easily adjust the speed of the saws for light or heavy projects.
Aside from the speed options, you also get a difference in speed with these bandsaws. One difference is that you can't switch speeds on the Jet JWBS-14 SFX. You have to stick with the base speed all the time.
The tricky part is that Jet JWBS 14 SFX has a higher speed than Rikon 10-326. In Jet JWBS 14 SFX, you get a speed of around 3000 ft per minute. As with the Rikon 10-326, you get two speeds. The highest speed you can get with Rikon 10-326 is 2950ft/min. And the other speed it has is 1440ft/min.
So, whether you want multiple speed options or the higher speed will dictate which one you get for your woodworking shop. 
Usability of the bandsaws
How easy it is to use can have a huge impact on the decision you make to buy a bandsaw. Whether you are a professional or a hobbyist, you can always go for the bandsaw that's easier to use.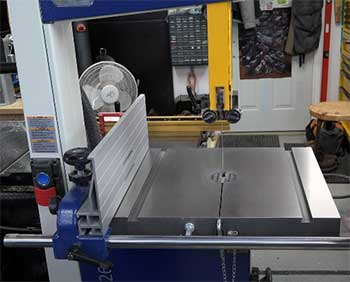 Between the two, Jet JWBS-14 SFX is a bit easier to use in comparison.
You can do various things like turning the fence of the bandsaw sideways so you can easily access the material.
Also, you can dial in more precisely with the micro adjustment feature. This gets very helpful when you are cutting veneers. 
Compared to that, there are not many features with the Rikon 10-326 bandsaw that can make it easy to use. However, there are several adjustment features that you can find on the Rikon 10-326. These adjustments make it quite easy for assembly.
Now, choosing one can get tricky because you have to consider whether you want the ease of assembly or ease of use. For ease of use, I would go with Jet JWBS-14 SFX. And if you think about ease of assembly, Rikon 10-326 is better.
I don't think you can decide on one of these bandsaws based on the dimensions. Here's why both the bandsaws have very similar dimensions, whether it's the blades, the table, or even the dust port.
The only little difference you get to see between the band saws is in the table dimensions. While the Jet JWBS-14 SFX has a 21.5 inches width, the Rikon 10-326 has a width of 22 inches.
So, you can see how little the difference is with the bandsaws. Still, if that half-inch makes a difference in your project, you might want to go with Rikon.
Coming to the cost, the difference between the two is very low. Still, there is a difference you get to see here. The Rikon 10-326 is a bit more expensive than the Jet JWBS-14 SFX.
However, the difference isn't that much, so you won't have to worry too much about it. Having said that, if money or budget is even a little bit of your concern, Jet JWBS 14 SFX will surely be your pick.
Which One Is Better For Your Woodwork Shop?
I don't think there is a better pick between these two choices. You will have to boil down the decision to a particular factor. The price, ease of use, versatility, or blade speed is up to you.
If you are thinking of price, blade speed, or ease of use, Jet JWBS-14SFX is the way to go. But for ease of assembly or variety in speed options and versatility in use, Rikon 10-326 is the choice for you. This video explains why.
Frequently Asked Question (FAQ)
Are Rikon tools made in China?
Yes, Rikon tools are made in China. They have a factory in China with ISO9001 certification.
Who owns Rikon tools?
Erin Riley is the owner of Rikon tools.
Are Rikon tools Made in the USA?
No, Rikon tools are made in China and later delivered in the USA.
Is Jet A good band saw?
Yes, Jet is a good band that saw a company with excellent products. They come with sturdy machines that have great efficiency in functionality as well.
Conclusion
To conclude, there is no clear winner to decide when you are thinking of Jet JWBS-14SFX vs. Rikon 10-326. Both of them are excellent in quality and deliver the best possible result you can expect.
So, it will come down to what you want to get out of the bandsaws.
For versatility, you must go with Rikon 10-326 because of its variable speed option. But if you are thinking about a higher blade speed or easy-to-use feature, then Jet JWBS-14SFX is the perfect pick.