Krono Swiss is a pretty good hardwood flooring option for your house. So, if you are planning to remodel your floor or install it in your new home, you should consider it.
Read this in-depth KRONO SWISS flooring reviews to find out why so many people use this flooring.
Here we will see some pros and cons of Krono Swiss flooring in detail. You must know them to understand why they are worth your consideration.
So, let's not delay any more time and get things underway.
Features of KRONO SWISS Flooring

Some unique and superior features have made Krono Swiss floorings stand out from others. We'll see some of those features in this part to know why you should trust this flooring plank.
A Combination of Quality & Design
Krono Swiss floorings are all about quality and innovative design, which is why they are famous worldwide. Krono makes Swiss floorings from high-quality water-resistant oversized panels.
Extraordinary designs coupled with sturdy surface structures make them an excellent choice. Plus, the natural wood effect design will make your home more attractive.
Most importantly, you can use these laminated floor planks in high moisture areas.
All in all, the design and quality combination will make your floors look eye-catching.
Advantages of Krono Swiss Flooring
You will receive many advantages by installing Krono Swiss floor planks. Apart from being versatile and offering an attractive ambiance, you will get many practical benefits from this flooring material.
These flooring planks can resist water for up to 48 hours. You will get the highest abrasion from Swiss flooring. Besides, they are antistatic and can resist UV light.
An easy-to-clean formula and sound insulating technology make your Swiss floor extremely robust. So, higher quality combined with excellent designs and many superior benefits makes Swiss flooring desirable.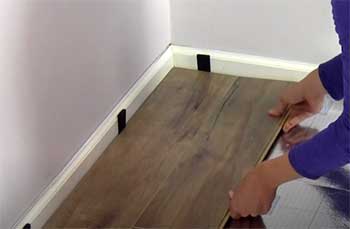 Krono offers a lot of product lines for Swiss floorings. You can choose the suitable flooring planks from 11 product lines.
Here are all the 11 available lines of Krono Swiss flooring:
Helvetic Lake View, Swiss Liberty, Swiss Liberty Sync, Swiss Lifestyle, Swiss Noblesse V4, Swiss Noblesse V4 Wide, Swiss Noblesse V4 Brilliant, Swiss Prestige, Swiss Solid, Swiss Solid Chrome, and Swiss Sync Chrome.
You will have a lot of designs in each flooring line. So, you will get tons of options for designs to choose from.
Materials used for making a flooring plank have to be strong and sturdy. Floors have to endure all the foot traffic in your home and any place.
The good thing about Krono Swiss flooring is that all the designs from all collections are made from wood.
You have options to choose from various woods while buying Krono Swiss floor planks. Maple, Oak, Pine, Walnut, and Miscellaneous types of wood are the options you can choose your plank from. 
It's needless to mention that all the woods are pretty high quality. So, choose one that fits your style and requirements.  
Color is the physical representation of a wooden floor plank. So, color makes all the difference in how your floor looks. Krono provides 5 different colors with its Swiss wooden floor planks.
You can choose from Beige, Black, Brown, Grey, and Light Brown colors. Besides, there you can choose two types of brightness for your flooring. Dark and Medium color flooring planks are available for Swiss floors.
Besides, you will get many textures and finishes from these first-rated flooring planks from Krono.
You can use Krono Swiss flooring in various areas of your house. Bedroom, Living room, Dining room, kitchen, office spaces, hotel, and business shops are some places you can install Swiss floor planks.
Your Swiss floor planks will fit anywhere in your residential and commercial places, regardless of place.
All Swiss flooring planks come in 1380 mm by 244 mm size with 8 mm thickness. You can install them on your floor quite easily.
The good thing about Swiss flooring is that they are big compared to other floors. As a result, you will need less time and labor to install them.
Krono offers a Limited Lifetime Warranty with its Swiss flooring planks. Generally, these planks will last for 10 to 30 years, depending on how well you maintain them. Krono offers a warranty depending on the usage and other factors.
Sometimes they limit the warranty to a certain number of years. For example, many people get a limited lifetime warranty, up to 30 years.
Price is a crucial aspect of installing a wooden floor. You will have to meticulously check for prices before you decide—the price of various Krono Swiss floors changes across different collections.
For example, the Swiss Infinity collection will cost $1.49 per square foot, and the Swiss Noblesse will cost $1.19 per square foot. Watch this video to understand why this flooring still worth the cost!
What Could Have Been Better With KRONO SWISS Flooring?
Like every other product, Krono Swiss flooring has some cons. After seeing so many good things, you might think there is no downside to this flooring.
But here, we will see some of the cons of Krono Swiss that can be improved.
More than one size option is always better for flooring planks. It gives buyers the option to choose from different sizes according to their requirements. It's also true for Krono Swiss wooden flooring planks.
If Krono offers more plank sizes, many other customers will be attracted to it. So, Krono should seriously think about it and take the necessary step.
You will get 5 color options from Krono Swiss floors, and they offer real wood design texture for their floors. But the options could have been more in number.
Having more color options is a plus point. As a customer, you will have more options in choosing your flooring planks.
A Better Waterproofing Performance
Since Krono Swiss is a professional grade waterproof laminated flooring, people expect it to provide pro-level performance. But many users have claimed that they are not as good at waterproofing in moistures as they claim.
So, Krono must seriously look at it and solve any issue regarding waterproofing and chipping.
Frequently Asked Question (FAQ)
How good is Krono flooring?
Krono floors are pretty solid and durable. Heat-resistant and other superior features will last for about 15 years to 30 years. It is easy to install and can protect against UV rays.
Is Swiss laminate flooring good?
Swiss laminated flooring is pretty good in quality and durability. It is stronger and more durable than hardwood or your carpet. Besides, you won't have to replace them too often.
Is kronotex and Swiss Krono the same?
Kronotex is a brand under Swiss Krono brands. Kronotex laminated flooring is manufactured in Germany, and it is one of the biggest laminating floor manufacturers in Europe.
Is Swiss Krono waterproof?
Swiss Krono laminated floors are water-resistant and can tolerate any spills and leaks. Its water-repellent capability is excellent.
Final Thoughts
Floors cover all our house. No matter what you do, if you cannot choose the right flooring, your house will not look good. I hope you understand the importance of floorings.
After reading the reviews on KRONO SWISS flooring, I'm sure now you are convinced that Krono Swiss floorings are worth your money and they deserve your home. So, go ahead and install this floor in your house.