One of the most crucial decisions you need to make when remodeling your kitchen is which cabinets to use. The cabinets in your kitchen not only store everything you use to cook, but they also occupy the majority of the wall space.
KraftMaid and Schrock are two popular brands for kitchen and bathroom cabinets. But you might get confused about which one you should choose.
This article will thoroughly discuss these two brands to clear up your confusion.
A Quick Comparison Table  
Here's a quick comparison table between these two brands for your better and clear understanding-
| | | |
| --- | --- | --- |
| Specifications | KraftMaid Cabinets | Schrock Cabinets |
| Material | Wood, MDF, Plywood | Wood, pureStyle, thermofoil |
| Cost | Less expensive | Expensive |
| Customer Service | Better | Good |
| Designed options | More | Less |
| Warranty | 25-year limited warranty | 5-year limited warranty |
In-Depth Differentiation Between KraftMaid and Schrock Cabinets
Now it's time to dig deep into the major differences between these two kitchen and bathroom cabinets brands –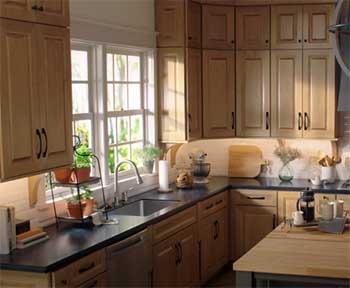 The strength, longevity, upkeep, changeability, and general design of the cabinetry will depend on the materials used.
KraftMaid mainly uses wood, MDF (medium-density fibreboard), and plywood for their cabinets.
MDF is a manufactured product held together by glue or resins made from soft and hardwood residuals.
MDF is much more rigid than most woods due to the materials and manufacturing method, but it also has an ideal surface for painted cabinets.
Plywood is another durable and most common material for kitchen cabinets. Compared to particle board, it is far more durable. In order to give the illusion of wood for cabinet boxes, plywood is frequently covered with a decorative wood veneer.
On the other hand, Schrock is made of wood, pure style, and thermofoil. Pure style cabinets combine the beauty of paint with the sturdiness of laminate.
Purestyle is non-toxic and cellulose-based, making it environmentally friendly. Thermofoil is an inexpensive material, and thermofoil cabinets are easy to clean and maintain.
The company provides a huge selection of door designs, wood types, coatings, sizes, and decorative styles. KraftMaid cabinets come with standard shelves that are 3/4″ thick and have adjustable full-depth drawers that are made of solid wood.
Additionally, the DuraKraft 14-step wood finishing procedure is applied to KraftMaid cabinets.
But if we consider the quality of the cabinets, Schrock is better. However, customers often avoid Schrock because its door styles and color options are more limited than competitor brands.
We always compare the price of a certain product while buying.
You might wonder which cabinet costs more between these two.
Costs for a full set of Kraftmaid kitchen cabinets range from $7,000 to more than $30,000.
However, the price depends on a variety of things, such as the size of your kitchen, the materials you choose, installation, whether you want to buy extra equipment, etc.
Schrock cabinet's price is higher than KraftMaid's because of its premium build materials. Schrock will cost you around $25,693 to remodel your whole kitchen.
National retailers like Home Depot, Expo Design Centers, and Lowe's carry KraftMaid products. Additionally, more than 1,600 independent dealers across the country sell them.
You can get a free consultation at the KraftMaid store for decorating your kitchen or bathroom. They also provide amazing aftersales service. But the customer service of Schrock is not so great.
They have a poor online presence which means you might have a hard time if you want to buy Schrock cabinets online.
Frequently Asked Questions (FAQ)
What are the most durable kitchen cabinets?
Solid wood and plywood are the most durable kitchen cabinets. They both are strong, and durable and can be shaped into various styles.
Are Merillat and KraftMaid the same?
A lifetime limited warranty is included for every Merillat Masterpiece. Previously, Carolina Kitchen & Bath sold cabinets from both Kraftmaid and Masterpiece. Both Merillat and KraftMaid product lines are produced at the same factory and have almost identical specifications.
Who makes KraftMaid cabinets?
The Masco Retail Cabinet Group, based in Middlefield, Ohio, is the manufacturer of the KraftMaid cabinets. KraftMaid Cabinetry has been one of the biggest producers of semi-custom cabinetry in the US for more than 40 years.
What is the average cost of a KraftMaid kitchen?
A basic Kraftmaid kitchen typically costs between $7,000 and $20,000. But that also includes several other applications, such as countertops and appliances. Depending on your needs, the cost of cabinets and kitchen remodeling can increase.
Final Words
Kitchen and bathroom cabinets are like investments for the house. Longevity, color, designs, materials, etc., are crucial factors to consider when building kitchen or bathroom cabinets.
You must ensure that the new kitchen cabinets you choose are of great quality and within your price range.
If you shortened your list of cabinet brands but are stuck on choosing between KraftMaid and Schrock cabinets, the differentiations we talked about might help you to choose the best one.
You should also prioritize your design and color preferences while shopping for the cabinets.