With the vast amount of cabinet brands in the market, choosing one single one can be such a difficult task.  Klearvue and Cardell's cabinets are brands that produce very similar-looking cabinets and are often confused with each other.
Each cabinet has its distinct strengths and weaknesses that can have a large impact on your decision. The design and the price point are the bigger difference between the two.
Other differences between the two cabinet brands, keep reading the comparison below:
A Quick Comparison Table
| | | |
| --- | --- | --- |
| Specifications | Klearvue Cabinets | Cardell Cabinets |
| Door Styles | 21 door styles | 20 doors styles |
| Design | Made of particleboard | Made of medium-density fiberboard |
| Finishes | Wider variety of finishes | A few varieties of finishes compared to Klearvue |
| Reviews | Bad reviews on the quality   | It has some bad reviews regarding buying experience. |
| Warranty | Limited lifetime warranty | Two years limited warranty |
Key Differences Between Klearvue And Cardell Cabinets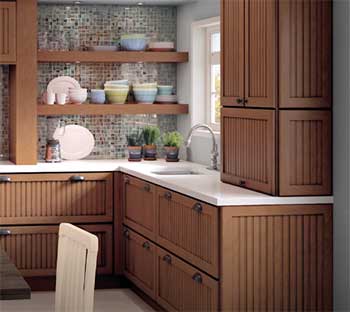 Klearvue comes with 21 door styles with different warm colors that would look good in your kitchen.
Klearvue also offers pre-assembled cabinetry with over 40 styles.
Combining the box styles, the doors, and the drawer fronts, you can achieve over 250 cabinetry styles.
You can choose any combination that feels appealing to you.
Cardwell cabinets offer 20 doors styles. Regarding the combination, there are approximately 5,400 finish combinations and 60 finish options, including Aged, Suede topcoat, Vintage, and Distressed, for the designer collection.
As for the Cardwell concept, they have 6 door styles and 60 cabinets combination. Klearvue and Cardwell offer their clients a chance to design the doors online.
Klearvue cabinets are made of particleboard and come in a few standard color options. They can also be painted to suit your specific needs.
Cardell cabinets are made of medium-density fiberboard and can be pre-painted with one of several available colors. They are also available in a wide array of styles and sizes.
The best thing about Klearvue is the clean, modern design that lends itself to any decor. The cabinets come in various colors and have a few different options, including glass doors.
However, their look is fundamental — it's more of a blank slate that you can dress up to suit your needs.
Klearvue finishes have a much wider variety than Cardell. Klearvue offers a standard painted finish, but you can also get them in wood-grain laminate, solid wood veneer, or real wood.
In other words, if you want a cherry finish or an espresso finish, then Klearvue is the only way to go.
Most of Cardell's cabinets are painted.  You can add a finishing kit to get anything else.
The experience of other customers should tell you if a product is worth the money you are spending on the cabinets.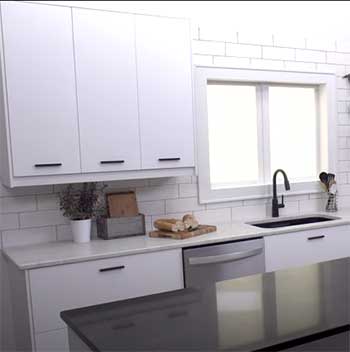 Cardwell has received a bunch of praise for the quality of their cabinets.
The cabinets are durable, and the different designs are amazing.
However, most people complained about the buying process.
Cardwell went out of business in 2013 and was bought by Masco.
Customers claim that many counterfeited cabinetries are sold by dealers all over.
Some customers claim that dealers must communicate with the clients for weeks, leaving them frustrated.
Most people would prefer something else to the DIY Klearvue cabinets. Some customers claimed they received damaged pieces and could not get the requested pieces after returns. Some customers also claimed that the cabinets get stained by fingerprints, and it is not easy to clean.
The Klearvue cabinet contains cheap particleboard. The finishing of Klearvue cabinets could be better. If you want a more durable Klearvue cabinetry option, request customized cabinetry and ensure you follow each step of cabinetry making.
Cardell uses medium-density fiberboard, which provides a professional, finished look on par with much more expensive custom cabinetry. You can choose the type of finish that gives you the look you want.
If you buy an assembled cabinet from Klearvue, you will enjoy a lifetime limited warranty on the pieces. As for Cardwell, their cabinets come with two years limited warranty.
Which Is Better Cabinet?
Regarding the quality of materials, Cardwell cabinets have earned more than five stars in customer reviews. They also have a shorter lead time and faster shipping than Klearvue. Klearvue has a lifetime warranty, which is not that good.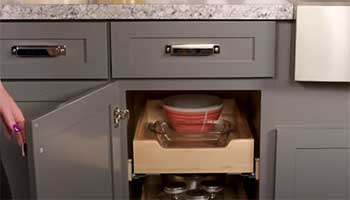 You don't need to return the cabinets after 15 years. You only need to replace them.
As for the assembly, there are some complaints about Cardwell and Klearvue, but nothing major. 
Most Klearvue customers receive damaged pieces and need help finding their requested pieces, or they get the wrong cabinetry style or color.
Cardwell has no hidden charges or extra fees (like paint and freight). You can use the same shipping method with most of their cabinets. All the pieces are manufactured in the U.S., and all customers get a 1-year warranty on all parts, including manufacturing defects.
Frequently Asked Questions (FAQ)
Are Klearvue Cabinets Any Good?
Menards Klearvue comes with a wide range of custom styles at a very good price. The cabinets are easy to DIY.
Which Brand Is Best for The Cabinet?
There are quite many brands that produce good cabinets. Personal taste and budget will influence the debate on which cabinets fit the best category. Remember to ask for a price quotation from the brand you are choosing.
Are Cardell Cabinets Real Wood?
Cardell cabinets are made with ¾ engineered wood and other reinforcements that make these cabinets durable.
Who Makes Cardell Cabinets?
Cardell cabinets were made and designed by a company owned by Bill Tidwell. The business operated for 40 years in Texas, El campo, and saint Antonio before it went out of business. Masco cabinetry purchased all brands and trademarks of Cardwell and started producing the cabinets again in 2013.
Conclusion
Getting high-quality cabinetry that suits your kitchen décor does not have to be a hard one. The Klearvue and Cardwell comparison above is an in-depth comparison between Cardwell cabinets and Klearvue cabinets.
The two brands produce a wide range of cabinets option at a lower price. However, the quality of the Klearvue is questionable based on the customer's review. However, working with the company directly ensures you get what you deserve.