Most buyers end up figuring out which brand of cabinets is better, between Diamond now and KraftMaid cabinets. Indeed, you must always choose something most valuable in the form of cabinets when installing them in your old or new kitchen.
Diamond Now cabinets are famous for their meager costs, whereas KraftMaid is highly rated but a little expensive. The KraftMaid cabinets are made from solid, claiming to stand more durable than hardwood-made Diamond now Cabinets.
A Quick Comparison Table
| | | |
| --- | --- | --- |
| Important Factors To Consider | Diamond Cabinets | KraftMaid Cabinets |
| About each cabinet brand | A brand of Lowes store selling kitchen cabinets and drawers of various types | An older and high-end kitchen cabinet brand working from 1969  |
| Customer Recommendations | Standard | Higher |
| Best to choose | When selling a house or property | After you have bought a new property |
| Durability | Standard | High end |
| Material Used in production | Natural Hardwood | Solid wood |
| Economic Factor | More economic | Little expensive |
| Interiors | Natural maple laminate | Natural birch wood grain laminate |
| Finishing of Back Panels | These cabinets come with 3/8 unfinished back | These cabinets come with 3/8 thick natural birch wood grain laminate |
| Warranty | As long as the original buyer of these cabinets owns the house | As long as the original buyer of these cabinets owns the house |
Key Differences Between Diamond And KraftMaid Cabinets
To know more and better about these kitchen cabinet brands, let's talk about each and explain each step in detail.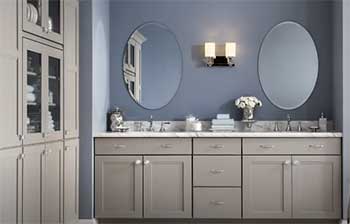 Before you step further, let me give you an idea about how Diamond or KraftMaid is appreciated and known in the market.
Talking about KraftMaid, the brand has been here since 1969 and sells excellent cabinets for everyone's needs.
They are currently known as one of the leading kitchen cabinet brand manufacturers and sellers in the USA.
The brand is highly known for its superior craftsmanship, excellent durability, and better service in this highly competitive market.
Compared to KraftMaid Cabinets, Diamond is now the brand of Lowes store. They are selling their good quality manufactured kitchen cabinets at Lowes, and anyone can have them.
This brand is also known a great deal among the public.
Their good feature is that anyone can have affordable options for kitchen cabinets when they are at Diamond now.
When you look at the forums where the original buyers talk about these brands, you will find considerable differences between both.
People who have used the KraftMaid Cabinets are much happier with their selection. It can be seen that there are more original customers recommending the KraftMaid cabinets over the Diamond Now Cabinets.
But it doesn't mean that Diamond Now doesn't provide you with quality and value. We'll look into that.
Most people recommend using the KraftMaid cabinets when they have bought a new house or have settled into a new mansion.
The reason is that KraftMaid promises to stand with you for ages. On the other hand, the same people also recommend using Diamond Now when selling your old house.
To increase the value and the beauty of your kitchen, when there are only a few weeks left before the arrival of the new owner of the house, you must consider replacing your old cabinets with the Diamond Now Cabinets.
As long as the durability is concerned for these cabinets, you will surely go more with the KraftMaid than Diamond Now Cabinets.
KraftMaid cabinets are highly durable and can be used for several generations.
At the same time, Diamond now is also durable but not as durable as KraftMaid.
Material Used In Production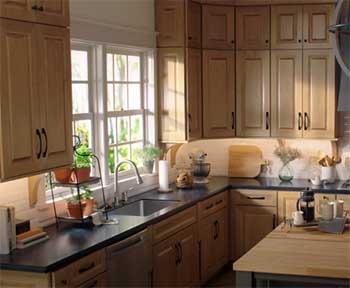 Both brands' kitchen cabinets have a distinction in their production.
Because the KraftMaid kitchen cabinets are made out of Solid Wood.
It is the natural solid wood we obtain from various sources, including walnuts, oaks, maple, etc.
Such wood is highly durable and stands for a more extended period, as discussed in the durability factor.
Compared to that, you will find the Diamond now Cabinets made of hardwood obtained from solid wood.
We can say that where solid wood is the primary component, hardwood is the secondary component.
In that case, you may not find the Diamond now cabinets as durable or long withstanding as the KraftMaid Cabinets.
One of the best things that may attract you as a cabinet buyer to the Diamond now cabinets is their higher affordability.
They are comparatively less expensive products than KraftMaid Kitchen cabinets. Therefore, one can use these cabinets or have them when the budget is short.
But suppose you have spent millions of dollars on your new house and considering replacing those old kitchen cabinets with new ones. In that case, KraftMaid is the best option for you.
They will be more expensive than Diamond now but worth the cost.
There is also a difference between the interior finishing of the Kitchen Cabinets from either of these brands.
When you consider Diamond now, you'll find the interior of these cabinets finished with Maple laminate.
On the other hand, the KraftMaid cabinets are finished or applied to the natural birch wood grain laminate.
Hence, one can choose any of these depending on the level of satisfaction that person is looking for.
Diamond now doesn't make much effort to provide finishing towards the rear side of their kitchen cabinets.
In Contrast, the kitchen cabinets from KraftMaid are finished with 3/8 natural birch wood laminate.
They add extra protection to these cabinets by applying this coating over their products.
On the warranty claiming side, both cabinet brands don't have much difference. The Diamond cabinets only offer a limited lifetime warranty on the original purchase.
It is also the same when you buy kitchen cabinets from KraftMaid. They ensure that we'll go for the free repair and return if a product gets defective.
But that will only be applicable when the original buyer of the product brings those cabinets to them.
Which Kitchen Cabinet Brand Is Better Between  KraftMaid And Diamond?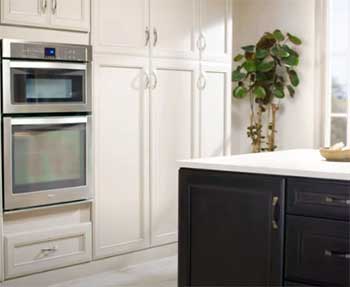 You must choose the one that inspires you the most.
But most customers recommend KraftMaid because of its extra durability and fantastic finishing.
Even though these kitchen cabinets are expensive, the brand still has multiple positive reviews.
You might be the next one.
However, if you are extremely low on budget but still want to get some suitable quality cabinets in your kitchen, using Diamond will also not be problematic. You can save some bucks here.
Frequently Asked Questions (FAQ)
Are Diamond Now Cabinets Good Quality?
Yes, these kitchen cabinets are of suitable quality, with numerous positive reviews and excellent affordability.
What Is The Best Kitchen Cabinet Brand?
KraftMaid is one of the best kitchen cabinet brands in the current era, ranking at the top in the entire United States.
Who Makes Diamond Now Cabinets?
MasterBrand Cabinets Inc. makes these Diamond Now Cabinets because it is a subsidiary of Masterbrand cabinets.
Is KraftMaid A Good Brand?
Based on millions of positive reviews, it is exceptionally a great brand to consider.
Final Verdict
We can conclude that both Diamond and KraftMaid Cabinets are high-quality cabinets in the market for any type of customer. Still, where Diamond now becomes your priority on a low budget, KraftMaid ensures that whatever you spend must return your value for an extended period.
But one can buy any of these brands. However, it would be better if your considerations are higher toward KraftMaid after buying a new house or first-time installation.