The heart of Every home is the kitchen. And this kitchen becomes a massacre place if things are not arranged properly. But with cabinets and sections, everything becomes more accessible.
That's why we've come up with a Fabuwood and Wolf cabinet comparison that will speak about the two best brands of cabinets with their distinctive features. Such as, Fabuwood has a Q12 feature that Wolf cabinets lack behind.
Other than this feature, there are many others. We've tried to focus on the simpler ones so that it becomes easier for you to choose between them.
A Brief Comparison Table
| | | |
| --- | --- | --- |
| Specifications | Fabuwood Cabinet | Wolf Cabinet |
| Material | Solid plywood | Hardwood plywood and solid wood components |
| Tilt out | Available | Not available |
| Appliance garage | Available | Not available |
| Q12 standard | Yes | No |
| Smart shield technology | Does not have it | It has this technology |
| Pricing | Affordable | Expensive than Fabuwood |
Key Differences Between Fabuwood And Wolf Cabinets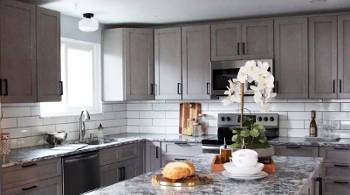 Cabinets are the kitchen's soul as they hold all your kitchen utensils together.
But the issue with the cabinets is the material.
If the material is not good, your entire setup will get ruined within days.
However, for it knowing the material of your cabinet is quite essential.
Beginning with the material of Fabuwood cabinets which is solid plywood.
Let's talk a bit about solid plywood, which is made of thin sheets. As a result, it does not absorb moisture or give it off, which is why there are no worries for expansion or contraction like solid lumber.
The stability of your cabinet will come from plywood. Also, integrity will be maintained with it.
Whereas Wolf cabinets are made up of both hardwood plywood and solid wood components. We have already discussed plywood and why it's so good for cabinets.
But solid wood, which, when used for cabinets, charges more than plywood. Solid wood is directly taken from trees, making it more expensive than others. But the assurance of the most outstanding quality comes along with it too.
Now different designers with advanced ideas and technology have brought a set up of cabinets where all of your utensils will be placed at go.
Fabuwood is not an indifferent case too. Fabuwood accessories include tilt out, which to me sounds very interesting.
Every kitchen needs tilt-out trays to be functional. The tilt-out, available in 11, 14, and 24 inches, is ideal for keeping sponges and scouring pads out of the way but within easy reach.
If you have got a tilt out in your cabinets, one factor is resolved your sponges will be secured from kids. And you will be able to find them very quickly.
Unfortunately, Wolf cabinets do not include this option, but they should, as it's quite a time savior.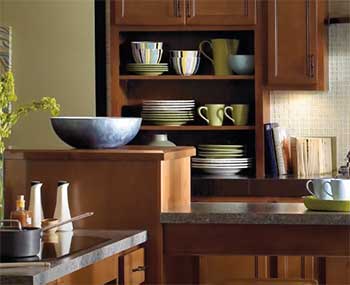 While arranging a cabinet, we often forget our corners.
But with Fabuwood, you will not miss any corner.
Fabuwood has a corner appliance garage. It is designed to hold the clumsy appliance, which will have no other places to set for.
Another appliance is a straight appliance garage which is equally beneficial too, as it can be installed below regular 24″ wide wall cabinets.
Place your big bottles of juice, wine, or whatever you want under this appliance. Put them without any tension of getting them in contact with children or pets.
However, Wolf cabinets do not have this corner appliance garage option.
Before claiming who has this and who does not, let's know what Q12 standard is. Q12 is a vast 12 fundamental pillars a cabinet must meet to fulfill the quality standards.
First and foremost, it begins with the carefully selected elements, which involve "grade-A" materials and no compromise.
Second, the pro-touch techniques allow for a sustainable and resilient cabinet finishing that makes cleaning easy and upholds beautiful luster for years.
Moreover, advanced construction is taken so that the cabinets get the utmost strength and attention to detail with a long-lasting superior quality cabinet.
Additionally, anti-warp structures are ensured by holding against elemental pressures. They have metal shelf clips which provide sturdiness and durability too.
However, there are seven other factors under this Q12 standard. And all of it ensure your cabinet's durability and strength.
Fabuwood has these Q12 standards for its furniture, which already speak up about how much they are conscious about product durability and everything.
Though Wolf cabinets don't have it, the brand itself assures its durability without categorizing it under any standards.
Cleanups are covered by Smart Shield Technology. The ultra-durable finish on the cabinets resists household stains, wear, and tear and can be easily cleaned with a damp cloth.
Smart Shield Technology's elegance and consistency provide a sleek, modern look with increased durability.
Now making your dream kitchen a reality without breaking the bank has been easier with Wolf cabinets.
As you can have it all due to its updated features included in it. Wolf cabinets have this innovative shield technology, but Fabuwood lacks behind in it.
Pricing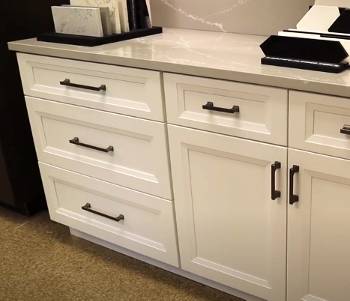 Well, this pricing factor gives us closure as it helps us choose which one to rely on and which to not.
Well, both of our cabinets are outstanding though Wolf cabinets lack some features compared to Fabuwood.
But it's popular due to its material stability and high quality.
That's why Wolf cabinets are a bit pricier than Fabuwood, but the quality is top-notch.
However, Fabuwood is affordable, which makes it more demandable. Don't think that as the cabinet is cheap, then it's not enriched in quality.
Well, it is definitely a good quality one. But it's affordable due to its material which is plywood.
I hope the pricing has solved most of your queries.
Which Kitchen Cabinet To Pick?
In the upward section, we've talked about how they are different from each other. Let's short it down and clarify who should purchase which one.
Both brands are very sincere about their products and quality assurance. But Fabuwood had added details within guarantees of affordable pocket range.
That's why it has a higher market demand than others. Its variety and addition of advanced features make it more demandable.
On the other hand, Wolf cabinets are expensive, with some more updated features like innovative shield technologies.
So, if you're thinking of cabinets with an affordable range, go for Fabuwood. Otherwise, Wolf cabinets can be a good choice for advanced features too.
Frequently Asked Questions (FAQ)
Are Fabuwood cabinets suitable?
With such an affordable range, Fabuwood cabinets are the best ones you can purchase for your kitchen.
Is Fabuwood a good brand?
Fabuwood brand cares about customers' experiences and feelings. That's why they care for their customers' money and try their best too, which makes it a good brand than other brands.
Are Wolf cabinets high-end?
No, they are not. Compared to Fabuwood, it's expensive but not the other ones available in the market.
Is Fabuwood made in China?
No. Fabuwood cabinets ate made in the USA, not in China.
Conclusion
How we've reached the end of the discussion while talking about such high-quality brands. Who not only focuses on high quality but also understands customer demands.
Within this article, we've tried to add a distinction between Fabuwood and Wolf cabinets within a short cabinet of a chart to make it more understandable.