When buying cabinets, high quality and design are valued. For this, according to your lifestyle and budget, we've come up with two best of the market.
If we look at the comparison, we can better differentiate which one to choose. Omega cabinets' material is maple, cherry, and oak, which has their significance. Whereas, KraftMaid is made up of natural birch woodgrain laminate.
Let's dive a little bit more to know other differences.
A Quick Comparison Table
| | | |
| --- | --- | --- |
| Specifications | Omega Cabinets | KraftMaid Cabinets |
| Material | Maple, oak, cherry | Natural birch woodgrain laminate |
| Customization | Yes | Yes |
| Drawers | Maple Dovetailed | Solid wood Dovetailed |
| Capacity to hold | 34lbs for pull-out baskets, trays 50lbs | 90lbs for each drawer |
| Cabinet finishing | Pretty good | Excellent |
| Pricing | Higher | Lower |
Differences Between Omega And KraftMaid Cabinets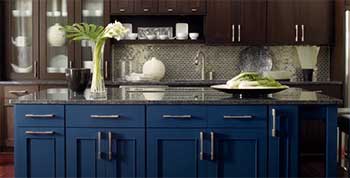 Be it a kitchen or bathroom, a wide spacious, and durable cabinet can save a lot of space.
One thing that needs to be kept in mind is the material of it.
We are beginning with our Omega cabinets which are made of wood—mostly made of cherry, maple, and oak woods.
Woods are considered robust, long-lasting, and resistant to damage.
However, with maple, you can have a cabinet at moderate pricing. But there is a chance of staining and color changing with time.
Also, oak is known as heavier hardwood than others but is perfect for traditional and farmhouse-style kitchens.
Whereas, KraftMaid cabinets are made of natural birch woodgrain laminate. This birch wood is more durable and resilient to dings and dents.
Moreover, your kitchen will remain safer as it's prone to fast darkening or fading like cherry wood.
That makes it a good choice for both traditional and modern homes. With its diverse range of options for color, enjoy the natural light color, which can enhance the dark room of your house.
Omega is quite renowned for its diversity in customization. From tuning finishing to creating a door, you can have customized options available with them.
For exacting specifications, Omega is a platform to incorporate your creativity. They have featured over 120 modifications plus custom quoting to get your desired cabinets.
Whereas, Kraftsmaid is not keeping their customers behind. Rather be it style or selection of material with KraftsMaid, you can enjoy all of it.
Even the plus point is their semi-custom cabinets give your pocketbook a relief too by providing the customized one in affordability.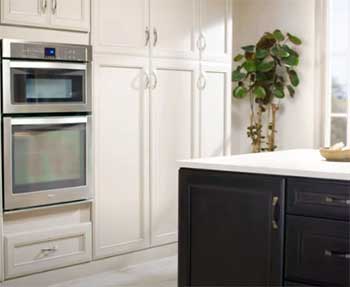 Drawers are known as the most used part of the cabinet.
So, looking for good material for your drawer in the cabinet is a must.
If we look at the omega cabinet, we can see that all drawers of it are ⅝" thick maple dovetailed, along with a full extension of soft close drawer slides.
Also, maple drawer boxes are rugged, strong, heavy, and close-grained wood, which is rigid.
The uniform surface texture gives your drawer boxes a perfect shape.
On the other hand, KraftMaid drawers are again made with outstanding quality. That is, a ¾" solid-wood dovetail is used for their drawers.
Even after generations after generations, these sturdy drawers will not leave your side.
Cabinet drawers are more or less expected to hold 75,100 or even 150 pounds. The heavy-weight option is given, so you don't have to filter out your choices.
Be it heavy jars or grandma's cast-iron grill press or tools! KraftMaid has your back as it can hold up to weight 90 lbs.
Your drawers will be able to keep anything in them. However, about Omega cabinets, it has been identified that their pull-out baskets can hold 34 lbs. And their tray section drawer can hold 50 lbs.
That's also sufficient. But if you're looking for a drawer that can hold more weight, Kraftsmaid is always there.
Cabinet enhances the beauty of the kitchen. Omega cabinet understands it, which is why they've created distinctive glaze, paints, and stains. The unique style complements the aesthetic of your home.
If we talk about the KraftMaid, they provide every kitchen color, paint, stain, and finishing. But for every cabinet, they provide around 14-step perfect finishing process. So that beauty is ensured and durability too.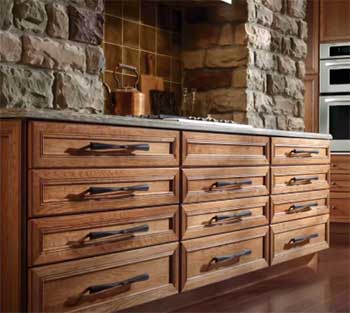 Sometimes the cabinet charges a lot due to the material or the features that come with it.
That has happened for Omega cabinets too.
Omega cabinets are known as 50% more expensive than the KraftMaid. It's a lot amount.
But if you're looking for a pure wood cabinet, the Omega cabinet is just for you.
However,  KraftMaid cabinets are high quality but affordable. Within a shallow range, you can have a good quality cabinet.
Which One To Choose Among The Best Two?
Well, it depends on your requirements. Both of the cabinets had features which are competitive between themselves.
But your requirements will speak for you, and the features will guide you. If you're looking for a cabinet that has less capacity to hold, then the Omega cabinet can be ideal. However, if you want to keep bigger things in your drawer, then going for Kraftsmaid will be much better.
Choose accordingly!
Frequently Asked Questions (FAQ)
Are Omega cabinets high-end?
Among the other range of products, Omega cabinets are a comparatively high-end one.
Who makes the highest quality kitchen cabinets?
KraftMaids is known for the highest-quality kitchen cabinets. It is a leading kitchen cabinet that has stood out among the varieties. Get the best semi-custom one from them.
Are Omega cabinets solid wood?
Yes, omega cabinets are constructed with solid wood. You can custom and semi-custom build your kitchen with this durable wood case.
What are Omega cabinets made of?
Omega cabinets are made of all wood construction.
Conclusion
To sum it up, Omega cabinets Vs. KraftMaid gives us a clear idea of which material, how much capacity, etc., makes the two of them distinctive.
We hope this little discussion was good enough to help you choose the one for you. Let your kitchen have the striking features and benefits of these two options.
Happy shopping!