Are you tired of looking for the best primer for your paint job? Well, I might have the right product for you.
Go through myKilz Original vs. Kilz 2 review, and find out. For better results, you must prime your surface before applying paint.
This article will show you the features and differences between the two best primers available in the market. After knowing them, you can decide the best one for your project.
So, let's get into the business without wasting any more time.
A Quick Comparison Table
Here's a quick comparison table between Kilz Original and Kilz 2 primers. Taking a glance will help you come up with a quick decision. Moreover, it will help you get into the in-depth comparison later on.
| | | |
| --- | --- | --- |
| Aspects | Kilz Original | Kilz 2 |
| Type | Oil-Based | Water-Based |
| Special Feature | Blocks Severe Water and Smoke Stains | Mildew Resistant Finish |
| Benefit | Blocks Heavy Interior Stains | Enhanced Hiding For Changing Colors |
| Usage | Various Interior Surfaces | Various Interior & Exterior Surfaces |
| Performance | High-Performing | High-Performing |
| Available Sizes | 1 Gallon, 5 Gallon | 1 Gallon, 5 Gallon |
| Clean Up | Mineral Spirit | Normal Water |
In-Depth Differences Between Kilz Original And Kilz 2
You have gathered some basic ideas on how these two primers are different than one another. But for making the right decision, you have to have more details in hand. In this part, I will give you a comprehensive comparison between the two primers.
So, stick with me here.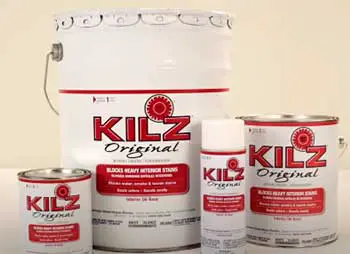 Kilz original is a white color oil-based primer for interior use only.
With its stain-blocking formula allowing it to block most heavy interior stains, you can protect your surfaces from smoke and water.
Apart from that, it offers protection on various other surfaces, including tannin, ink, pencil, felt marker, grease, seal pet, food, and smoke odors.
On the other hand, Kilz 2 all-purpose is a fast-drying primer, sealer, and stain blocker. This multi-purpose primer offers excellent adhesion on various exterior and interior surfaces.
Besides, with this multi-surface primer, you will get mildew resistance, sealing features, and very little odor.
Although Kilz Original and Kilz 2 are both surface primers, you will find some differences between their features. Kilz Original helps block severe water and smoke stains on various interior surfaces.
Besides, it promotes excellent adhesion to any type of paint for interior walls. You can quickly seal your interior walls or ceiling against pet and smoke odors.
But you have to prepare the surface well before applying this primer.
On the contrary, Kilz 2 features mildew resistant finish on both interior and exterior surfaces. It allows you to block light to medium stains on the wall and ceiling. Being a multi-purpose primer and sealer, it offers sealing new drywall.
Both Kilz Original and Kilz 2 offer a lot of benefits. However, one of them exceeds the other. Let's find out the key benefits these two primers offer.
Kilz original blocks heavy interior stains. It can seal smoke, pet, and food odors on your interior surfaces. Most importantly, this low VOC primer can hide previous paints.
As a result, you can easily apply new paints to interior walls.
In contrast, you can use Kilz 2 all-purpose primer under or over water-based and oil-based paint. So there's no restriction there.
Offering an enhanced hiding feature, it allows you to hide previous colors and makes it an ideal solution for changing colors. Moreover, you will need less number of paint coats.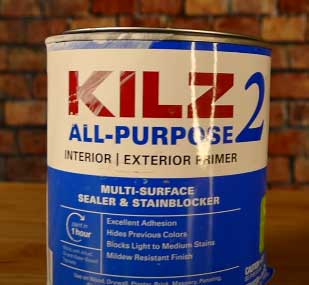 Kilz has developed both products to offer a particular usage.
That is, priming the surfaces before top coating. But the difference lies in where you can use them and why.
Use Kilz Original on wood, plaster, wallpaper, drywalls, paneling, painted metal, masonry, glossy surfaces, and brick.
But unfortunately, you cannot use it on mold and mildew-prone surfaces, exterior walls, and flooring.
On the contrary, you can use Kilz 2 on interior and exterior surfaces, including woodwork, brick, paneling, drywall, painted metal, glossy surface, and masonry. The only place you cannot use it is the flooring.
Performance can create a huge difference between two similar products. But for Kilz Original and Kilz 2, you won't find many differences in their performance.
Both primers sealers and stain blockers can cover up to 300 square feet per gallon for porous surfaces and 400 square feet for non-porous surfaces. Besides, they take 30 minutes to become touch dry, and you can recoat in just 1 hour.
Available container size can be a factor in choosing a specific product. Customers would always want to purchase as close to their requirements as possible.
Kilz Original is available in 1-gallon and 5-gallon containers. Similarly, Kilz 2 is also available in 1-gallon and 5-gallon containers. So, no differences here either.
Easy cleaning of the primer from tools and equipment will help you finish your project fast. Plus, you do not have to put so much effort into it.
You can clean Kilz Original from its tools and equipment with mineral spirits.
On the contrary, Kilz 2 cleans with just regular water. You do not require any soap or spirit to clean it from the tools and equipment. So, as we can see, Kilz 2 is actually easy to clean than the Kilz original.
A significant difference one can observe between both primers is their drying time. When a Primer dries quickly, it means it is thicker and will be ready for the second coat in less time if there is a need for a second coat.
The Kilz 2 Primer is just like that. It dries only in 20 minutes and gives you a quick chance for the second coat.
Compared to that, the Kilz Original takes more time to dry, up to 1 hour. Hence, you will have to wait for more for the second coat of this Primer.
Whether you use Kilz original for small or large surfaces is no problem. It can be applied to both.
However, the application of Killz 2 is only for smaller surfaces. It increases adhesion and cannot be used excessively over larger surfaces.
A Primer or paint should be non-toxic to keep you and your hands safe. In that regard, the Kilz Original is a little toxic primer you should know before buying it.
Conversely, the Kilz 2 is a non-toxic primer and suits best in case you want safety while painting those wooden items.
As I stated, one can apply the Kilz Original on larger wooden blocks such as wood floors. It will cover those areas and provide you with the best protection.
Contradictorily, you can use the Kilz 2 only for smaller wooden items such as trims, doors, and other cabinets.
Comparing both the prices and your budget, they do not cost much. Yet, when you find this product on Lowes, the Kilz Original costs you much less than Kilz 2.
That's because both Primer has different properties, but both are high-quality Primers offered by Kilz that ensure greater protection against all types of damages.
So you can decide accordingly which Primer will suit you best for your next project.
Which Primer Is Best For You?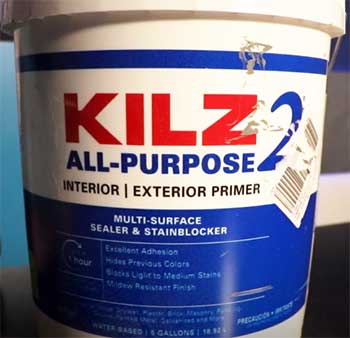 With all the explicit discussion on differences, it should be clear to you which product offers more benefit and is best for you.
But let me offer my help if you are still baffled.
Kilz 2 All-Purpose Primer is the best option for you.
Although it's a water-based primer, it offers more benefits than its counterpart, Kilz Original.
You can use this primer, sealer, and stain blocker on your interior and exterior walls.
Besides, you can protect your walls from molds and mildew with this all-purpose and multi-surface primer. If you are not sure, here is another comparison table for you!
| | | |
| --- | --- | --- |
| Features | Kilz Original | Kilz 2 |
| Dry Time | Takes about an hour to dry | Dries quickly as in 30 minutes |
| Areas Usage | Ideal to use for small and large surfaces | Ideal to use only for the larger surfaces |
| Toxicity Level | It is a little toxic primer | It is completely non-toxic |
| Usage On Woods | Usually used on wood floors to protect them from urine, drink spills, and more | Perfect to use for wood cabinets, trims, and doors |
| Price | Cheaper Primer | Expensive Primer |
Frequently Asked Questions (FAQ)             
What is Kilz original used for?
Kilz Original is an oil-based powerful primer and stain blocker that blocks most heavy interior stains, including water, smoke, grease, ink, etc. But you can only use it on interior walls and ceilings.
What Kilz 2 good for?
Kilz 2 is an all-purpose primer and stain blocker that can block light to medium stains, including water, rust, grease, smoke, etc. It also protects surfaces from mold and mildew. With its enhanced hiding technology, you can easily change colors that too with less coating.
What Kilz is best?
Kilz produces many primers and sealers depending on various needs. Kilz Premium offers the best result for light to medium stains. But for heavy stains, you must use Kilz Max.
Does Kilz 2 have to be painted over?
Kilz 2 is a primer that you should use to cover porous surfaces and create a bond before applying the top coating. It is not any paint. So, yes, you have to paint over Kilz 2.
Final Thoughts
A primer can make or break your painting job. So you cannot fail in choosing the right one. Because then it will be so much more difficult for you to complete your painting project.
But I'm glad that my Kilz Original vs. Kilz 2 comparative review came in handy for you. Because now you know the best primer you can use in your project.