Karran and Blanco Sinks are excellent brands for manufacturing and selling quality Kitchen Sinks in the USA.
However, this could be a little tricky sometimes to pick a quality sink from either ­­brand. Karran is a more ancient brand than Blanco, but Blanco usually has higher buyer recommendations.
Karran is excellent because it gives you up to 25 years of warranty. Otherwise, they have many sink options with more unique colors. Comparatively, BLANCO is best for durability and superior construction that comes through its Silgranit Sink materials.
A Brief Comparison Table
| | | |
| --- | --- | --- |
| Factors To Discuss | Karran Sinks | BLANCO Sinks |
| About Each Brand | An American Sink manufacturing brand that was founded in 1990. It sells different kitchen equipment, including Sinks, Faucets, etc. | Blanco is also a USA-based company that's been in the business since 1925 and sales variety of kitchen products, including durable sinks |
| Customer's Recommendations | Standard | Higher |
| Sink Options For Installation | Undermount, Top Mount, Farmhouse/Apron Front Sink, Seamless Undermount | Undermount, Farmhouse, Drop-In/Top Mount |
| Kitchen Sink Materials | Stainless Steel, Quartz, Acrylic | Silgranit Sink Collections, Stainless Steel Collections, Fireclay Collections |
| Number of Bowls | Single Bowl, Large Bowl Left, Equal Bowls, Double Bowl | Single Bowl, Large Bowl Left, Equal Bowls |
| Sink Colors | Stainless Steel, White, Black, Brown, Grey, Bisque, Concrete | Available in unique colors but fewer than Karran Sink Colors |
| Cleanability | Easier | Easier |
| Warranty | Up to 25 Years remarkable warranty | Up to 5 years of limited lifetime warranty |
Key Differences Between Karran And Blanco Sinks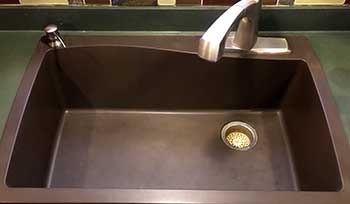 Karran sinks, or kitchen accessories providers were first founded in 1990.
It's a leading brand in the USA with hundreds of kitchen sinks and other tool options.
They have sold many products, and their name is on the tongue of many happy customers.
In Contrast, BLANCO Came in 1925, an older brand than Karran. It has more fame in the industry.
Their kitchen sinks, especially the undermount options, are highly reputed among homeowners. Therefore, we can say that the former brand is younger than the latter sink brand.
Customer's Recommendations
When it comes to deciding which brand is most liked by individuals, Blanco has more ratings than Karran.
They say that Blanco's under-mount sink options are fantastic for all types of kitchens and places.
But with a vast selection, Karran is also not a bad brand to consider. It's just it has fewer reviews on the internet.
Sink Options For Installation
Both brands bring an excellent sinks collection with unique or all-range covering installations. If it concerns Karran, you get more installation options than Blanco.
But Blanco always covers your customized installation needs.
With Karran, you can go for seamless under-mount, Top Mount, Undermount, Farmhouse mount, etc.
On the other hand, the Blanco gives you Undermount, Farmhouse, and Drop-in/Top-mount installations.
The sink has different bowl options, including Single, Double, and even Triple. Blanco offers you Single Bowl, Double bowl, and other bowl options to match your customized kitchen sink needs.
At the same time, Karran also gives you similar options for the bowl with sinks.
At Karran, you'll find Sinks in a variety of colors that, include white, brown, gray, black, and more.
However, Blanco doesn't enlist many details about the color options of their sinks. Yet, you can find your most matching desires at this brand too.
One of the significant similarities between both brands is their cleanability. Whether using Karran Sinks or Blanco Sinks, you can clean them easily.
Just use a good sink cleaner and shiner and rub the surface with gentleness to ensure that you are using the fresh and newly looked kitchen sink.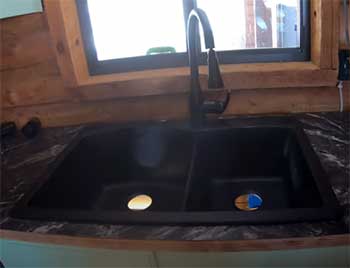 Whether you consider Karran or Blanco, both give you sinks made with different materials.
These material constructions show varying features, including durability, installation, and pricing.
For Blanco, their Stainless steel and Silgranit sinks are extra durable.
For Karran, their Quarts and Stainless-steel sinks are extra durable.
Instead, people appraise a lot about Karran's Composite sinks. They are cheaper and unbreakable for a long time.
I would say this is the most significant difference between these two brands. Where Blanco offers you only 5 years warranty, Karran offers more. Karran has almost 25 years of product warranty, especially on their sinks.
Therefore, it helps you decide where your investment will be in safer hands.
Which Kitchen Sink Brand Is Best?
It's pretty apparent that both brands do not leave you with any shortage in the quality and features of their sinks.
The differences could vary, and the decision could be slightly biased based on pricing, brand popularity, and warranty factors.
However, I'd recommend you to go for Blanco because of their higher reputation and higher quality. But if you are happy with Karran sinks, that's also not a bad option. It would vary from person to person.
Frequently Asked Questions (FAQ)
Are Karran Quartz Sinks Good?
The Quartz Sinks are incredibly durable because their material provides stain resistance, abrasion, and impact resistance and brings value for the money.
What Is the Best Brand Kitchen Sink?
With a 4.6 stars rating, Houzer is supposed to be the best Kitchen Sink brand with variety, excellent pricing comparison, and quality for your new or old kitchens.
Is BLANCO A Good Brand For Sinks?
Blanco is one of the best choices for many homeowners, builders, and designers to get an affordable and high-quality Sink. It's indeed a superior brand.
Do BLANCO Sinks Scratch Easily?
No, their Sinks are scratch and stain-resistant. They do not scratch easily.
Conclusion
Based on our comparison between Karran Vs. BLANCO Sinks, BLANCO wins.
But why?
That's because the brand has a higher popularity, and they give you the strongest construction of these sinks. However, they might lack in the fashion and style side, but they are great at quality.
On the other hand, Karran is a standard brand. But not an average brand. They have more styles and colors for kitchen sinks than Blanco. So, if Karran pleases you, you are good to go for their sinks.