A sink or basin is the essential equipment in a kitchen where you can wash dishes, get some water while cooking or flush a leftover. However, most of us get disturbed when it comes to choosing a sink between Fireclay and Granite Composite Sink.
If you choose between fireclay and granite composite, the Fireclay is always better in durability, performance, and other comparative factors. The composite granite-made sink may not return you with those highly expected results, but a fireclay sink will.
So, let's see how both of these sinks vary from each other.
A Brief Comparison Table
| | | |
| --- | --- | --- |
| Details | Fireclay Sink | Granite Composite Sink |
| Performance | Better | Not that satisfactory with composite granite, but best with granite stone |
| Stain absorption | Low | Higher for the composite made |
| Colors Availability | Usually available in off white color and less availability of other colors | Usually available in more colors like black or white etc. |
| Made From | Earthen materials, which are known as clay | It is created from a composite combination of acrylic resins and granite dust. Or from a natural granite material |
| Durability | High End | It might not be satisfactory with composite granite but exceptional with granite stone |
| Customer Recommendation | Higher for kitchen and farmhouse style kitchens | Lower for more streamlined options |
| Lifespan in years | Up to 20 years | 40 to 50 for a granite stone-made sink, but not |
| Pricing | Expensive | Cheaper |
In-Depth Differences Between Fireclay And Granite Composite Sinks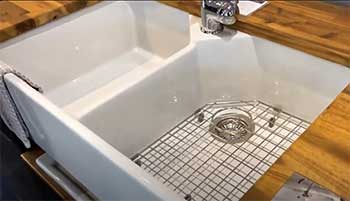 Comparing these sinks or basins based on their performance, a fireclay is better than a granite sink made of composite.
Fireclay stands best in absorbing heat and maintaining the temperature required.
On the other hand, the composite granite sink doesn't perform well, according to many buyers.
But if you'd choose the granite stone-made sink, your decision will always be better. You should know that granite sinks come in two forms; they are made out of granite stone which is the natural way of making them.
Plus, these also come made out of composite granite sinks. So, this is how you will differentiate between these two sinks.
One must accept that sinks don't let the stain or hardness stand on them if you keep them properly cleaned.
A kitchen keeper may use different types of soaps, detergents, or other washing chemicals to retain the original shape of these basins.
Despite this, you should know that the stain absorption of a fireclay sink is lower than a granite composite sink.
The fireclay sinks are usually available in more traditional colors. These include white and off-white.
You may not find attractive colors like black, blue, or any other with the fireclay basins. However, they still look pretty when they are installed in your kitchen.
On the other hand, the composite granite sinks are made in black and other laminate colors. Therefore, you should be extra sure to find out which color suits that kitchen better.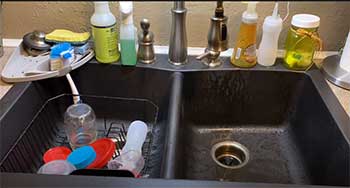 When it comes to Fireclay, these sinks are made with pure and natural clay by burning it on fire.
It is somewhat similar to making clay pots.
Compared to that, composite granite sinks are made using different materials.
These materials include those acrylic resins, granite dust, and other substances.
The granite sinks also have another type which is made out of natural granite stone.
Only professional crafters make these types of sinks for your kitchen.
Compared to composite granite sinks, fireclay sinks are made to last longer. But when you compare the fireclay sinks with the natural granite stone-made sinks, the results would be different.
So, choose whichever stands better for you and can be used fearlessly.
If you ask several kitchen keepers which is best to choose between a fireclay sink and a granite composite sink, they will always prefer the first option.
We can say that the demands for fireclay sinks are higher than those for composite-made sinks.
A fireclay sink will serve you better for almost 20 or more years. The conditions are only if you keep it extra clean and protected.
On the other hand, I am not sure how long you can keep a sink made of granite composite.
But if you'd just go with the granite natural stone-made sink, it will serve you more happily for almost 40 to 50 years. It is something more than you have ever expected in a sink.
When both sinks are compared, the Fireclay comes at a little higher cost than a granite composite sink.
This way, you can also decide your budget for selecting the best sink for your kitchen.
Which Sink Is Better, Fireclay or Granite Composite?
Based on all the factors discussed above, a fireclay sink will always perform better than a granite composite sink.
So, you must be careful when selecting any of these sinks for your kitchen. However, the results will differ if you leave the granite composite sink and look forward to the natural stone-made sink.
It is one of the most durable and longer working materials in the form of a sink inside that kitchen. The rest is up to you.
Frequently Asked Questions (FAQ)
Do Fireclay Sinks Chip Easily?
No, the fireclay sinks are chip resistant and show better durability.
What Are The Pros And Cons Of A Fireclay Sink?
The possible pros of a fireclay sink include durability, heat resistance, scratch resistant, chip and stain resistant, and high-end performance. The possible cons of the fireclay sink are its limitations in design and finishing, plus a higher price.
What Type Of Sink Is The Most Durable?
Stainless steel sinks are one of the most durable sinks currently available.
Do Granite Composite Sinks Crack?
A granite composite sink is not as durable as a natural stone-made sink. So, there can be several reasons for the cracking of such a sink.
Wrapping Up
Be fearless in choosing any sink for your kitchen between the Fireclay and Granite Composite Sink if you are a good caretaker. You must be very concerned regarding your kitchen sink's cleaning, protection, and usage.
However, if I were you, I'd love to go for a fireclay sink because of its more robust durability rather than compared material.
However, suppose somebody asks me to choose between the natural granite stone-made sink and Fireclay. In that case, I'd go with the first option.