A rotor sprinkler is a must-have for watering plants or grass. However, a lot of options are there. You may feel bemused to choose the right one. 
K-Rain and Rainbird are two famous brands that manufacture many high-quality sprinklers. That's why we have decided to go for a deep discussion on K-Rain vs. Rainbird. 
The K-Rain sprinkler has an adjustable pattern and offers up to 44 feet coverage, whereas Rainbird can be adjusted up to 360 degrees and has an 18 feet maximum coverage. Also, the pop height is 5 Inches for K-Rain and 4 Inches for Rainbird. 
Let's dive deeper into both sprinklers. 
A Quick Comparison Table
Are you in a bit of bit hurry? Wanted to have a quick overview? If yes, just take a look at this small table. You will get a clear idea about both sprinklers.
| | | |
| --- | --- | --- |
| Specifications | K-Rain | Rainbird |
| Material | Plastic | Heavy-duty materials |
| Pattern adjustability | Adjustable pattern | 360-degree full pattern |
| Coverage | 24 to 44 Feet | 13 to 18 feet |
| Pop Up Height | 5 Inch | 4 Inch |
| Certifications | No particular certifications | Certified by ICC-ES |
| Water-saving system | Decent water savings | Up to 75% Water Savings |
| Price | Lower | Higher |
| Durability | Good | Better |
In-depth Differences Between K-Rain And Rainbird
It is good to have basic ideas on rotor sprinklers before buying them. However, knowing precise details can help you choose the best option and get the best value. 
When choosing a particular sprinkler, you must consider what material is used to make the unit. The K-Rain sprinkler is made of plastic materials. 
Though it is not as challenging as you want it to be, its flexibility will impress you. You can adjust the pattern more effortlessly as it moves smoothly.
On the contrary, the Rainbird sprinkler is made of heavy-duty hard materials.
No doubt, the unit is super sturdy. It lacks flexibility. You may need to put extra effort into adjusting the pattern.
Most of our lawns cover the entire area of your garden. We need to water them in all directions. Hence, adjusting the pattern is necessary. 
The K-Rain sprinkler allows you to adjust the pattern for a decent level, enough for the complete watering task. Its plastic material lets you go for quick adjustment. 
Contrastly, you can adjust the Rainbird device up to 360 degrees full pattern. It may need some extra force. You can effectively change the pattern whenever it is necessary.  
How long a sprinkler can cover is an essential factor to consider. A K-Rain device can cover up to 24 to 44 feet. Hence, you need to use less number of sprinklers to water your entire garden. 
This type of unit is ideal for medium and large-sized lawns. 
On the contrary, a Rainbird sprinkler has mid-range coverage. It can cover up to 13 to 18 feet. Hence, you need to use several sprinklers to water your whole lawn. 
This kind of device is perfect for small and medium-sized lawns. They can show reliable performance consistently for a long time.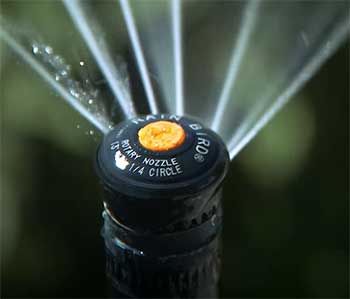 The pop-up height of sprinklers allows the device to sprinkle water further away.
The higher its pop-up height, the more distance it can cover. 
The K-Rain comes with a 5-inch pop-up height, allowing the machine to reach up to 44 feet.
In contrast, a Rainbird rotor sprinkler has a 4 Inch pop-up height, covering up to 18 feet distance. 
The authenticity of a device often depends on its certifications. Though K-Rain is a good brand, it doesn't have any credentials. 
On the other hand, Rainbird is certified by ICC-ES to comply with code requirements. Also, it has the WaterSense certification and meets the EPA criteria.
Hence, if you are looking for a more reliable option with added safety, Rainbird is a safer option. You don't have to concern about legality issues as it meets the standard code set up by the USA government. 
Some sprinklers have decent coverage, but they often waste a lot of water. Apart from increasing water bills, they are being less eco-friendly. 
Due to effective design, K-Rain doesn't waste water excessively. However, Rainbird is a more reliable option when it comes to water-saving systems. 
It can save up to 75% water, making it more eco-friendly and reducing your monthly water bills. The unit has a Pressure Regulator that allows you to control water flow. 
Compared to K-Rain, Rainbird is a little bit pricey. However, its nozzle can perform optimally and distribute water equally even in windy conditions.
Since it meets the pressure regulation legislation requirements, you can use the device in any location you prefer. Its large water droplets allow you to water the lawn quickly. 
 Whether you want the head or edge of the pattern, this high-quality sprinkler can provide highly uniform, wind-resistant coverage. 
Doesn't it matter how long a product lasts? Obviously, it does! Since Rainbird is made of heavy-duty materials, its durability will be better than K-Rain.
The overall construction won't be affected by water pressure. You won't see any weary signs soon. However, both units are good enough to last a few years easily.
They can perform consistently to sprinkle water in a different direction of your garden. Getting rid of any clog or debris is easy-going. Just pull up on the nozzle during operation. 
Watch Rainbird's review from this video.
Which Option Appears The Best For Your Garden? 
We define the "Best" word in different ways. What seems the best to a particular person may not be a preferred option to another one. 
K-Rain seems a good choice if you are looking for a rotor sprinkler with higher coverage and better flexibility. It comes at an affordable price, a plus point if you have a strict budget.
On the other hand, when you want a more reliable rotor sprinkler with a consistent water sprinkling system, Rainbird is the best option. 
Though it is slightly pricey, its several certifications ensure more reliability of the device. Additionally, it can save more water and has extended durability. 
Frequently Asked Questions (FAQs)
Is K-Rain a good sprinkler head?
K-Rain is a decent sprinkler head since it is reliable and straightforward to use. Plus, it provides uniform coverage. You can operate the device between 45 and 50 psi water pressure.
What brand of sprinkler heads is best?
Wide ranges of sprinkler heads are available in the market. But K-Rain, Rainbird, Orbit, HUNTER, Gilmour, Bosch Garden, etc., are the top choice when you want the best quality.
Are Hunter and Rainbird the same?
Hunter has a little bit more durability than Rainbird. After all, its device can precisely handle higher PSI. Hence, extreme weather and unstable water pressure won't affect its performance.
Is the Rainbird Sprinkler system good?
Rainbird Sprinkler system can provide an even and accurate water distribution throughout your entire lawn. They are well known for saving water and reducing your monthly water bills.
Final Thought 
So, what is your final decision after going through the discussion on K-Rain vs. Rainbird? 
Choosing a decent quality sprinkler requires you first to determine your lawn requirements and how often you need to water the lawn. 
You can the K-Rain sprinkler if your garden size is medium or large but doesn't require frequent watering. On the flip side, picking the Rainbird device is absolutely okay for a small or medium-sized lawn that requires regular watering heavily.