After bed, we spend most of our relaxing time on the sofa. That's why whenever you want to purchase it, look at the comfort and durability.
For which we have come with differences of two furniture. Such as Ashley furniture has a reclining sofa, and Jonathan Louis doesn't. This way, your time got saved.
However, we have talked about other differences too. Check them out too-
A Brief Comparison Table
| | | |
| --- | --- | --- |
| Specifications | Jonathan Louis | Ashley Furniture |
| The Dawn Collection for the living room | Available | Unavailable |
| The Dharma Collection for bedroom | Available | Unavailable |
| Unremovable covers | Yes | Yes |
| Reciling sofa | Unavailable | Available |
| Futon | Unavailable | Available |
| Price | Affordability | Expensive |
Key Differences Between Jonathan Louis And Ashley Furniture
The Dawn Collection For The Living Room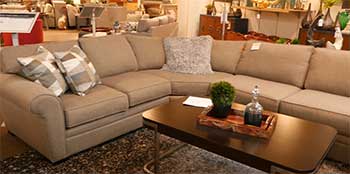 Jonathan Louis has a vast collection of sofas for your living room and bedrooms.
The Dawn's practical design can satisfy your need for additional versatility in furniture without sacrificing aesthetic appeal.
With its movable ottoman and reversible chaise, which can be turned to the left or right, you can quickly change the setting.
Along with its adaptability, Dawn's low-profile form and gently sloping track arms will always keep things interesting.
Other than the Dawn collection, there are many others to check and look for, which Ashley Furniture lacks. Let's check them out.
The Dharma Collection For Bedroom
The Dharma is a chic highlight in any bedroom because of its exquisitely tufted vertical channels. Its superior design is stylish and contemporary, perfectly blending with various interior design aesthetics.
The Dharma's optional storage drawer makes this gorgeous bed even more alluring and is ideal for storing additional pillows and sleeping sheets.
So, if you're looking sofa for your bedroom, then these spacious ones are the one.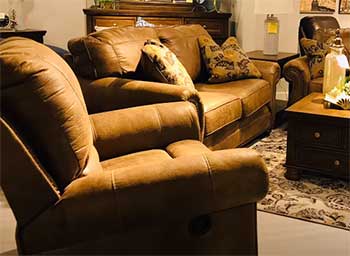 We all want our sofas to be clean and beautiful every time, don't we?
But that does not always happen due to the dust and grime everywhere.
But the problem gets easily solved if it can be cleaned with water or anything.
Unfortunately, the sofas of our today's collection have unremovable covers.
Casings for cushions shouldn't be taken off and washed or dry-cleaned. However, they have suggested frequent vacuuming or a light dusting with a non-metallic, stiff bristle brush to remove dirt and grime advised to prevent general soiling.
In casual or easygoing settings, if you're looking for any, this kind of sofa is the best for lounging because of its reclining feature, which fits perfectly with a casual environment.
Jonathan Louis sofas are all for bedrooms or living rooms. But Ashley furniture has covered a massive section of sofa sets, keeping the customer's requirement in mind.
There are numerous styles, materials, and sizes available for reclining sofas. Most feature back and seat cushions that are linked.
A reclining sofa is a terrific option if you want to unwind in complete comfort or anticipate having overnight guests. For those with limited room, there is also the option of a reclining loveseat.
These reclining sofas have a manual reclining option. So do it according to your preference and enjoy any show while chilling on the couch.
Moreover, it has a powered footrest so adjust it to your wish list. And the dual power footrest and headrest give you a comfortable ambiance.
That's how you can enjoy any movie at your home even without going to any cinema hall or something,
When not in use, a futon is a bed that can be transformed into a daytime sofa and vice versa. The Japanese word for bed is "futon." How cool is that?
A futon can be a savior if you have a small house and want to save space. Because these will not only save your space but also help you to have a bed when there are guests at home.
In that way, you'll enjoy both a sofa and a bed. Ashley furniture has thought about it and has developed a dual-feature sofa to save money and space for the customers.
Ashley furniture has diverse categories of futons with sizes, colors, and variations included for their customers so that you don't have to worry about getting it matched with your living room aesthetics.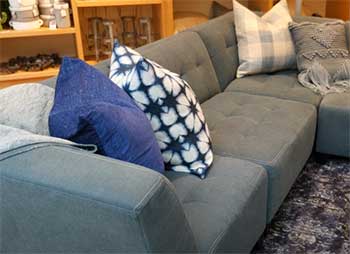 After thoroughly discussing who has what kind of sofas, I hope your confusion has cleared.
Now comes the essential part, which is pricing. This decides whether you should buy it or not.
If you're all up for class and blended style, this affordable brand Jonathan Louis can be your next choice.
Moreover, their diversity and color combination is ideal enough to fit perfectly into your room.
However, Ashley's types of furniture are expensive not only in pricing but also in quality assurance. Their sofas have diversity from average living room sofas to futons. They have all kinds of categories with diversities.
If you are eager to invest a bit more and grab a sofa that will fulfill your multi-purpose need, then choosing Ashley furniture will be ideal.
Materials Used In Constructing Sofa
Jonathan Louis uses Solid and premium hardwood material to construct their Elton Fabric Sofas, showing extreme durability and better working over the longer run.
In addition, these sofas ensure durability so that you may feel something truly returning value for money.
On the other hand, Ashely Furniture makes these Sofas with different materials, and they are available in unique varieties. Usually, you can find more collections of these Sofas at Ashely Furniture.
 The premium Jonathan Sofas are made with care in the United States and sold in the same country. Compared to that, Ashely is a significant brand having production and distribution facilities in many major parts of the world. The brand operates in several countries, like Vietnam, China, and Florida.
Therefore, there is no one specific location you can tell where the Ashely Furniture or their specific sofas are made.
Recommendations or Liking from Customers
Even if you find Ashely Furniture a significant, famous and older brand than Jonathan Louis, it is not that much recommended by people when it comes to getting furniture for your home from them.
On the contrary, even if Jonathan Louis is not that famous and older, they recommend it to be a great place to get your desired furniture items, depending on what you are looking for!
Warranty With Either Brand
A Difference you can find between the Jonathan Louis and Ashley Furniture is the warranty they offer on their different furniture items.
When it comes to Jonathan Louis, they give you up to 3 years of warranty on most furniture items, such as Seat Cushions, Fillings, springs, etc., for a sofa, beds, and other products.
Compared to that, Ashley Furniture provides different warranties on products ranging from 1 year to 5 years.
It's a giant company, so they have divided the Warranty side according to the products.
Still can't make up your mind? Read another comparison between the two.
| | | |
| --- | --- | --- |
| Features | Jonathan Louis | Ashley Furniture |
| Warranty With Either Brand | Three (3) year warranty on the seat cushions, fillings, and springs. | Different warranties with different products |
| Materials used in constructing Sofas | This American-made and designed Jonathan Louis Elton Fabric Sofa is constructed of solid hardwood for durability and stability | Sofas at Ashley Furniture are made with different materials in different colors and finishings |
| Country Made In | United States | They have production facilities in various countries like China, the USA, Vietnam, and more |
| Recommendations or Liking from Customers | Standard recommendations from customers but liked more | Higher purchases, more variety, lots of customers but no reliable recommendations |
Frequently Asked Questions (FAQ)
What sofas are the most durable?
Leather couches are incredibly resilient and only get prettier with time. Additionally, leather has good odor resistance and stains which can be quickly cleaned up with a cloth.
What material sofa lasts the longest?
One of the most resilient and fashionable materials available is leather. It is popular among those who have children and pets because it typically withstands daily wear and tear and is incredibly simple to clean.
What type of sofa is the most comfortable?
Among many sofas, the lounger sofa is the most comfortable one. High-density foam is used in seat construction to create a luxury seating experience.
Who makes Radley sofas?
Cisco home makes Radley sofas.
Conclusion
Whenever we hear the term "sofa," it automatically resembles a soft, warm, and cozy space. Doesn't it? That's why we have tried to bring the two best sofas in the market in a competitive way, like- Jonathan Louis and Ashley Furniture.
In this way, you'll be able to understand their differences and choose where you should invest in your lovely home.