Purchasing flooring for your new home can be overwhelming. There are hundreds of different variations and options available on the market.
In that mess, homeowners often confuse which flooring should match their home and has the necessary balance of style and functionality.
If you are here for a suggestion, I would like to introduce you to Duravana flooring. From my personal experience, this flooring has all the right qualities.
Let's dig deeper and see what Duravana flooring has to offer.
Features of Duravana Flooring

Some critical features of Duravana flooring separate it from the rest of the options on the market. Let's have a look at them.
One of the preconditions of suitable flooring is durability. When you install flooring, it's supposed to last for years. If the flooring isn't durable enough, it won't be able to withstand the continuous abuse and last that long.
LL flooring has implemented its hybrid formula with this Duravana flooring. So, what's the hybrid about? Duravana offers a look similar to hardwood but has mixed vinyl and laminate.
So, the durability gets upgraded with extreme dent and water resistance. For families worried about wood flooring because of kids and pets, Duravana might be a perfect choice.
These days brands don't seem to care about the environmental aspects of manufacturing hardwood flooring. As a result, every year, deforestation is going on at an alarming rate.
However, LL flooring seems to play a responsible role in this matter. First, Duravana isn't raw wood, which keeps the deforestation rate under the cap.
Next, whatever oak and maple wood is used for flooring manufacturing, LL flooring collects those from certified responsibly managed FSC forests. On top of the eco-friendliness, the flooring is 100% PVC free.
That means you are free from health risks like asthma or rare cancers.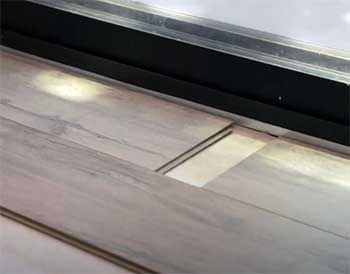 There have been several variations available for Duravana flooring.
This means that no matter your budget, home style, or size requirement, there is something for everyone.
People often back out from their preferred brand just because it doesn't offer the necessary variations to match the style of their home.
In that regard, Duravana flooring offers different sizes, thickness shades, textures, and other varieties. So, you can choose the flooring that suits your home style and need. 
The style and design of the flooring are essential factors. Flooring is always about the balance of style and functionality.
So, the design aspect can easily make or break your space. Visual interaction always comes first, and Duravana offers varieties in the design sector to make this interaction good.
You can choose from a wide range of colors, shades, and wood options and make the design and look in your mind a reality. The hybrid construction of the flooring also indicates the innovative aspect.
Duravana flooring is the symbol of style and aesthetic that combines the characteristics of traditional hardwood with the goodness of laminate and vinyl.
Dual-Defense Waterproof Technology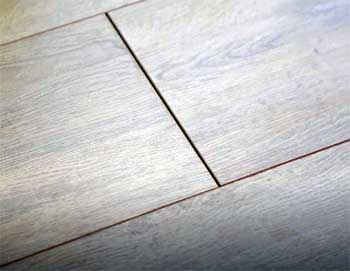 Waterproofing is an essential aspect of any flooring option.
If your particular flooring lacks waterproofing, it can quickly lead to unwanted warping and swelling underneath the flooring.
In the long run, it can cause the growth of mold and mildew too.
Duravana flooring takes this issue seriously and solves it with their dual-defense waterproof technology.
With Duravana on my flooring, I don't worry about the water splashes or accidental spills on the flooring anymore.
Alongside the waterproof planks, the antilock mechanism stops the moisture from damaging the subfloor. So, the overall integrity of the floor remains intact for years.
Installation is not crucial if you are doing it with a professional. However, if you love DIY installation like me, Duravana can be a very convenient choice for you.
The flooring has zero acclimation time, which means the flooring gets attached to the subflooring instantly with a click mechanism. Moreover, you won't need any underlayment because the attached padding also offers sound dampening.
Lastly, I would like to mention the warranty of Duravana flooring. Flooring isn't something cheap. So, you often don't change something as massive as the flooring.
Though I have mentioned the excellent durability, the lifetime residential warranty with a 25-year light commercial warranty makes Duravana flooring a future-proof buy.
What Could Have Been Better With Duravana Flooring?
Like any product, Duravana flooring has its flaws too. Though these minor flaws shouldn't be a deal breaker, you should know about them in advance to make an informed decision.
In terms of durability, Duravana is an excellent option with a hybrid of wood, laminate, and vinyl. However, looking for the exotic look of solid hardwood flooring, you can be slightly disappointed.
Some options replicate the look of hardwood flooring, but adding solid hardwood flooring to the Duravana lineup can draw more customers.
Hardwood flooring is always costlier than the standard flooring option. Duravana flooring here is no different, with a higher price tag. If we compare the pricing with the competitors, the cost of Duravana still falls in the higher spectrum.
Combined with the installation cost, the whole thing may fall out of the affordability of many customers. So, this is one aspect that LL flooring can work on.
Frequently Asked Question (FAQ)
Who makes Duravana flooring?
Duravana flooring is manufactured by LL flooring. If you don't know, LL flooring is the country's biggest flooring retailer, with various options for many customers. LL flooring introduced Duravana flooring for families with kids and pets who still don't want to compromise the style of the floor.
Which is the best brand for flooring?
There is no best brand for flooring as the answer depends on the necessity of different customers. However, if I have to pick one brand that comes close to being the best, it has to be LL flooring. Significantly, the wide range of hardwood options makes this brand one of the best in business.
What kind of flooring is Duravana?
As the name Duravana Hybrid suggests, it has the perfect mix of wood, vinyl, and laminate. This hybrid takes the best quality of each material and creates the ultimate plank that's stylish, durable, and eco-friendly.
What is Duravana made of?
LL flooring is the manufacturer of Duravana flooring. As a manufacturer specializing in hardwood, Duravana is no different, as the main ingredient is hardwood. Duravana flooring is made of either oak or maple wood, collected from certified responsibly-managed forests, with a mixture of vinyl and laminate. This hybrid makes Duravana extraordinarily durable and wear-resistant.
Final Thought
That's a wrap floor today. Hopefully, these Duravana flooring reviews have given you a brief idea about Duravana flooring. Great look, durability, and proper pricing separate Duravana from the rest of the flooring available on the market.
I had been searching for suitable flooring for my home until I came across Duravana flooring, which delivered a beautiful eco-friendly flooring solution for my home.
So, if you are looking for flooring that'll match your lifestyle, Duravana is worth checking out.