JCB entered the market of skid steer loaders in 1993. The company already had years of experience manufacturing telescopic handlers. 
Over the years, the British company's skid steer line has seen great evolution, shifting the paradigm from Series I and Series II to the New Gen models of today.
Initially revealed in November 2010, the New Generation line has both small and large platform models offering radial or vertical lift.
Today, we discuss whether their skid steers are worth the hype or not.
Features of JCB Skid Steer
Below are the features of JCB Skid Steer in detail.
In the JCB Skid Steer loader line, there are three models to pick from. All 74 hp (55 kW) JCB EcoMax engines are self-sufficient and do not need DPF, DEF, or engine after treatment.
215 Skid Steer Loader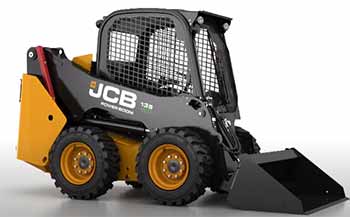 The JCB 215 is a small-platform vertical lift skid steer loader powered by a 74 hp JCB Diesel by Kohler engine.
Rated operating capacity: 2,112 lb (958 kg)
Operating weight: 7,253 lb (3,290 kg)
Net engine power: 74 hp (55 kW)
270 Skid Steer Loader
The 270 vertical skid steer loader is a larger-perform machine from JCB with a 74 hp JCB EcoMAX engine.
Rated operating capacity: 2,723 lb (1,235 kg)
Operating weight: 8,680 lb (3,937 kg)
Net engine power: 74 hp (55 kW)
300 Skid Steer Loader
Rated operating capacity: 3,186 lb (1,445 kg)
Operating weight: 9,288 lb (4,213 kg)
Net engine power: 74 hp (55 kW)
Teleskid 3TS-8W
The world's only skid steer loader equipped with a telescopic boom.
Rated operating capacity: 3,208 lb (1,455 kg)
Operating weight: 9,859 lb (4,472 kg)
Net engine power: 74 hp (55 kW)
Plenty of power and versatility are two of the primary advantages of using JCB skid steer loaders. All these machines are equipped with engines that do not need DEF, DPF, and engine after treatment. 
Traditional skid steers lag with their cooling systems but JCB machines offer clean, cool air from the top and push hot air out from the rear and sides, away from the driver.
The company's Smoothride System (SRS) features the load and boom to move independently of the chassis for greater operator comfort, load retention, and quicker loading cycles.
JCB made a name for itself in the market for its amazing strength, durability, and ability to handle any condition or application.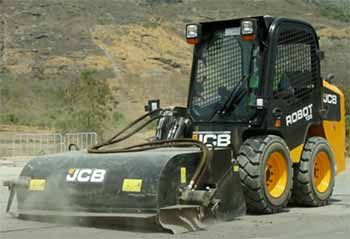 These skid steers come with fully-welded chassis for a rigid structure.
The result?
Reduced weight and maximum strength. Steel rollers on a solid undercarriage offer consistent performance on the roughest of terrains.
JCB's iconic single-arm Powerboom™ has 20% more steel and tapered pivot pins, in contrast to the usual twin-arms on the average skid steer loader.
Operators get greater rigidity, improved material retention, and less wear.
The Powerboom™ protects the internal routing better. The quick hitch is made from best-quality high-tensile steel and impresses with high-strength welds.
For greater breakout force and extra support, JCB skid steer loaders are equipped with the industry's biggest quick hitch pivot pins.
Appealing with their wide-opening side doors for safe exit and entrance, these machines spare operators the issues of climbing over the big, awkward, and slippery attachments. 
Moreover, the JCB Powerboom™ loader arm allows 60% better visibility by the equipment than traditional twin-arm machines. Since they have no rear torque tube-like conventional skid steer loaders, users also enjoy notably better rear visibility.
JCB skid steer loaders also offer unmatched visibility to the quick hitch and the cutting edge of the bucket, simplifying tasks such as changing attachments, loading trucks, and working close to obstacles.
All JCB skid steer loaders are quite easy to service and work with minimal maintenance. Daily checks can be done at ground level. In addition, oil filters, pre-filters, and air filters have easy access to them through a big rear service door.
Maintenance downtime and leaks are greatly reduced with the addition of O-ring face seal hydraulic fittings. Tilting cabs are another crucial part of JCB skid steers.
They can be operated by a single person and accessed in a few minutes.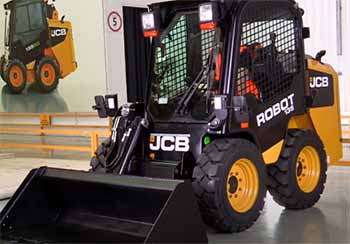 The cabs on larger JCB platform machines are 33% bigger than rivals'.
Thanks to the wide-opening side door, operators do not have to crawl under unsupported booms or over attachments to access the machine.
Their unique myCHOICE control software allows operators to customize the joystick's sensitivity to match their work rhythm.
What Could Have Been Better With JCB Skid Steer?
Despite being powerful machines, JCB's units lack the massive strength of popular competitors, like CAT. It is probably a design flaw that prevents the machines from offering their full potential. 
A common complaint with users of the JCB skid steers suggests that the loaders do not last a long time. Granted, they will work well for 500 hours, but slowly start depreciating after that.
Frequently Asked Questions (FAQ)
Is JCB a good skid steer?
JCB manufactures good skid steer loaders. All their machines boast impressive operating weights and real operating capacities. The durable engine only adds to it.
Who makes JCB skid steer?
In 2010, Volvo Construction Equipment and JCB signed a deal under which the companies agreed to cooperate on the manufacturing and designs of compact tracked loaders and skid steer loaders for global distribution under the brands. 
Which skid steer is most reliable?
John Deere produces some of the most reliable skid steers in the market today. Bobcat and CAT are great choices too.
Are Volvo and JCB skid steers the same?
Users have noticed that JCB skid steers are identical to Volvo's.
In Conclusion
Now that we are at the end of JCB skid steer reviews, it should be easy for you to make a better, more informed decision. These machines are real beasts on the ground but naturally, they also have their limitations. In general, we found the JCB skid steers well worth the coin.