Skid steers and track loaders are something you have to be careful with. They're smaller, will give you a lot of options but also need more inspection.
This is why it is good to go for known brands like Komatsu.
Komatsu CK30 is one of the better loaders in the market. Sure, it isn't the most popular name but that doesn't mean it isn't good.
Let's take a look so you can decide whether it works for you or not.
Key Features of Komatsu CK30 Skid Steer
Track loaders are tricky. Komatsu CK30 isn't any different. The best feature of this would be its versatility and flexibility. It is amazing to work with and has pretty sturdy insides too.
Of course, everything depends on your use case. Things can be different depending on your terrain, project and how frequently you'll need it.
Nonetheless; the general, close-to-ideal terrains paint a pretty positive picture of the CK30. Here are some of its key features of it.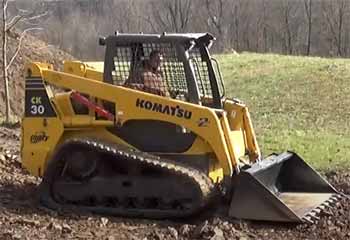 Everyone knows the loaders aren't supposed to be the most spacious thing on earth.
Whether it is a skid steer or a compact track loader, most of these things are small.
The good thing about Komatsu is that it is somewhat more spacious than its competitors and the interior is pretty neat.
The interesting part of CK30's design is the height. It isn't very wide but it is tall enough to accommodate most of your work stuff. The roof of the cab reaches 2 meters so you can imagine the amount of space.
The cab itself isn't sealed to the point of being dustproof, but it does a pretty good job of keeping dust away. The neat interior will also give you enough wiggle room to work with the controls comfortably.
Versatility and Flexibility
When you hear versatility in terms of a compact track loader you probably think about the attachment. It is true though, they are versatile because they can fit multiple types of equipment.
But the CK30 goes a step above that and does good on different terrains too.
CK30 is pretty versatile with the add-ons. It usually comes with the basket but of course, you can change that. CK30 also has 2m width on track so it puts less pressure on the terrain. This makes it perfect for a "middle point" performer.
CK30 can perform well in the sandy, muddy and uneven ground in general and sometimes in harder terrains. It can do well on a forest floor. The asphalt ride may not be the smoothest but it is better than most other track loaders.
Another good point is this track loader's flexibility. It is surprisingly easy to control with a 226 cm rotation angle.
It can also get into most places easily so you can grab everything you want from pretty much everywhere. The arm can go up to 2 meters in max lift and dump.
This pretty much makes it superior to other track loaders. Watch its live action here!
One of the key highlights of the CK30 track loader is its powerful engine. It packs a pretty big punch and is almost sure to keep things going for a long time.
CK30 is powered by a 4-cylinder turbocharged engine. It pumps out 84 HP to keep this machine running and keep the balance for the lifting part.
With a maximum measured torque of 1600 rpm and a max speed of 12 kph, you can be pretty sure that you won't have to worry about the engine power.
Komatsu's CK0 is one of the longest-lasting engines on the market. You'll rarely see them have trouble or just give up on the owner. The engine is probably one of Komatsu's pride points other than their self-assembled vehicles.
What Could've Been Better With Komatsu CK30?
Komatsu CK30 is good enough on its own, but there is definitely some room for improvement. Some tweaks in their direction and this skid steer can be even better than it is now!
This is more of a manufacturing fault but it is an issue regardless.
Komatsu CK30 (or any Komatsu skid steer/track loader for that matter) takes pride in their vehicles being unique to them.
Every part is made and assembled in their factory. Only a select few parts are bought in from different manufacturing sources.
This is amazing and all, but the problem is finding a replacement. Since Komatsu is the only supplier of mechanical parts, it is hard to find any replacement when you need it.
If you do find some they will probably be much more expensive than the regular parts.
This is the one problem that stops people from buying the CK30 skid steer. If the supply line improves things would be easier for the consumers.
Alternatively, they can integrate more parts from widely available manufacturers too.
This depends on the terrain you'll be working in. If it is a hard one or a forest with dense trees, your CK30 may not give you the clearest visuals.
The built-in camera tends to get foggy in a forest so you'll have to invest in a good backup camera.
The extra spending may not be for everyone and the screen blurring problem is definitely irritating. So that's another thing that could've been better with the Komatsu CK30 skid steer.
This is unfortunately a common issue with CK30s unless you invest in a good one. Hydraulics problems are usually more common in secondhand CK30 but sometimes newer ones can act up too.
This happens when the filter breaks off. The vehicle stops working and you'll see hydraulic fluids under your seat. If you see this, it means the filter in your CK30 has either sunk down or completely broke off.
The problem is that this is a very common issue. CK30 has lower hanging filters and it gets snagged around a lot because of its placement.
All the work hours keep wearing it off and then it breaks. You'll have to manually fix the filter to solve this problem.
This is something Komatsu should've paid attention to but didn't. This is why it is still a common problem. If the filter placement was a little high up this could've been avoided easily.
Frequently Asked Questions (FAQs)
Is Komatsu a good skid steer?
That pretty much comes down to personal preferences. There are people who prefer something else. But if you're talking about independent rating, Komatsu is one of the better ones in the market.
Does Komatsu make a compact track loader?
They do. Komatsu's CK30, CK30-1, and CK35 models are compact track loaders and very good ones too.
Does Komatsu make a skid steer?
Yes, Komatsu also makes specific skid steers. The CK30 and CK35 models can usually double as skid steers. But other than that they also make SK510-5, SK714-5, SK815-5, and SK820-5 models that are dedicated skid steers.
Final Verdict
And that's a wrap on the CK30 review. If you're thinking of buying one, make sure you go through as many Komatsu CK30 reviews as possible because it is a big investment.
It will of course depend on your requirements and projects but all in all, Komatsu CK30 is one of the track loaders that deserve a shot.