When choosing a reliable trailer, we consider its load capacity, safety features, tires, axle location, rear bumper, tongue length, etc. I have used different Iron Bull trailers for the last two decades.
These vehicles have many special features to impress you.
Handling various official and household tasks is relatively easier with such trailers. Plus, they come at an incredibly low price, which is hard to beat. Here, I come up with the reviews on Iron Bull trailers to share in-depth details.
Features of Iron Bull Trailers
Each brand includes some unique features in its trailers to stand out from the competitors. And Iron Bull is no exception. Here are the top notable features of their different types of trailers.
Channel or Structural Cross members
Iron Bull trailers come with Channel or Structural Cross members to support the vehicle's transmission through its steel-reinforced bar. It has a reliable construction and increased strength properties.
Hence, you will not see any twisting or deflection issues easily.
Even the bulk of a trailer's load will not compromise its stability over time. Weather, wear, age, and weight are less likely to affect the trailer's performance.
Plus, their highly engineered design and efficient sturdiness ensure excellent support for the frame.
Various Types of Trailers
Iron Bull manufactures a wide range of trailers such as dump trailers, equipment trailers, deck-over trailers, tilt trailers, utility trailers, etc. Their dump trailers are ideal for transporting items such as gravel, demolition waste, scraps, debris, and other construction &coal waste, etc.
If you want to load and unload powered and cargo equipment or any heavy machinery, tilt trailers come in handy because you can tilt them at an angle. Deck-over trailers come in handy for hauling loads that require a wider deck.
Most users agree that Iron Bull trailers have a well-thought design. Safely keeping your goods and valuables during transportation is what you will appreciate about their design.
Carrying heavy loads will be easygoing for their trailers because they have a lower center of gravity. This will prevent the goods or supplies from tipping over.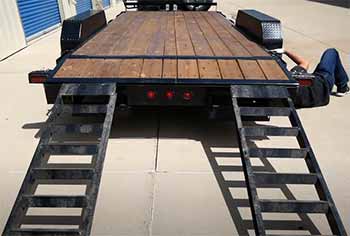 Iron Bull trailers feature electric brake axles that give more control over the vehicle.
Adjusting the brake controllers is easygoing while driving the car.
It also provides increased safety because you can brake the vehicle evenly and smoothly.
This will prevent unwanted highway accidents.
However, make sure the trailer's weight should not be more than the vehicle's horsepower. Since manufacturers offer two Electric Brake Axles for each trailer, they have better braking power.
The brake pads are less likely to wear out quickly. Making an emergency stop won't be a concerning point.
You can maintain a long lifespan of the trailer and vehicle for their increased support. This will reduce the overall maintenance cost.
Multi-leaf Slipper Spring Suspension
You don't need to use any additional linkage to hold the axle in position because the suspension of Multi-leaf Slipper Spring is pretty strong. This high-quality suspension is equipped with a large amount of metal.
You will see minimal fore and aft movement under braking.
Handling a higher load of the vehicle's base frame, wheels, and axels is easygoing for this multi-leaf slipper spring suspension. Increased friction exists between each plate of steel, making them better for handling vehicles and axle damping.
Their heavy loading capabilities make them a top choice for commercial vehicles. Its broad spring base and increased rear moment center allow you to control the chassis roll more precisely. This type of suspension requires low maintenance.
Iron Bull trailers come with radial tires. These wheels have a wide footprint to ensure better off-road performance. This type of tire has increased wheel contact patch and traction. Its reduced rolling resistance properties offer better fuel efficiency.
These wheels are reinforced, making them an ideal choice for higher loads. Radial tires can show reliable performance if you want impressive traction, stability, and tread wear in off-road conditions.
They run cooler and ensure longer tread life.
Ensuring better stable contact is what you will appropriate about these wheels due to their Flexible sidewalls. They will give better ride and vehicle control since they deform effortlessly to go through the contour of the road surface.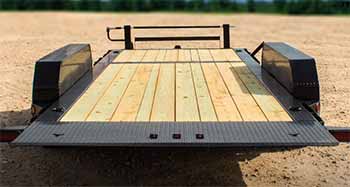 Like many advanced trailers, Iron Bull trailers have lifetime LED lighting.
These lights have a compact and sleeker design. They offer brighter and long-lasting lighting. Plus, their LED lights take less time to illuminate, ensuring safe driving.
You can react quickly and avoid accidents.
Moreover, this LED lighting consumes 75% to 85% less energy than incandescent and halogen lights. They have an increased lifespan that can be around 50,000 hours on average.
Plus, it comes with IP67 certifications. You can use them in the rain as they are waterproof.
Furthermore, their increased brightness gives you better visibility even during the daytime. This high-quality lighting has a faster rising time and takes less than a quarter of a second to reach full intensity.
Since they don't have any delicate filaments, vibration won't affect them.
Iron Bull trailers come with Cambered Brake Axles. It ensures perfect wheel alignment on the pavement. It will be more beneficial if you want to use the trailer on the highway regularly.
Its slight bend in the axle will ensure even tire wear. This will make the tire long-lasting. Plus, the trailer will have less wild and erratic movement. You can control the vehicle efficiently.
What Could've Been Better With Iron Bull Trailers?
Iron Bull Trailers has many positive aspects. But they have a few cons too. Here are the negative aspects of Iron Bull Trailers.
Iron Bull trailers come with low-quality paint. They have just a powder coat on the steel. No primer is used on the paint. Plus, many users complained they cheap off prematurely.
You can't expose them to UV rays for a long time. Otherwise, they will break down quickly. Plus, the color does not always remain consistent.
Many owners complain about leaks in E-Z Lube. Their bearing adjustment is not up to the mark, which results in a leaking seal. The grease seals are prone to push out of the hub,
Plus, the wheel bearings have more than the required clearance. This makes them quickly loose, causing quick seal wear.
Frequently Asked Questions (FAQ)
Does Iron Bull make good trailers?
Yes, Iron Bull makes decent-quality trailers at an affordable price. Their trailers are ideal for heavy loads. They can provide long-lasting service without compromising the quality. The manufacturing company also offers three years warranty for their trailers.
Who Makes Iron Bull?
Norstar Manufacturing is the primary manufacturer of all Iron Bull trailers. It makes all types of trailers Iron Bull offers in the market.
Are deck-over dump trailers good?
Decks over trailers have more space to load and unload more items at a time. Plus, their higher dump angle allows you effortlessly dump any items.
How much does an iron bull trailer weigh?
The average weight of an empty Iron Bull Trailer can be 6000 lbs to 10000 lbs depending upon its type.
Conclusion
Choosing the right trailer is essential regardless of the job you want to do. Since Iron Bull trailers have many incredible features and impressive designs, it is well worth considering this brand.
I have already mentioned all the essential aspects to help you know all the necessary features. You can also check other Iron Bull trailers reviews to learn them better.