Gatormade is a recognized brand in the trailer industry. Whether you are a contractor, hauler, farm owner, or freighter, they have special trailers for all.
Their simplicity, versatility, fuel efficiency, and usable space make them a top choice.
Carrying or transporting heavy loads is easygoing with Gatormade trailers. You can use the Gatormade trailers to carry gardening and construction supplies, band equipment, and many other supplies.
Let's dive into the Gatormade trailers reviews. 
Features of GatorMade Trailers

Gatormade Trailers can show reliable performance for transporting goods and supplies. They have many notable features to stand out from the competitors.
Durable Powder Coat Finish
All Gatormade trailers have a durable powder coat finish. This type of finish has a pretty smooth, clean, and complete coverage. Unlike conventional liquid coatings, they have thicker layers, which are not prone to sagging or running.
Plus, you will see the least appearance variations between the vertical and horizontal coating surfaces. Wear, chipping, fading, and scratches are not common scenarios for powder coat finish.
This requires simple maintenance since it is resistant to corrosion and damage.
Plus, this type of paint is a more eco-friendly option. It will not release any harmful chemicals into the environment. Hence, the power coat finish ensures optimal environmental safety for disposal and usage.
Gatormade offers different trailers, such as gooseneck trailers, equipment trailers, dump trailers, pintle trailers, tilt-bed trailers, and utility trailers. They can perform heavy-duty tasks smoothly. Gatormade engineered them with advanced technologies.
For example, its gooseneck trailers come with a long, curved neck to provide excellent stability. It gives the driver more control over the vehicle. This type of trailer comes in handy for transporting large materials or equipment.
Utility trailers are versatile trailers. This unpowered vehicle is mainly attached to a powered vehicle. It is handy for hauling or picking up trash, shifting furniture, carrying small vehicles, camping supplies, and transporting cargo and goods.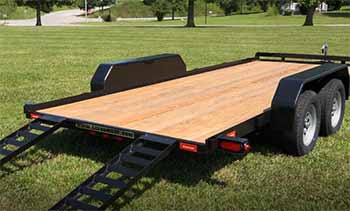 Gatormade trailers come with an LED Lighting System. It offers consistent and brighter lighting.
Also, the LED light has a higher reaction time and lower braking distance by 16 feet.
Road vibrations and shocks will cause minimal harm to them, unlike incandescent bulbs.
Additionally, they consume less energy and have a higher life expectancy.
Even frequent switching will not affect their lifespan significantly. Its quicker illumination ensures more safety from accidents since you can see clearer and quicker views.
Gatormade trailers come with an anti-flex system to ensure extreme durability and hold the trailer firmly. Plus, frame-flex problems are less likely to occur. It's high-quality welded, pierced frame can handle bulky and heavy loads.
As a part of the anti-flex system, the trailer features flange-safety trusses to offer a good distribution of heavy loads. Many Gatormade trailers feature torque tubes to ensure precise steadiness and stability.
You will not see any slow movement or going rhythmically backward.
10 Or 16 Ply Radial Tires
Many Gatormade trailers come with 10 or 16ply radial tires. They offer a consistent, smooth, and stable performance on the road. You can even use them on highly rough off-road terrain.
Hence, it will ensure optimal fuel efficiency and higher mileage.
This type of tire offers improved better traction and flotation. Apart from that, the manufacturer offers a mounted spare tire, which you can use in any emergency. Enjoying long-lasting tread wear and a smoother ride is what you will love.
Gatormade included multiple safety features for Gatormade trailers to ensure optimal user protection. Their safety grab handles are efficiently designed and placed in the correct location to make them quickly and easily accessible.
You can effortlessly and safely use the grab handle to climb into the trailer. It comes with three points of contact with a safe handhold. Also, they feature diamond-plated steps to provide safe and comfortable traction.
Regardless of the weather conditions, they offer increased safety. Their texturized steps are prone to slippery issues.
They also come with a complete breakaway kit to keep the trailer in a safe zone if it is disconnected from the towing vehicle.
Gatormade trailers come with a lower-profile flatbed design. This provides increased accessibility since their position is closer to the ground. Plus, handling too tall cargo will be easygoing with such trailers.
Loading is easygoing for lower-profile flatbed trailers because of their reduced height. Additionally, they offer a lower center of gravity, ensuring more stability.
You can keep your products safer during transport since its middle area is lower than both sides.
Heavy-Duty Adjustable Suspensions
Gatormade trailers feature heavy-duty adjustable Suspensions. This suspension system comprises a series of curved springs to provide optimal driving comfort. You can adjust it lower to take the benefit of the low profile.
Its overall design and function are highly unique and more beneficial than the old-style suspension system. You can even elevate the suspension position to clear obstacles.
Even Fragile loads will cause minimal damage to their physical conditions.
Gatormade trailers can show reliable performance because of their preformed wire harness. It is highly flexible and functional.
Even adverse weather conditions will cause no damage to them. Extreme hot or cold temperatures will not affect the performance of the trailer.
Other than these, you can even replace the worn, damaged, or lost front harness part easily. This gives you extra convenience for replacement. You will have to face fewer hassles.
What Could've Been Better with GatorMade Trailers?

Though Gatormade trailers have many remarkable features, it is not free from flaws. Here are a few common complaints customers mentioned about Gatormade trailers.
Many users complained they needed to repair Gatormade trailers more frequently than others. You will notice some common signs.
For example, they may have faulty lighting or tire failure. You may need to repair the trailer if the trailer is hard to stop.
Many users complained about the customer service of Gatormade. They need to wait for hours to solve problems.
Additionally, a few people shared that customer service is not up to the market. Hiring more professional employees could have been better to solve this problem.
Frequently Asked Questions (FAQ)
How Much Does A Gatormade Trailer Weight?
The average weight of a Gatormade trailer depends on its type. Their dump trailers weigh around 4,500 lbs, whereas large travel trailers weigh about 6,700 lbs. In contrast, Gooseneck Flatbed Trailers can weigh about 7200 lbs.
Is Big Tex A Good Trailer Brand?
 Big Tex is a reliable brand for manufacturing heavy-duty and professional-grade trailers. They are made from heavy-duty components and materials. Plus, the manufacturer utilized advanced processes and paints to make them.
Who Makes The Best Gooseneck Trailer?
KAUFMAN, TEXAS PRIDE, BIG TEX, Pro-Line,  Top Hat, and Gatormade are the top brands for making the best gooseneck trailer.
What Year Was Gatormade?
Gatormade was established in 1996 by introducing different transportation equipment such as trailers, tractors, trucks, etc. They have been in the market for more than 26 years.
Final Thought
Gatormade trailers are an excellent choice for household and professional purposes. They offer a wide range of products.
Before choosing a particular option, you want to determine what types of things you want to load and unload with a trailer.
Also, don't forget to consider how frequently you will use the unpowered vehicle. Hopefully, the Gatormade trailers reviews gave a clear idea of the brand.