Don't you hate it when your wooden furniture or deck gets damaged? 
Well, your deck might lack the best hardwood protection. Read my IPE oil vs. Penofin review to find out the best product available. 
You might have spent a fortune building your deck and wooden furniture. But if you do not give proper protection, those will decay soon. 
That's why I will show you a comparison between two wood protection oil here. Eventually, you'll find the best product for you. 
A Quick Comparison Table
Here is a quick comparison table between IPE oil and Penofin: 
| | | |
| --- | --- | --- |
| Aspect | IPE Oil | Penofin |
| Product Type | Oil-Based Semi-Transparent Stains | Brazilian Rosewood Oil |
| Special Feature | 15% Longer-Lasting | Advanced Mildew Protection |
| Benefits | Offers Fewer Benefits | Offers More Benefits |
| Performance | High | Superior |
| Price | Higher | Lower |
In-Depth Comparison Between Ipe Oil And Penofin
You have drawn some basic knowledge about these products. But now it's time to dive deeper. Here are some key differences between the two: 
IPE oil is a specific formula that protects and preserves the natural beauty of exterior wood decks.
It is an oil-based natural wood finish that comes as a semi-transparent stain. 
You can choose between 100 and 240 VOC formulas. 
On the other hand, Penofin is an oil-based hardwood finish made from responsibly collected Brazilian Rosewood.
It can penetrate the wood surface and protect, stabilize and nourish its natural beauty. 
You will get 100, 250, and 550 VOC formula options for Penofin. To learn more, read my article where I have differentiated Penofin with Australian Timber Oil.
IPE oil offers excellent penetration in every type of hardwood. You will get up to 15% longer-lasting results from this formula. Apart from giving a natural finish, it protects your deck from harsh weather and UV damage. 
On the contrary, Penofin is specially designed to penetrate deep into hardwoods. It offers advanced mildew protection as well as removing mill glaze. 
Plus, you will get added ultraviolet protection from this formula. On top of that, this surface film won't ever crack, peel or bubble.  
You will be able to protect and condition your deck, maintaining a natural look at the same time.
It also stabilizes your hardwood and nourishes it from within. 
Besides, you will get excellent prevention against wraps, cracks, and wood splits. 
On the contrary, Penofin is perfect for all types of hardwood. This easy-to-apply and simple formula will provide a natural tone and long-lasting beauty. 
You'll have to wait 1-2 days for IPE oil to dry completely. Plus, it can cover 250 -300 square feet per gallon in smooth wood and 150-250 square feet per gallon in rough lumber. 
In contrast, Penofin takes 4 hours to become touch dry and 4-7 days to cure fully. But you can cover up to 400 square feet per gallon with it. 
Which Product Is Best For You?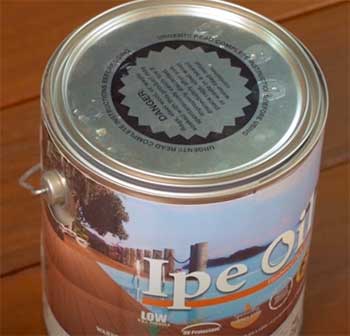 With the above discussion and many verified customer reviews, it is evident that Penofin works better than IPE oil.
So, I would suggest you go for Penofin. 
It comes cheaper, covers more area, and offers more VOC options.
But most importantly, it provides superior performance than IPE oil. 
Frequently Asked Question (FAQ) 
Is Penofin good for Ipe?
Penofin is specially designed to protect hardwoods like IPE. It offers excellent protection against UV and extreme weather. 
What oil do you use on Ipe?
IPE is a high-density hardwood that needs a finish to penetrate deep. So, you should use Penofin Hardwood Oil finish on IPE. 
How long is Penofin good for?
Penofin will give excellent results for an average of 9-24 months on horizontal surfaces and 2-5 years on vertical surfaces. 
Is Penofin good for decks?
Penofin is an excellent oil-based product for deck finishing. It will protect your deck and prevent UV and weather damage. 
Conclusion 
Wood is a precious thing that enhances the beauty of our house. But if you do not cure your wooden surface with the best finish, it's only a matter of time before they will perish. 
But I'm glad that you found my IPE oil vs. Penofin review. Now you can protect your wooden surfaces and give them a natural look.