Want to know the differences between Pella Impervia Fiberglass windows and Infinity Fiberglass windows?
In that case, this review will help a lot. I will compare them with one another and discuss their differences in this article.
Pella Impervia fiberglass windows have only 3 interior and exterior finishes, whereas Infinity fiberglass has 7 exterior colors and 5 interior colors. That is just one difference, there are a handful more, and you should know them all to know which one will fit your home.
So, let's get into our review.
A Quick Comparison Table
Here is a quick comparison table between Pella Impervia Infinity windows:
| | | |
| --- | --- | --- |
| Aspects |                 Impervia | Infinity |
| Windows Quality | Superior Quality | High-Quality |
| Special Feature | Has Interlocking Check Rail | Detailed Design Work Of A Wooden Window |
| Benefits | Offers More Benefits | Offers Fewer Benefits |
| Glass Options | Various Glass Options | Various Glass Options |
| Available Collection | 6 Collections | 9 Collections |
| Available Color | 3 Available Colors | 7 Exterior & 5 Interior |
| Warranty | Limited Lifetime Warranty | Limited Lifetime Warranty |
| Price | Starts From $1205 | Around $1000 to $1400 |
In-Depth Comparisons Between Impervia And Infinity Windows
You have drawn some basic ideas on these two fiberglass windows. But it's time we get into more detail. With a comprehensive comparison, you will be able to pick up the right window.
So, here are some key differences between the windows: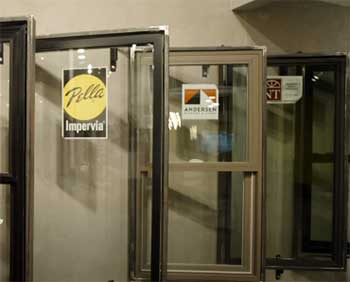 Pella Impervia fiberglass windows are known for their outstanding strength and long-lasting durability.
A slick design and timeless style coupled with excellent performance make them an unmatched choice for fiberglass windows.
With Pella's proprietary low-maintenance Impervia fiberglass windows, you will get beauty, durability, and peace of mind altogether.
Besides, these windows are capable of tolerating any harsh weather conditions.
Similarly, Infinity Fiberglass Windows from Marvin also come with timeless design and powerful & long-lasting performance. Its strong fiberglass materials and robust performance make it one of the leading brands in the market.
Harsh weather resistance and crack-free performance make Infinity fiberglass windows a reliable option for your home.
Impervia windows are engineered for long-lasting performances. It can handle extreme heat and cold.
These windows can create a barrier and prevent air and water from infiltrating your house with an interlocking check rail.
Besides, a powerful weather-stripping provides strength to the windows and makes your house properly insulated.
Zinc die-cast self-aligned locks in the windows will keep your home safe from outside harm. Besides, you will get high-altitude glazing with these windows.
On the contrary, Infinity fiberglass windows are designed to provide excellent ventilation to your home. You will get cool air through the bottom sash, and hot air will go out through the top sash.
Besides, you will get all the detailed designs of a wooden window.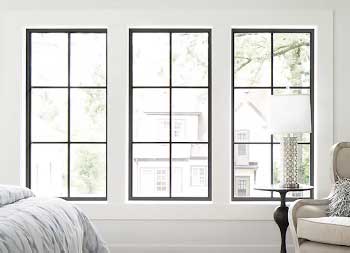 Because of the outstanding features, you will have a handful of benefits from both windows.
Fiberglass is one of the strongest for windows, and Pella Impervia windows are made of highly durable fiberglass that resists water and bugs.
It can tolerate temperatures from -40ºF to 180ºF, which is impressive. You will get excellent insulation even in subzero cold and most extreme heat.
On top of that, you won't have to paint over it or refinish it after installation. But most importantly, you'll get exceptional energy-efficient performance from their dual and triple pan glass options.
On the other hand, Infinity Ultrex fiberglass windows are 8 times stronger than vinyl windows. You will get an excellent leak and crack resistance from their windows. With their narrow profile, you will get more daylight through these windows.
Besides, these are low-maintenance windows with a sleek frame and timeless style. You can easily tilt these windows; as a result, cleaning them is pretty easier.
You will get various glass options from both windows. Pella Impervia fiberglass windows come with InsulShield Low-E Glass with four variants: Advanced Low-E, Advanced Comfort Low-E, Natural Sun Low-E, and SunDefense Low-E.
You can also choose Tempered glass, Laminated tinted or obscure glass, STC glass, and Triple Pane glass for Impervia windows.
In contrast to Impervia, Infinity fiberglass also offers many types of glass. You can choose LOW E1, LOW E2, LOW E3, and LOW ERS glasses. They are also available with Tempered, Laminated, and STC glass, plus you will get another kind of glass called Decorative glass.
Both window brands have various types of windows in their portfolio. You can choose from Awning windows, Casement windows, Double-Hung Windows, Single-Hung windows, Picture windows, and Sliding windows for Pella Impervia windows.
On the other hand, Infinity fiberglass offers Awning windows, Bay windows, Bow windows, Casement windows, Double-Hung windows, Round Top windows, Single-Hung Windows, Slider windows, and Specialty Shapes windows.
We already know that Impervia windows come with three finish options for their frame. You can choose from a White, Brown, and Black color solid finish.
On the contrary, Infinity offers 7 exterior finishes: Stone White, Sierra, Cashmere, Pebble Gray, Bronze, Bahama Brown, and Ebony.
Stone White, Sierra, Everwood, Bronze, and Ebony are the five interior finishes you will get from Infinity fiberglass windows.
Warranty is a crucial part of a product. Pella offers a Non-transferable Limited Lifetime Warranty for Impervia Windows. Similarly, you will also get a Non-transferable Lifetime Limited Warranty with Infinity fiberglass windows.
So, nothing much difference here.
With all the features, built-quality, and superior performance, Pella Impervia fiberglass windows start from $1205. In contrast, you will have to spend $1000 to $1400 for Infinity fiberglass windows from Marvin. As fiberglass windows, both brands are equally expensive.
Now, watch this video to make more sense of Infinity windows from Marvin.
Which Windows Is Best For You?
From my above discussion, it's clear that both Impervia and Infinity fiberglass windows are of good quality. So, it can be tricky to choose one.
But don't worry, I'll help you select the best one. Based on professional opinion, Pella Impervia fiberglass windows are better.
So, I suggest you purchase and install Impervia windows in your home. It has better insulation power. With superior energy efficiency, you will need less electricity for air conditioning.
Frequently Asked Question (FAQ)
What are Marvin Infinity windows called now?
Marvin Infinity windows and Integrity Windows and doors have merged and are now known as Marvin. This windows brand is evolving in terms of quality and services. Merging is a sign to it.
What windows are comparable to Marvin Windows?
Marvin makes high-quality windows from robust materials and uses the latest technologies. You can compare Pella, Andersen, etc., windows with this famous manufacturer.
Is fiberglass an Impervia?
Impervia is a fiberglass windows line of the famous windows manufacturer Pella. Impervia fiberglass windows are made from the toughest and strongest fiberglass in the industry. As a result, they are durable and can perform better.
Are Marvin Windows as good as Pella?
Pella and Marvin's windows are often compared because of their similar quality and performance. But most of the Pella windows are better in terms of quality and performance than Marvin windows.
Final Thoughts
After reading my Impervia vs. Infinity windows review, it's clear that Pella Impervia fiberglass windows are better than Infinity fiberglass windows by Marvin. It is made from stronger materials and offers better performance.
I've done my part. Now that you know the best window option for your home, it's time you do the right thing. Go ahead and bring this window home.