Imagine a chill rainy day. It is a weekend and you're home, but you still can't enjoy the rain. The roofing in your house is leaking and you're too busy fixing that to enjoy anything else.
Not fun, right?
This is why you should take your roofing material seriously. The right material will save you a lot of struggle and money.
IB PVC roofing is one of the top choices for roofing, but is it worth the hype? Here is a review so you can decide for yourself.
Key Features of The IB PVC Roofing
IB PVC roofing has a lot going on for it. There's a reason they're considered the top choice for roofing.
But if we had to choose, it would come down to three things – Durability, longevity, and versatility. Let's take a better look at these.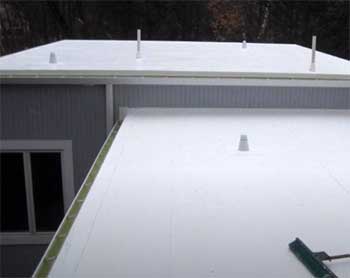 IB PVC roofing is one of the most durable materials you'll find.
This roofing material can stand against pretty much everything- chemical damage, weather, or pooling water.
IB PVC roofing is fire and other chemical damage proof. So you won't have to worry about that.
It can easily stand through the windy weather of places like Santa Rosa.
The pooling water rarely does any damage and if it does, it is covered by a warranty.
There are multiple opinions on this but from a realistic point, IB PVC roofing easily lasts for 20 years.
The upper limit can go from anywhere between 30-50 years depending on how well you maintain your roof. No more worrying about replacement in a year.
Versatility is one of the biggest plus points of the IB roofing material. You can use it on any low-slope roof.
Houses, restaurants, or commercial buildings – this roofing material goes with any setting. All you'll have to do is hot weld it and you're done.
Things That Could've Been Better With IB PVC Roofing?
IB PVC roofing is probably the best option you can get for roofing. They're durable, easy to work with, and everything else you'd hope in the roofing material.
As good as it is, there is still some room for improvement. It has some issues just like any other brand like Duro-Last roofing.
The tricky repairs and warranty loopholes are probably the biggest issues with this roofing material. Then there's the limited availability.
Let's take a deeper look at the things that could've been better for IB PVC roofing.
This is part of the regular PVC roofing woes but well, it still counts. IB PVC roofing material is all good and nice to lay down.
But when it comes to repairing, things get a little complicated.
Since this is a single-ply membrane, the repairs take a lot of caution. Then there is the issue of undoing the roof.
No matter where the problem is, you'll have to undo your whole roof to fix that. This means extra time and money which can be a deal breaker for some people.
This gets even more complicated with time. The older your PVC material is, the harder it will be to repair.
This is probably the biggest grievance with IB PVC roofing material.
Their materials have a lifetime warranty, but there are some loopholes in there. The loopholes can void the warranty if you aren't careful.
The first issue here is the welding. You have to follow their instruction and only use a robot to weld the seams and flashings.
If you hand-weld the thing, your warranty can get void. This applies for anything over 10'. You either use robots for seams and penetration or your warranty is now void.
This is a pretty big issue considering one of the best things IB has going on for them is their lifetime warranty.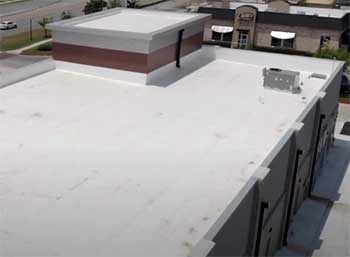 You read that right, yes. You can probably get your roofing material where you live.
But since IB deals with its distribution differently, it can get tough for other places.
IB's distribution works in a slightly different way.
They only deal with a national network of authorized and certified installers.
That means you can't get your material from anywhere else. And if you live outside the USA, you're pretty much done.
This limits the distribution flow of the roofing material. For a brand this big, the limiting move seems a little restrictive.
This is probably the only con of IB PVC roofing everyone will agree on. As good as the material is, they won't be a help to you if you're thinking about saving a little money.
And it isn't just the materials. Sure you'll be paying more than anything when you're getting them, but the repairs will be even worse.
IB PVC roofing needs special treatment when repaired. That paired with the high material cost is the biggest reason people back out from using them.
Frequently Asked Questions (FAQs)
It is hard to cover everything in a single article so if you have some more questions, it is understandable. Here are a bunch of questions people ask often about IB PVC roofing. Hopefully, these can help you more.
Is PVC a good roofing material?
Yes, it is. PVC is especially good for low-sloping, flat roofs because they're easy to install. PVC roofing is also very versatile which is another plus.
Which is better TPO or PVC roofing?
PVC, without a doubt. PVC is made from two layers of plastic sheets with a membrane between them. TPO on the other hand is just a single plastic sheet. So if you want durability and longevity, PVC is the better choice.
What does IB stand for in roofing?
IB stands for Industries Best in the roofing scene. The manufacturers believe they offer the best there is. This is their way of getting the point across.
How long do PVC roofs last?
That depends on the material and maintenance. A high-quality PVC material can easily last up to 30 years with proper maintenance.
Final Verdict
As most IB PVC roofing reviews will tell you, this is pretty much the best option for roofing. If you want longevity, durability, and sustainability then IB PVC roofing is your best friend.
There are a few minor issues but the pros clearly outweigh the cons. So feel free to give it a shot!