Be it sunny or rainy weather, roofs are the one that protects the home. Choosing a suitable material is a must. In this article, we've discussed ONDURA roofing, which has gained a fan base due to its low price but is very bad in quality.
If you're struggling with ONDURA roofing, this one is for you. Here we've covered almost all the roofing problems you may face. And you can trust us as the problems we've covered most of the reviewers who have faced these issues with the ONDURA roof.
Let's get going without wasting any more time to understand the issues more deeply.
Issues With ONDURA Roofing

Ondura roof material claims to be hardy and solid. just as the roof should be. But it is not that hardy which is why in adverse weather, the quality drops.
We know roofs are like protection, and they should be good at protecting. But the ONDURA roof is, unfortunately, far behind as it's unable to do this due to its chances of leaking more quickly than others. In the rainy season, you might notice holes from where water leaks all over the place.
The stiffness of the material is not so good, which is why it gets brittle and makes holes easily.
Often it's seen that due to leakage, water drips down inside the house. For that reason, the furniture or rugs of the house comes in contact with the stain. As a result, it needs coating every 5-7 years to keep the quality updated.
Durability Could Be Better
The durability is not top-notch, so the coating wears out quickly. The roof needs sealing every 5 to 7 years, especially in those areas where rain occurs most of the time.
Though the durability is claimed for ten years before it starts to lose its color, rigidity and ridge line often break up. Sometimes it cannot bear extreme sunny or rainy weather and starts to malfunction.
Another off-topic concern is that they do not have a ridge cap, which is basically a wood or metal covering placed over the ridge of a roof. Instead, they refer to roll roofing, which can quickly come off in the wind.
Not Suitable For Windy Summer Weather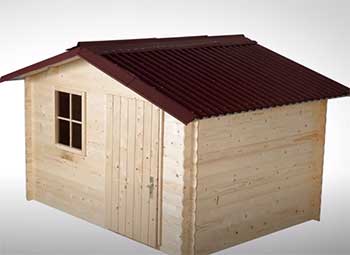 Beforehand, I've already mentioned the rainy weather issues.
Let's now talk about the windy summer weather.
It cannot bear the highly sunny weather.
That's why it often warps and dents like the tar paper it is in the summer heat.
Well, this already speaks about how low-degraded the quality is.
You always have to keep an eye on your roof so that if anything terrible occurs, you can cover it up as soon as possible.
If it's not being taken care of in summer, then in the rainy season, when it's already leaked, your other furniture items will get drenched in the rain, nothing else. That would be a massacre situation, right?
Whereas, in cold weather, ONDURA roof gets brittle too. As a result, in this fragile situation, it's pretty risky to repaint it during this weather as one may fall from upstairs quickly.
And if you don't provide the coating, it might not survive. Such a haphazard situation, right?
We've talked enough about its durability and weather sustainability. Let's talk about its ability to fight any uncertainties.
Uncertain danger doesn't come knocking at the door. It happens because the material is not metal if it, by any chance, comes in contact with fire. It will be caught fire.
The material of it is a rigid organic fiber core thoroughly infused with asphalt as the weather protection barrier.
Asphalt has a higher complex organic composition which burns at high temperatures. It even releases a lot of heat, smoke, and poison gas within a brief span as it spreads fast.
Whereas the company doesn't take any considerations into the hand as they disagree, it burns. But the material speaks against it.
Is The ONDURA Roof Worth It?

Well, the roof is not expensive and is hassle-free to install if you want a roof cover for 2-5 years when the weather is not too windy or sunny.
Whereas the ONDURA roof is lightweight and has a range of many color options. That allows you to choose the shape and materials to adapt to the building and its environment.
But if you are someone looking for a more extended period assurance of roofing and do not want to invest in any crap. This product will not be a perfect choice. As for a more extended period, it will not be able to support you.
And the continuous fixing will cost you time and money, which is definitely quite annoying. Isn't it?
Frequently Asked Questions (FAQ)
What is the life expectancy of ONDURA roofing?
Well, the answer is debatable. ONDURA roofing claims a life expectancy with over 50 years of reliable performance assurance. But its customers have not seen such durability.
Can you walk on the ONDURA roof panels?
You can, but you must wear soft-soled shoes and place your feet perpendicular to the corrugations. Mostly all roofing is slippery when wet, dusty, etc. try to avoid walking in those weather. Also, avoid walking in windy weather as it might be dangerous.
How long do ONDURA panels last?
According to the manufacturer, the asphalt material ONDURA panels last up to 40 years or more than that.
Is ONDURA waterproof?
ONDURA is built with high-tenacity fibers, ensuring the most outstanding abrasion resistance and maximum breathability. As a result, it ensures top-notch lightness and can be waterproof too.
Conclusion
While building a home, many factors need to be checked, and the roof is one of them. Though ONDURA roofing is excellent in pricing and installation, the product has some serious issues.
We don't want your money and time to be wasted, which is why a detailed description of ONDURA roofing problems has been discussed above. I hope it helps you to choose the right one for your house.