What if you could get country club grass in your backyard?
That's right. You can experience similar golf course quality grass from Hudson Star mower. They are designed in a way so you can enjoy a pro-level mowing quality.
Very few mowers cut as low and finely as the Hudson Star mowers when mowing. They are genuine green mowers loved by many golf course greenkeepers. Now it's a golden chance to turn your backyard look like a mini-golf course.
Here I will show you the outstanding features of Hudson Star mowers. You will figure out why professionals and homeowner enthusiasts love this machine.
So, let's check out more about this mower.
Features of Hudson Star Mower
A lot of unique features make Hudson Star mowers stand out from others. Their cutting ability, exceptional performance, sturdily built quality, and many other aspects make them perfect for people who want to bring a golf course to their homes.
Let's dive deeper and explore what these machines have to offer: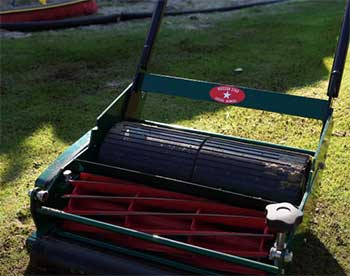 The good thing about Hudson Star mowing is that you can choose between two variants.
You will get a manual Classic Cut mower or a powered Signature Mower.
Classic Cut mower comes with an all-steel frame body, professional-level coated parts, and a collapsible tubular handle.
With this mower, you will get 16 inches cutting width and 0.125 to 0.75 inches cutting height.
Besides, this 11-blade mower is pretty easy to push.
The signature mower comes with a rechargeable battery that charges within 3-4 hours, and you can cut for about 1 hour after a full charge. With 11 blades, you'll get 4 cuts per inch.
This lightweight, rugged all-steel frame machine can cut as high as 0.125 to 0.75 inches.
On top of that, both variants offer easy height adjustment. Most importantly, both machines provide excellent professional-level cutting performance that's hardly found.
All Hudson Star mowers feature an all-steel frame body. The steel drive train is guarded and sealed. Besides, the bearings are sealed, meaning you won't have to lubricate them.
The manual Classic Cut mower has a collapsible tubular handle which helps push the machine quickly.
Hudson Star mowers are manufactured with stainless steel fasteners. As a result, they are sturdy and durable. Their professional coating will keep the parts safe from corrosion.
Excellent Cutting Performance
A mower is all about cutting grass. So, the better and more refined it cuts grass, the better it is as a mower.
The good news is that you'll get a fantastic cutting performance from Hudson Star mowers. They are designed to provide professional golf courses like cutting.
Hudson Star mowers can cut from 0.125 to 0.75 inches high and 16 inches wide. Besides, the hand-run Classic Cut mower is pretty easy to push, and the motorized Signature provides 4 cuts per inch.
Plus, with an 11 reel blade, you know you'll have an amazing-looking lawn and backyard at your home.
Blades are an essential part of a mower. No matter how good the machine is, if the blades are not sharp enough, you won't get the expected result.
Hudson Star mowers feature sharp and precise 11 reel blades. The stainless steel-made blades are pretty strong and cut precisely. It offers 0.125 inches to 0.75 inches cutting height and 16 inches cutting width.
But the most important fact is that you can sharpen the blade all by yourself. There are simple instructions given in the user manual; follow them to sharpen the blade.
With a Hudson Star mower, you won't have to invest much money and energy in maintaining it. Because of its sealed bearing, you won't have to lubricate them.
No fuel is required to run the Classic Cut mower; the Signature only needs a battery charge to run.
You can make them sharpen yourself. As the machines require no oil, you won't have to worry about oil splits on your lawn.
So, you can see both Hudson Star mowers are pretty low maintenance and require less overall cost to own one.
What Comes In the Package?
The package includes a lot of items along with the mower. When you purchase a Hudson Star Mower, you will get Professional Greens Mower, Grass Catcher, Handlebars, Back lapping Handle.
Other items like a smooth front roller, sharpening kit, tournament bed knife, etc., come with the deal.
Mowers are a bit expensive tool. But Hudson Star does not charge much higher than many other brands in the market. The price seems reasonable, considering the features and performance.
A Hudson Star Classic Cut mower will cost around $1500. On the other hand, a motorized Hudson Star Signature will cost about $2150. Keep in mind that other professional lawn mowers can cost you as high as $10,000.
Warranty is a crucial aspect of a machine. It gives protection against any issue customers might find in the future.
A better warranty tells good things about a device and offers customers the confidence to go with the purchase.
Hudson Star offers 1-year Limited Warranty with all their mowers. If you find any manufacturing defect within this time frame, they will replace your machine with a new one or service your mower for free.
Check out this video to see what people are talking about it.
What Could Have Been Better With Hudson Star Mower?
After hearing all the good things, you might think there are no issues with these machines. I have no complaints about the features and performance of Hudson Star mowers.
They can address some other issues to reach out to more customers. Let's see how Hudson star mowers can appeal to more people:
Even though Hudson Star does not charge very high like other professional lawnmowers, the price isn't exactly low either. $1500 and $2150 is a lot of money.
Hudson Star can cut the price and sell it to a whole new customer group. Many people have said that the price is too high for them. So, cutting the price a bit can make these machines appeal to a lot more people.
1 Year is not enough to warranty provision to many people. Many customers look forward to getting more warranty coverage from a high-quality machine like the Hudson Star mower, especially at this price point.
Frequently Asked Questions (FAQ)
How easy is the Classic Cut to push?
A Classic Cut weighs only 82 lbs. So, it's pretty easy to push. Besides, its sharp 11 reel blade allows the mower to go smoothly over the grass.
How hard is it to change cutting heights?
Changing the cutting height is relatively easy for the Hudson Star mower. They feature a single hand knob to adjust the cutting sizes on the right hand.
Is Hudson Star mower easy maintenance?
Yes, Hudson Star mowers are very easy to maintain. They do not require much care yet provide excellent results.
How long does it take to charge the Signature mower?
The Hudson Star Signature mower is battery-powered and takes 3 to 4 hours to charge fully.
Conclusion
Making your lawn and backyard look like a professional golf course is not easy. It requires a lot of time, energy, and dedication. But Hudson Star mowers have made it possible and made it very convenient.
After reading my Hudson Star mower reviews, I am sure you will agree that they are worth your money. So, go ahead and bring it home.