Are you struggling to clean up your lawn because of a lousy mower?
Well, in that case, you must be looking for a quality mower. Among hundreds of choices out there, I would consider going with Encore mowers from my experience.
If you go through what I have to say about the Encore mower, you will know why I recommend them.
Whatever I will discuss here is all based on my experience using this mower. So, you know that you are getting authentic information on the Encore mower from a user.
Along with the good, I will also give you an insight into the bad things about the mower that I came across. Let's not stretch this out and get on with it right away.
Features of Encore Mowers

First, I will go through all the features you usually get from Encore mowers. I am listing out the features that are pretty common in all the models of Encore mowers.
You get unique features based on specific models. So, let's get going.
It Comes With Powerful Engines And Transmissions
The best part of any Encore mower I have ever used is its engine quality. Most of the models come with a powerful engine. They prefer using Kawasaki engines for their mower, which is a big plus to get in itself.
Along with the engines, they also provide powerful transmissions for the best possible performance you can get from a mower.
Even though different models are suited for different kinds of mowing purposes, the power is something that will always satisfy you. You won't ever have to complain about the lack of power in Encore mowers.
At least, I never had to.
Efficiency Is A Key Factor For These Mowers
Here's the thing, we all go after power and performance, but sometimes you don't think about efficiency. Efficiency is a crucial parameter in judging a machine.
Luckily, with Encore mowers, you won't have to complain about that at all.
All the mowers they bring to the users have excellent efficiency. You will love that you don't have too much fuel to get the most out of your mower.
You can save much money while using minimum fuel for maximum performance. So, if you are after efficiency, Encore mowers have covered you. 
Cuts Perfectly And Smoothly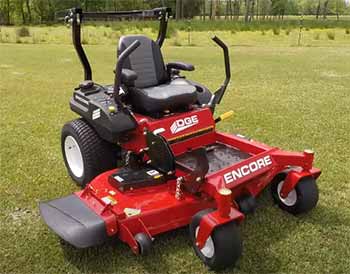 I love how the mowers perform on my lawn. They cut the grass so smoothly without leaving any sharp ends behind.
Cutting performance on the lawnmowers from Encore is just near perfection.
All the credit for this excellence in cutting goes to the blades they use for their mowers.
These are some high-quality and sharp blades with accurate angles on them.
So, whenever you use the mower to cut grass on your lawn, you can always expect perfect results from them.
Provides Comfortability In The Seats
Running a mower on a large lawn can take quite a lot of time to mow completely. When you mow for longer hours, you will always need to consider the comfortability factor.
With Encore mowers, the seats you get on the mower are impressive. They are super comfortable, and they don't cause any fatigue.
And it's not just about the mowers with seats. Even in the standing mowers, they provide comfortability.
How is that?
Well, the deck of the mowers where you will be standing is quite large, where you can place your feet properly to reduce fatigue.
Pricing is always a concern for anyone when it's about lawn mowers. A good thing about Encore mowers I found is that most of them are affordable in their range.
I mean that you can hardly find anything cheaper than the Encore mowers with similar features.
The value for money factor is very impressive in this mower. The performance and quality you get from the Encore mowers are well worth the money.
You won't mind spending the money on Encore mowers after experiencing the performance. Because in my experience, the value I got is utterly satisfying.
You already know about the engine; the transmission is of great quality. But a lawn mower isn't just about the engine and transmission.
A mower has several different components, such as wheels, steering, blades, guards, and so forth.
One of the best things about Encore mowers is that they don't compromise the quality. Every component in the mower will serve you the best purpose, and you can never have any complaints about the quality you get from them.
Here is a brief demo for you.
Well, after getting these kinds of benefits, you shouldn't have any doubts about getting your hands on Encore mowers. However, don't jump to conclusions right away because there is still something that you have to get through.
Let's check them out very quickly.
What Could Have Been Better With Encore Mower?
In my time using the Encore mowers, I didn't find too many problems with the performance or the machine itself. But some issues can be quite bothersome to some people out there.
Here are the things that could be better for Encore mowers –
Replacement Parts Are Hard To Find
Although you won't face too many problems with the Encore mowers, still, if you ever face an issue, it's hard to fix. The reason is that you can't find replacement parts for the mowers.
You will have extensive research to find high-quality replacement parts for Encore mowers.
Availability Is A Problem
Here's the thing with Encore mowers, many of the models are discontinued. So, if you are trying to get new Encore mowers, you might not even get the ones you are looking for.
Availability of the mower is a big concern you must go through. Aside from these two issues, you won't have any trouble.
Frequently Asked Question (FAQ)
Where are Encore mowers made?
Most of the Encore mowers are made in Nebraska.
Who made Encore mowers?
Worldlawn Power Equipment, Inc is the official manufacturer of Encore mowers.
Is the Encore edge a good mower?
Yes, if you are looking for a Zero Turn Mower within a budget, then Encore edge is the best option you can get. They perform very well and come with excellent quality. And the price is also very reasonable.
Which lawn mower brand is most reliable?
Many brands like Craftsman, John Deere, Husqvarna, Toro, Ariens, Poulan Pro, etc., are very reliable in terms of quality and performance.
Conclusion
Wrapping up the Encore mower reviews, I can say you can get one for your lawn without worrying too much. As a user myself, I can assure you that, you won't regret your decision.
The performance is more than what you would expect to get at the price you pay for it.
Especially if you are looking for a lawn mower for your home that is within a budget, Encore is a great brand to check out. Also, they have various kinds of models available in their range of collections.
So, you can get it based on your needs.