When looking for an ice maker, Hoshizaki and Scotsman are the two names that come first because of their popularity. But they have some differences in types, company origin, energy efficiency, maintenance, etc.
You might be wondering – do the ice machine brands really matter when you decide to buy a commercial ice maker? Yes, they matter. In this article, I will demonstrate which ice machine brand is the best and ideal for your regular use.
A Quick Comparison Table
Let's look into the quick comparison table between Hoshizaki and Scotsman to be able to understand everything easily-
| | | |
| --- | --- | --- |
| Specification | Hoshizaki | Scotsman |
| Type | Air-cooled | Water-cooled |
| Durability | More | Less |
| Energy efficiency | Less | More |
| Cleaning | Requires more steps | Easy |
| Warranty | 1-5 years | 3-5 years |
In-depth Differentiations Between Hoshizaki And Scotsman Ice Machine
Now it's time to dig deep into the major differentiations between these two ice machines so that you pick the best one for your home or business-
Company Details and Overview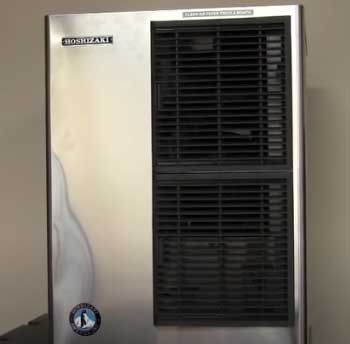 Knowing the necessary details about the company or manufacturer is extremely important when buying something like this.
It will give you an idea about the quality of the product also.
Hoshizaki is Japan's first automated ice maker, established in 1964.
Hoshizaki brand currently holds a dominant share both locally and internationally.
Their development efforts have been concentrated on producing products that are simple to use and durable enough for commercial use.
In the 1950s, Scotsman Ice was established. With distributors and authorized service agents in more than 100 countries, they are still the largest manufacturer of ice machines after more than 50 years of research, innovation, and top-notch customer service.
There are already more than one million Scotsman ice machines in use worldwide.
Hoshizaki and Scotsman are two different types of ice machines. Hoshizaki is an air-cooled ice machine. These ice makers use air to move heat away from the device. This type of ice machine is typically more economical and easy to install.
However, the output of an air-cooled ice maker depends on the surroundings. The machine needs to be in an environment with open-air vents and temperatures of about 70 degrees.
On the other hand, Scotsman is a water-cooled ice machine. Ice makers that use water cooling require some sort of water line to pass through them. Ice makers that use water cooling are often used for commercial purposes.
How well a machine converts its input energy into useable output energy or work is referred to as energy efficiency.
Fans are used in air-cooled ice machines to draw heat away from the refrigerant coils, lowering the temperature to the point where the water turns into ice.
These ice producers are the most popular and environmentally friendly. But they are not as energy efficient as water-cooled ones. Water-cooled ice makers use water instead of air to conduct heat away from the condenser coils.
However, water-cooled ice makers might not be for you if saving water is one of your priorities. Because, despite using less electricity than conventional ice producers, water-cooled ice makers consume a lot more water.
As they use less electricity than the air-cooled ice makers, water-cooled or Scotsman ice machine is more energy efficient.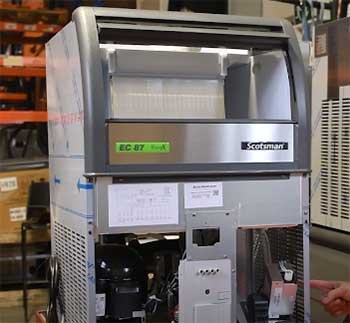 If durability is your first priority, you should put Hoshizaki at the top of your list.
The design of Hoshizaki has been done cleverly to ensure their longevity.
A magnetic water pump is one of the amazing design features included with this ice maker.
This component extends a machine's useful life by preventing leaks from the water circuit.
Therefore, you can be confident that the machine will work well and last whether you produce 22 KG or 240 KG of ice daily.
Hoshizaki requires a few more steps for cleaning as they snatch air from the environment, and the air contains a lot of dust. For the basic cleaning, use two tablespoons of baking soda dissolved in a gallon of warm water, a soft towel, and some soapy water.
Use a wet cloth to rinse the inside surfaces after cleaning them. Lastly, use a dry towel to clean the interior.
Which Ice Machine Stands out?
There are several factors to take into account when purchasing an ice maker. First of all, determine how much ice you need to produce in a day.
What portion of that do you need to store? If you need loads of ice every day, you should definitely go for energy efficient option, which is the Scotsman.
Scotsman water-cooled ice machine can also be the best option for you if the ventilation at your place is poor. Conversely, the Hoshizaki ice machine will be the best fit if your workspace is open and wide.
The decision between Hoshizaki and Scotsman ice maker should completely be based on your need and the level of usage.
Frequently Asked Questions (FAQ)
Is Hoshizaki a good brand?
Yes, Hoshizaki is one of the best ice machine brands in the world. They are also known for manufacturing commercial freezers, sushi cabinets, and refrigerators.
What brand of ice machine is best?
Igloo Self-Cleaning Countertop Ice Maker is considered to be the best ice machine brand. This comes in a size of a coffeemaker and is available in a variety of finishes, including stainless steel. The LED-illuminated control panel alerts when it's time to add water or the trash bin is full.
Who makes Hoshizaki?
Mr. Shigetoshi Sakamoto founded the Hoshizaki Electric Company, which is today known as the Hoshizaki Corporation.
Where is Hoshizaki manufactured?
Hoshizaki has 22 manufacturing factories worldwide where they manufacture their machines.
Final Thoughts
Choosing the best industrial ice machine for your house or company might be challenging because there are so many options available nowadays.
That's why you have to consider variables such as features and offerings, ice type and quality, cost, warranties, and customer support when choosing the ice machine.
To help you make an informed choice, I went into detail in the Hoshizaki vs. Scotsman analysis about who they are, what they offer, their type, durability, and more, which I hope will help you to take the right decision.