Retro-style refrigerators are having a major moment right now. With their colorful, rounded exteriors, these fridges add a funky, vintage vibe to any kitchen. Two of the most popular retro fridge brands are SMEG and Big Chill.
But which one is better?
SMEG and Big Chill refrigerators both feature retro styling, but there are some key differences between the brands. In this comprehensive guide, we'll compare the pros and cons of SMEG and Big Chill refrigerators to help you decide which retro fridge is right for your home.
Side-by-Side Comparison Table
| | | |
| --- | --- | --- |
| Aspects | SMEG | Big Chill |
| Origin | Italian company, founded 1948 | Based in Boulder, CO. Founded in 2001. |
| Styling | Rounded, 1950s inspired | Retro styling with colorful accents |
| Colors | Dozens of vibrant color options | 8 classic colors, plus custom panels |
| Models | Freestanding and built-in sizes from 3-36 cu ft | Freestanding, built-in and outdoor models from 5-28 cu ft |
| Design Features | Chrome handles, 50s curves | Colored interiors, fun magnets |
| Temperature Control | Mediocre, some regulation issues reported | Excellent temperature regulation |
| Noise Level | Very quiet | Nearly silent |
| Reliability | Mixed reliability reviews | Excellent reliability reputation |
| Warranty | 2 years parts and labor | Lifetime warranty on cabinet and seals |
| Customer Service | Decent | Extremely responsive |
| Price | $2000+ for standard sizes | $2200+ for standard sizes |
| Overall | Stylish but sometimes spotty quality | Amazing quality with charming retro style |
Overview of SMEG Refrigerators
SMEG is an Italian appliance company that was founded in 1948. Their refrigerators feature charming, 1950s-inspired designs with curved corners and retro handles. SMEG offers a huge range of vivid colors like pink, mint green, bright red and more.
Some pros of SMEG refrigerators include: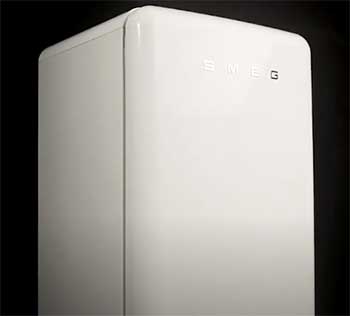 Stylish retro design: SMEG's signature rounded style and fun colors make a bold statement. The fit and finish is high-quality.
Large capacity: Many SMEG fridges are quite spacious on the inside despite the compact exterior styling. Their counter-depth models are also very roomy.
Energy efficiency: Most current SMEG models have an A+ or A++ energy rating so they are pretty efficient.
Durable: SMEG refrigerators are generally well-built and can last for many years with proper care. The company offers a 2 year warranty.
Quiet operation: Most SMEG refrigerators run quietly, with minimal vibration or humming.
Some downsides of SMEG refrigerators include:
Expensive: These are premium-priced appliances. Expect to pay $2000+ for a standard sized SMEG fridge. Larger built-in models run $5000+.
Few advanced features: You're mostly paying for the look with SMEG. Don't expect a lot of fancy tech or options. Most models just have the basics.
Mediocre temperature regulation: Some reviewers complain that SMEG fridges don't maintain temperatures as precisely as Sub-Zero and other pro brands.
Spotty reliability: While many SMEG owners love their fridges, reliability issues do come up for some. Getting repairs can be difficult.
Overview of Big Chill Retro Refrigerators
Founded in 2001, Big Chill creates retro fridges inspired by 1950s kitchen appliances but equipped with modern technology. Based in Boulder, Colorado, Big Chill's fridges have playful design details like colored metal interiors and cute magnets.
Here are some of the biggest pros for Big Chill refrigerators: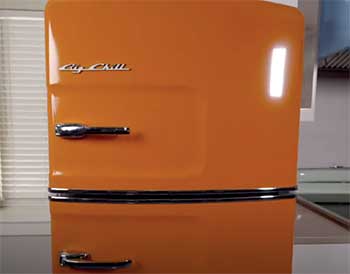 Unique style: Big Chill fridges stand out with their combination of retro flair and quirky accents. You can customize the colored paneling.
Made in the USA: These fridges are designed and built domestically in Colorado. So no issues with long lead times or international shipping delays.
Superior quality: The quality and craftsmanship is evident, from the sturdy hinges to the magnetic door seals. Big Chill offers a lifetime warranty on the refrigerator cabinet and seals.
Quiet and effective: The compressors run quietly and keep temperatures consistent. Many models include special "Sabbath mode" for use on religious holidays.
Obsessive customer service: Big Chill relentlessly focuses on customer satisfaction. They offer white glove delivery service across the US.
Some potential downsides of Big Chill refrigerators:
Very expensive: A basic Big Chill fridge starts around $2200 and goes up quickly. Larger custom built-in units can cost $8000 or more. The quality comes at a price.
Limited color options: While SMEG offers every color under the sun, Big Chill sticks to just 8 classic colors for most models. Custom paneling does allow more options though.
Not widely available: You generally need to buy directly from Big Chill as these aren't mass market appliances carried at major chains. Lead times can be 4 weeks or longer.
Occasional leaks: A small number of reviewers complain about refrigerant leaks, though Big Chill quickly repairs under warranty.
Key Differences Between SMEG And Big Chill
Let's take a more in-depth look at how SMEG and Big Chill refrigerators compare across some of the most important features for any fridge:
Noise Level
A noisy refrigerator can be irritating. Fortunately both SMEG and Big Chill refrigerators operate very quietly.
SMEG refrigerators use variable speed compressors that help minimize noise and vibration. Owners say SMEG's larger fridges run extremely quietly. Their smaller mini fridges have occasional compressor hum.
Big Chill focuses intently on reducing noise. Their refrigerators use specially designed sound-dampening compressor mounts and insulated backing to absorb vibrations. Owners rave about how silent the operation is.
For the quietest operation, Big Chill seems to have a slight edge. But both brands are far quieter than average.
Temperature Regulation
Your fridge needs to maintain cold temperatures and limit fluctuations. Poor temperature regulation leads to spoiled food.
Some SMEG refrigerator owners complain about inadequate temperature regulation, especially in hot climates. Temperatures seem to vary more than ideal.
Big Chill refrigerators use advanced digital thermostats to maintain precise temperatures within one degree. Separate climate zones also help, as do thick insulation and tight door seals.
When it comes to temperature accuracy and consistency, Big Chill refrigerators are the clear winner.
Storage Capacity
Having roomy interior storage is important for fitting in all your fresh and frozen goods.
SMEG refrigerators come in sizes ranging from compact 3.5 cubic feet mini fridges up to spacious 36 inch built-in models with over 30 cubic feet. Counter depth options maximize roominess.
Big Chill offers refrigerators from 5 to 28 cubic feet. They focus more on quality than maximizing capacity. The roomy interiors and organizational features make great use of the available space.
For maximum interior capacity, SMEG takes the lead. But Big Chill offers ample storage for most households.
Energy Efficiency
An energy efficient fridge will help reduce electricity costs and your carbon footprint.
Most current SMEG refrigerators have either A+ or A++ energy ratings. However, a few budget SMEG models just meet the minimum A rating.
Big Chill refrigerators are designed for excellent efficiency. Models with bottom freezers earn an A+ rating. Some top freezer models earn a lesser A rating.
When it comes to energy savings, SMEG and Big Chill are fairly comparable. Just beware of less efficient SMEG budget models.
Unique Features
Beyond the basics, what special features set SMEG and Big Chill apart?
SMEG: A few higher end SMEG models include unique features like touch controls, integrated coffee machines, and customizable refrigerator columns. But most focus on form over function.
Big Chill: Fun color-matched interiors, strong magnetic seals, "Sabbath mode", and whimsical magnets add individuality. The recycling center built into the door is handy.
While SMEG has some high tech options, Big Chill offers more functional features that improve everyday use.
Cost Comparison
SMEG and Big Chill refrigerators fall into a similar premium price range, though SMEG starts a bit lower:
SMEG standard refrigerators: Starting around $2000 and up to $4000+
Big Chill standard refrigerators: Starting around $2200 and up to $8000+ for larger custom models
Here are some examples to compare specific models:
SMEG 50's Style Aesthetic 36″ Built-in Fridge: $4695
Equivalent Big Chill 36″ Built-In Model: $6450
SMEG 50's Retro Style 29″ Freestanding Fridge: $2199
Similar Big Chill 29″ Freestanding Retro Fridge: $2695
While SMEG starts a bit lower, Big Chill prices reflect the American-made quality. For high end built-in models, Big Chill easily costs $2000+ more. Expect to pay a premium for either of these top retro brands.
Warranties
The warranty coverage indicates how confident the brand is in their fridge's reliability:
SMEG: 2 years parts and labor warranty. Extended warranties available for purchase.
Big Chill: Lifetime warranty on main refrigerator cabinet and door gaskets. 5 years parts/1 year labor on everything else.
Big Chill clearly stands behind their products with outstanding warranty coverage. SMEG's limited 2 year warranty leaves owners unprotected after that.
Availability
You'll need to shop smart to get your hands on one of these stylish fridges:
SMEG: Sold through premium appliance retailers, some big box stores like Home Depot, and online. Often available discounted.
Big Chill: Only available factory direct or through exclusive regional dealers. Made to order with longer lead times. Supply chain issues occasionally limit availability.
SMEG's wider retail distribution makes them easier to find discounted. Big Chill's direct to consumer model means you need to plan ahead but you get white glove delivery service.
Reliability and Longevity
Anyfridge purchase is an investment, so you want one that will last:
SMEG: Mixed reliability reviews. Some SMEG fridges last 15+ years. But higher than average complaints of compressor failure, leaking, and temperature control issues.
Big Chill: Excellent reputation for longevity and reliability. Many customers report 20+ years of trouble free operation. Strict quality control minimizes issues. Watch how good-looking Big Chill is!
Based on owner reviews, Big Chill refrigerators are significantly more reliable and can easily last decades with proper maintenance. SMEG's quality control seems less consistent.
Resale Value
Will your stylish retro fridge retain its value if you ever want to sell it?
SMEG: Strong resale demand for these designer appliances. Fridges in good condition can sell for 40-60% of original price depending on age, working order, and rarity.
Big Chill: Excellent resale potential thanks to the high original cost and American-made status. Models in working order can sell for 50-75% of original MSRP. Limited supply helps resale prices.
The resale market is strong for both brands. Big Chill's "buy it for life" reputation lets models command higher resale prices. But both hold value much better than ordinary fridges.
Customer Service
Having responsive customer support makes a big difference if any issues arise.
SMEG: Mixed reviews of SMEG's customer service and responsiveness handling warranty issues. Repairs can take weeks and some customers never get satisfactory resolution.
Big Chill: Extremely responsive customer service is their hallmark. White glove delivery and concierge-level support even years after purchase. Rave reviews.
Big Chill earns devoted fans thanks to their obsessive customer service approach. SMEG's support draws more mixed reactions.
Frequently Asked Questions (FAQ)
What is the alternative brand to Smeg?
Big Chill is the top alternative to Smeg when it comes to retro-styled luxury refrigerators. Brands like Sunbeam and Amana also make vintage-inspired fridges at lower price points.
Is it worth buying a Smeg fridge freezer?
Smeg fridges provide beautiful midcentury style. But the higher cost and mixed reliability reviews mean other retro brands like Big Chill are often a better investment. Evaluate Smeg carefully to ensure the specific model offers enough quality and features to justify the price tag.
Where are big chill refrigerators made?
All Big Chill refrigerators are designed, engineered, and hand-assembled in Boulder, Colorado using domestic and imported components. Their American-built status is a key selling point.
What is the difference between a retro fridge and a regular fridge?
Retro fridges from Smeg, Big Chill and others have a colorful, vintage style inspired by 1950s appliance designs. But they include modern refrigeration technology. Regular modern fridges have a more minimalist, stainless steel look and lack the ornamental design elements.
The Verdict
When it comes to high end retro refrigerators, Big Chill emerges as the clear winner over SMEG models. Yes, Big Chill costs more upfront. But the American-made quality, lifetime warranty, and incredible customer service justify the investment.
SMEG offers wider availability andtrendy colors at a somewhat lower price point. But many reviewers complain about SMEG's spotty durability and temperature control. Big Chill delivers unmatched cooling capabilities and craftsmanship.
If you're on a budget, SMEG remains a stylish choice. But for the absolute best in colorful, vintage-style refrigeration, Big Chill is worth the splurge. Their obsession with customer satisfaction also makes you feel like refrigerator royalty.
So while both brands deliver eye-catching style, Big Chill takes the lead as the superior retro refrigerator brand. Bring vintage flair to your kitchen with the quality, performance, and peace of mind that Big Chill offers.
Your food and your inner entertainer will thank you!