Coming up to fill your extreme grilling or gas grill cooking desires, you need the best gas grill and griddle set up in your house. In that case, Grilla Primate and Blackstone are the two most famous names in the market.
But each has its own considerable differences that we'll discuss in this write-up.
Grilla Primate is an extremely rugged, solid, and heavy-duty grill setup one can have in the house or around the pool wherever that BBQ party is about to happen. On the other hand, Blackstone makes lightweight and portable gas grills and griddles.
The former brand products are quite expensive, yet the latter covers less budget. Besides, the Grilla Grill leaves you with 4 years warranty, but the Blackstone offers only one year.
A Brief Comparison Table
| | | |
| --- | --- | --- |
| Things To Discuss | Grilla Primate Grill | Blackstone Grill |
| Which is more famous? | It's tremendously popular and talked about a lot on those community forums | Blackstone does have reasonable buyers, but it is relatively less popular than Grilla Primate |
| Budget Factor | These gas grills and griddles are much more expensive | Cheaper options are available for gas grills |
| Durability | Made up of extensive-duty sheer stainless-steel material that lasts longer | Not that heavy-duty construction |
| Cleaning requirements | Easier | Faster and easier |
| Warranty Period | Up to 4 years remarkable warranty | Up to 1 year warranty period |
| Which provides more heat for cooking? | Absolutely excellent | Reliable but not a masterpiece |
| Cooking Space | More | Less |
Key Differences Between Grilla Grill Primate And Blackstone Gas Grills
Which One Is More Famous?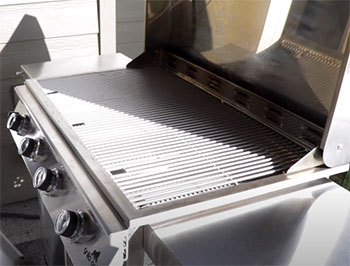 Looking at the facts and the reviews we have seen on the internet, the Grilla Grill Primate is discussed a lot by a lot of buyers.
They bought this gas grill setup, used and seemed very happy.
That's about Grilla Grill; they have been in the industry for a while and offer quality gas grill setups.
We can see the Primate as one of the best gas grills available in the market.
It's been liked by hundreds of people and got higher recommendations for new buyers.
At the same time, the Blackstone is also not missing anything. They are famous because they beat the market with some quality products at a lower price.
People like Blackstone gas grills because they are cheap, work for a pretty good time, and return the worth of money.
So, in my view, both are great brands. Yet, the Grilla Grill is way more famous and comes at a higher position!
Considering your budget is important when you are about to spend on a new Gas Grill setup for BBQ parties or cooking other dishes.
That's because you want it to stay with you for quality time. In that case, you will find the Primate as an expensive gas grill setup that costs more than 1000 bucks.
However, when you look at the Blackstone gas grills, they sell cheaper products. So, if you think you can spend those 1000 bucks at Grilla Grill Primate, you will get an excellent quality gas grill with more warranty coverage.
Even so, the grill set up from Blackstone will still be quality but not as solid as the Primate!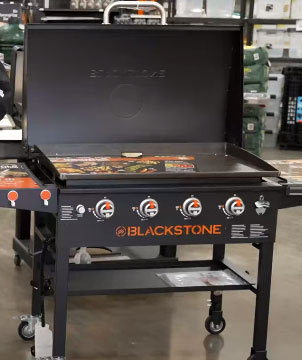 You will have to look at the craftsmanship and full construction of your gas grill setup in order to ensure that you get value against money.
Here with Primate, you won't face any issues regarding the durability of this gas grill setup.
They are made from heavy-duty sheer stainless-steel material, and the quantity of this material is huge.
That's why it stays for a longer period with you without any complaints.
On the other hand, you might not get such lasting sustainability or usage with the Blackstone gas grill setup because they make lightweight and portable units.
One can find this similarity between both grilling setups; their cleaning is easier and faster. You just need to disassemble the parts easily, and you can wash them separately.
Even the grill itself is washable. So, there won't be any problems if you think cleaning is an important factor to consider.
When it comes to finding how much warranty each brand is offering, the Grilla Grill Primate setup comes with 4 years remarkable warranty.
It's a great period under this price tag for any grill setup. You can go for replacement, recovery, and easy wear and tear.
In contrast, the Blackstone grills come only with one year warranty. They charge much less, but I think the warranty period is still reasonable on such a budget.
Which Provides More Heat For Cooking?
Finding more heat to cook better is easier with the Primate setup. However, that might not come in case you choose the Blackstone gas grills.
Primate has more heating capacity to cook anything from scratch.
A primate grilling setup offers you more space for cooking. There is more area coverage on the grill, and one can cook more hot dogs at a time than a same-size Blackstone Gas grill setup. You can easily differentiate between both.
What Gas Grill Setup Should I Get?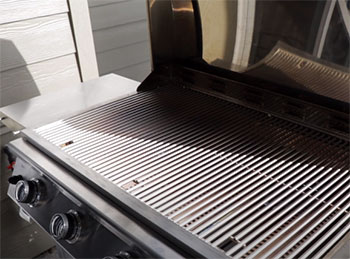 You should stay within your budget.
Like, if you are easy with spending a good amount of money, you should go with the Primate.
But if the budget is tight and you still want to have a gas grill setup, Blackstone is not a bad option.
So, it's all on your spending!
Frequently Asked Questions (FAQ)
Are Grilla Grills Any Good?
These grills are great for cooking, baking, and lasting BBQ parties.
Is Grilla Better Than Traeger?
Yes, the Grilla Grills are always better than Traeger in every feature people consider while buying a product like this.
Do Grilla Grills Ever Go On Sale?
Yes, Grilla Grills are on sale over some special days or occasions. It includes days like Black Friday and any other discounts the company offers on the products.
Why Are Blackstone Grills So Popular?
That's because they are quality made and sold at a cheaper price. People love Blackstone because they don't have to spend much!
Final Thoughts
Deciding between the Grilla Primate and Blackstone grills is not an easy task, but it is your budget that can always help you choose either grill brand. If you can spend more, Primate is your first place.
But if you cannot, Blackstone won't disappoint you. However, even if I'd have to spend more, I'd love to go with the Grilla Primate because of its quality, durability, and amazing features.