Who's ready to make some mouth-watering outdoor meals? (I can't wait!) 
All you need is a griddle to help you cook just about anything with an incredibly even sear. By distinctively looking at some features, let's see why Blackstone griddles are all the rage.
Blackstone 1866 has a hard cover top, while 1932 has a flip-up lid. 1932 has a hood, whereas 1866 doesn't.
Would you like to know more? Good for you since I'll take you through the contrasting factors here and now.
A Quick Comparison Table
| | | |
| --- | --- | --- |
| Product Specification | Blackstone 1866 | Blackstone 1932 |
| Design of the Top | Hardcover | Flip up |
| Hood | Not included | Included |
| Size of the Cooking Surface | 769 square inches | 720 square inches |
| Weight | 141 lbs | 135 lbs |
| Number of BTUs | 60,000 | 12,500 |
| Finish Type | Stainless steel | Black powder |
| Cost | $244-$844 | $499 |
Key Differences Between Blackstone 1866 And 1932 Griddles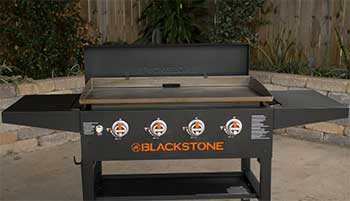 Feed an entire family reunion for years to come using the Blackstone 1866 grill!
This model has a hard cover top that protects your machine from unwanted elements, increasing lifespan.
The hard top consists of two brackets that fully cover the back whenever you are not using it.
Therefore, rest assured that your burner will be in safe hands 24/7.
On top of that, two handles are specifically designed for easy put on and off.
In contrast, the Blackstone 1932 has a flip-up top that easily folds, thus allowing easy cleaning, portability, and storage.
Also, this design makes it possible for you to efficiently handle kitchen devices as it is super easy to close and open. In that case, is the structure of the top a factor of significance to you?
If yes, put this in mind while deciding between the two models.
Care for a secret on ensuring your skillet looks exceptionally great during the winter?
And I should add, without much effort? A hood does wonders by protecting your machine from corrosion. Also, it ensures your well-cooked meal remains warm by closing the lid.
The 1866 burner doesn't have a hood. However, deciding if its in-built cover is enough is entirely up to you. Inversely, Blackstone 1932 has a hood and a lid that ensure you don't have to heat the food due to the cold temperatures.
If the hood carries weight and is a feature you'd want on your griddle, you won't regret picking 1932!
Size of the Cooking Surface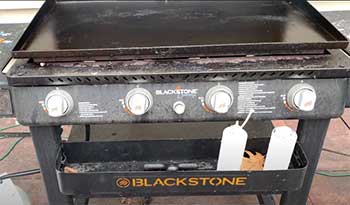 Blackstone 1866 has a cooktop of 769 square inches, which makes it an excellent choice for large gatherings and parties.
On the other side, the 1932 grill has a 720 square inches surface.
You need a more extensive veneer if you plan to throw large barbeques of 15-plus guests.
But a smaller cooking area will work if you'll only be cooking for your family of five.
While the difference in the sizes of the two grills might seem small, it does have a considerable impact. You can cook various dishes simultaneously, rather than small meals at a go, if the surface is large enough.
So, pay close attention to the cooktop while shopping for a grill.
Do you want your machine to have fixed storage or the flexibility of moving it around?
That's where the weight comes in! Some grills are heavier than others based on the components used in the manufacture. 1866 weighs 141 lbs.
This large cooking station might be challenging to move, but it contains heavy-duty elements. For instance, the solid stainless steel tube burners and four strong industrial wheels add to the weight but extensively contribute to the overall durability of this kitchen tool.
On the contrary, 1932 is slightly lighter, weighing 135 lbs. This model is much easier to move, so that's a plus.
BTUs are the ultimate measure of the heat energy produced by the burner. In other words, it's a great way to determine cooking power. 1866 has a scorching 60,000 BTUs.
Did I mention that the higher it is, the more heat and flame are produced?
Moreover, more BTUs help cook faster. So do you want to prepare some delicious crispy stakes? This grill will work like magic.
In opposition, Blackstone 1932 has a rating of 12,500. The upside of this machine is that you save on costs due to reduced fuel consumption. And for the low-heat dishes, this model will not let you down by not burning down your food!
Also Read: Differences Between Blackstone 1554 And 1866 Griddle.
The physical look and durability are determined by the type of finish used. 1866 has powder coated steel finish that increases its resistance to scratching, rust, fading, chipping, and wearing by including certain metal additives.
Even under the hot burning sun, your burner can easily maintain its stunning, bright look.
On the other hand, 1932 has a black powder finish, which will instantly upgrade and improve your patio. Simple and glistening, this all-black grill has everything your outdoor kitchen needs.
This sealant offers excellent protection to your equipment in the harshest of conditions.
All the eye-catching attributes of the griddle heavily impact the cost. Blackstone 1866 has greater price flexibility since it ranges between $249 and $844.
The prices are based on the sizes and features, as the bigger and more advanced the skillet is, the more the cost.
On the flip side, 1932 has a standard cost of $499. Thus, when considering the other differences, ensure you have one eye on the final bill. You can choose the simple or premium version if you are more into 1866 and nothing less.
Which Blackstone Griddle Is The Better Option?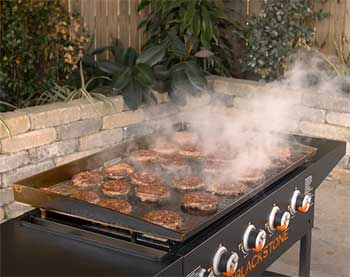 Well, the answer is dependent solely on you and no one else. Reason being?
We all have different needs and tastes, and that's why all these companies manufacture products that serve the same purpose.
The better griddle should have the capacity to fulfill all your needs. 1866 is more cost-friendly if you are under budget.
In addition, it has more BTUs and a larger cooktop area. 1932 has a hood unlike the other model and is more lightweight.
As I said, the decision lies on you and the features you find more appealing.
Frequently Asked Questions (FAQ)
Does Blackstone 1866 have a lid?
Blackstone tube-style burner has an 18-gauge width removable rigid top lid.
What is the difference between Blackstone 36 griddles?
The main difference is the finish on the bases. One has stainless steel coating, while the other has black powder. The top parts for both are made of steel.  
What is the difference between Blackstone griddle models?
The difference in the Blackstone griddle models lies in the number of burners available and the size of the cooking area. The smaller 28-inch version has two burners, and the cooking surface is 470 square inches. The larger model has four burners and is 720 square inches.
Are Walmart Blackstone griddles the same?
Yes, the grills are the same. However, Walmart griddles are usually black, while the others are stainless steel.
Final Verdict
That will be all for the whistle-stop tour of Blackstone 1866 and 1932 in-depth comparison. Blackstone band has this creative way of making new models of griddles that are insanely similar, but they don't use a one-size-fits-all system to perform.
If you need a grill with more BTUs, a bigger cooking surface, and more affordable, 1866 is more than enough. Nevertheless, 1932 is an excellent pick if you want a machine with a hood that weighs less.
Blackstone makes everything worth cooking!