Comparing Graco Ultra and TC pro, the airless paint sprayer is rugged when you cannot find the significant differences between both products.
However, the only difference that can be seen is using different tips with a specific model. The Pro model is claimed to come with TC tips, whereas the Ultra comes with FFTP tips.
On top of that, the ultra-sprayer from Graco comes with two batteries, and the Pro also comes with two. However, it's pretty hard to find the pro model because, at Graco, only Ultra is available.
A Brief Comparison Table
| | | |
| --- | --- | --- |
| Descriptions | Graco Ultra | Graco TC Pro |
| Tank Volume | 0.25 gallons | 0.25 gallons |
| Battery Required | 2 DeWALT's 20-Volt MAX XR lithium-ion batteries | 2 DeWALT's 20-Volt MAX XR lithium-ion batteries |
| Tip Configuration | FFTP tips | TC tips |
| Pro Connect? | Yes, Available | Yes, available |
| Pro Control | Yes, available | Yes, available |
| Used For Application in | Exterior plus interior paint, primers, etc. | Exterior plus interior paint, primers, etc |
| Pressure Adjusting | 500-2,000 PSI | 0 to 2000 PSI |
| Dimensions or size | 17.5 x 12.8 x 6.8 inches | 15.94 x 12.24 x 5.43 inches |
| Product Availability | Easily available | Not available for now |
Key Differences Between Graco Ultra And TC Pro Paint Sprayer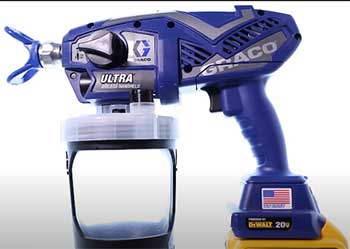 Both cordless and airless spray paints from Graco have the same tank volume or capacity to keep paint liquid inside.
Whether you choose Ultra or TC pro, you will get it with a capacity of 0.25 gallons or up to 32 oz.
These tanks can be filled with dissolved paints, and then you can use these guns to paint anything.
It doesn't matter whether you are painting something on the exterior of your house or interior; these paint sprays will work out best.
Spray in any direction, vertical, horizontal, upside, or downside, and get your most expected results.
Work longer hours and finish your painting projects on time with this battery-powered paint sprayer.
Whether using the Ultra or TC pro model, it will give you the needed power through two superb DeWalt 20-volt Max XR lithium-ion batteries.
With these batteries, any of these sprays work for a more extended period and paints anything you want.
Moreover, these excellent batteries take very little time to get charged, as the Sprayer will require only 30 minutes to return to work.
When looking on forums, people have confirmed that both Sprayer has different types of tips. The Ultra model uses Fttps tips, while the Pro model uses TC tips. The size of these tips is also different from each other.
However, these are replaceable once you have used them for a while. That's the significant difference to make between these two Graco Paint sprayers.
Both models of Graco come with the Pro Connect feature. You have to plug in and plug out the tank and fill it with paint really quickly.
This feature helps you become faster and have the job pump replacement facility with either model.
You will need a screwdriver, and the pump will be replaced with three simple steps. We can say that operating these machines is much easier with such a configuration.
So, there is no problem whether you are buying the Pro model or Ultra model; both will give you this Pro Connect feature on the spot.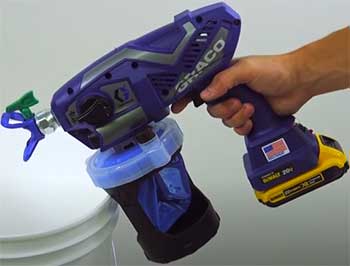 Better than all those ordinary paint sprayers available in the market, enjoy another unique feature with TC pro and Ultra paint sprayers from Graco.
This feature helps you adjust the motor speed to spray at any speed you desire.
Using this feature on your Graco sprayer, you can go up to a minimum and maximum spray speed.
Besides, this feature on both models provides more control, ultimately added to help you achieve the professional finish you are always looking for.
Go for every kind of job and get the perfect finishing every time.
Graco Sprayers becoming part of the discussion are made for the same work. You can use any of these to spray stuff available in the house's interior or exterior.
A sprayer like this will retain a higher-quality finish and be more vibrant and visible to visitors.
Get a perfect airless finish in seconds, plus the added comfort of easy setup, cleaning, and usability details with these sprayers.
The Ultra model lets you adjust the pressure of the gun ranging from 500 to 2000 PSI. In contrast, the TC pro helps you set this speed from 0 to 2000 PSI.
So, set the desired speed and get painted anything you want.
By checking the dimensions of each product, we can see that the Ultra model is a little extended in size than the pro model.
And that's also true because when you hold both of these sprayers in your hands, you'll see the difference is predictable. It is another difference between these two models.
After searching out many platforms, stores, and even the official website of Graco, I couldn't find the TC pro model.
It's not available for now. However, you can quickly get the Ultra and another relevant model from any general store or the official Graco website.
Which Paint Sprayer Is Better For Your Next Paint Project?
Consider using the Ultra model from Graco, as it is loaded with features and readily available at most stores online or on the shelves.
Besides, it's bigger and comes with all the needed blessings to help you give the best spray-painting experience you've ever wanted.
The price for this model is also very reasonable, so it will be a decent purchase. Here is a nice little review of it for you.
Wrapping Up
It's pretty predictable and correct to say that between Graco Ultra and TC pro, there is not much difference to consider. Both products are good but take anyone readily available and easy to buy.
An ultra-model will suit you best because it provides all those essential features a good sprayer shall have.
I am highly impressed with this Graco sprayer's on-the-spot tank replacement and intelligent controls. And I am pretty sure that your experience would also be somewhat similar.