Preval sprayer is an aerosol-based spray that helps you to mix paints, chemicals, or solutions and convert them into a sprayable component. 
You can use Preval sprayers on any surface without mixing the propellant and medium. Moreover, the professional-grade finish draws the medium from reservoirs and ensures a clean finish with zero color change. 
In addition, the Preval spray allows you to consume up to 16 ounces of paint and offers a wide range of designs. 
However, Preval spray carries a few drawbacks that can lead you to consider the sprayer's alternatives.
Substitutes of Preval Sprayer 
Here is a list highlighting the substitutes of Preval sprayers that can mitigate your limitations.
The Earlex sprayer 5500 is an HVLP sprayer with a compact design and a 650 Watt turbine motor.
You can use the Earlex sprayer for small shops and confectionaries. 
Moreover, the Earlex sprayer features hose and power cords enclosed in the spray station.
Therefore, you can enjoy a 2.2 PSI and 42 CFM efficiency level. 
Variety in colors and design options make Earlex spray paints unique.
You can spray between 1 and 12-inch patterns in vertical and horizontal order. 
However, the special round design setting of Earlex separates the sprayer from other brands. 
Within an affordable price range, Earlex Sprayers offer exceptional service and various features that make the product a potential substitute for Preval sprayers.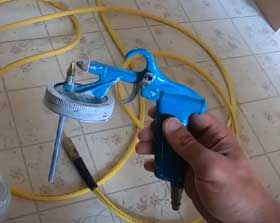 The materials and components of Critter sprayers make them a worthy opponent of Preval sprayers.
Critter sprayers contain a nice covering and use standard Mason jars as their primary component. 
Again, you can easily adjust the spraying machine according to your preference.
To change the air and volume, you can use the compressor and nozzle buttons respectively. 
Moreover, Critter sprayers function under low air pressure. As a result, you don't have to worry about the mixture getting moist inside the machine and enjoy a smooth painting experience. 
Lastly, Critter sprayers require minimal labor for maintenance and cleaning. The products are also available at considerable prices. 
Overall, Critter sprayers provide incredible features and convenient service, making them a good alternative for Preval sprayers. 
HVLP spraying paint is the final alternative to Preval spray. The best quality of HVLP spray paint is that the products are entirely eco-friendly. That means the spray contains zero pollutants and less overspray.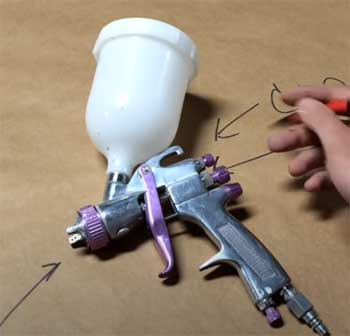 High-viscosity paint and versatility add a vibrant tone to the HVLP spray paints.
The low-air pressure spray paints won't mess up your mixture and ensure smooth painting. 
Moreover, HVLP spray paints are easy to use and pretty efficient on wooden walls.
The adjustable fluid flow and air pressure make the product unique. 
In addition, HVLP spray paints require minimal maintenance and cleaning like other products. You can brush the spray gun and use simple cleaning solutions to tidy the machine. 
You can use the spray to paint vertically, horizontally, and round settings. As a result, the spray can cover a wide range of areas and utilize minimum color paints. 
The combination of multiple uses and quality service make HVLP spray paints unique and convenient. Therefore, you can purchase HVLP spray paint instead of Preval to get similar results. 
Is Preval Sprayer Worth It?
By now, you got an elaborate idea about the alternatives of Preval Sprayer. Now, let's focus on the benefits of the Preval sprayer and decide whether the product is worth it.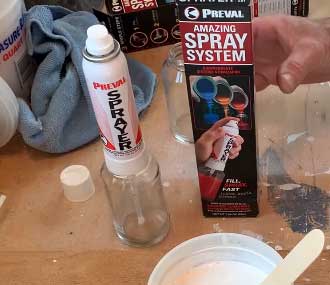 Preval Spray paints feature various colors and designs.
Therefore, you can look at hundreds of colors and choose the perfect combination for your spray paint. 
Moreover, you can also select your preferable liquid materials for Preval Spray paints and ensure easy painting. 
The components of Preval Sprays are easily dispatchable and disposable.
You can also use the paint spray parts on other products. 
Additionally, the spray's materials are eco-friendly and recyclable. 
For the Preval Spray paint, you don't have to worry about purchasing extra parts like compressors, hoses, and power cords. 
Therefore, you can avoid a hectic and hassle spray painting process. 
Accommodation and Portability 
Preval Spray paints can accommodate a large amount of paint and liquid compared to other brands. As a result, you can minimize the risk of wastage and fill up as much paint as you need. 
Moreover, the machines are light-weighted, and you can easily transport them from one place to another. 
A single Preval spray can be used for multiple reasons. For example, you can save the spray gun and use it for future uses. 
You can also use Preval spray paints on home walls, boxes, sheets, and metallic objects. Therefore, by purchasing one product, you can enable multiple features. 
Preval sprays are relatively cheap compared to other spray paint brands. The price of each model ranges from $100 to $120. 
Frequently Asked Questions (FAQ)
Can you refill Preval Sprayer?
Yes, you can refill Preval Sprayers, as the sprayers are superior to standard aerosol paint. Moreover, you can fill in the exact amount of color and minimize wastage. 
How do you thin paint for a Preval Sprayer?
You can use thin paint for ten seconds to clean the Preval Sprayer. Pain thinner is the primary product that experts use to condition the paint and ensure smooth spray flow. 
Can you spray latex paint with a Preval Sprayer?
Preval Sprays are available as latex paint that ensures easy and efficient spraying. 
Can you turn can paint into spray paint?
By using Preval Sprayers, you can quickly turn can paint into spray paints. The process is simple, and you can choose various colors for your spray paint. 
Conclusion 
To ensure effective spray painting, you can use Preval and Preval sprayers alternatives, as mentioned in this article. 
I have articulated all the potential alternatives that can be found in your nearby stores. Moreover, a detailed description is also provided to acknowledge the benefits and worth of Preval sprays. 
The mentioned product comes in various forms and provides an efficient spray painting experience.