Are you on the hunt for a new pair of glasses for running, hiking, gaming, or walking? You name it! Or perhaps you're tired of spending hundreds of dollars on shoddy shades that scratch and break easily.
Try out Goodr or Shady Rays to be entirely impressed. But first, let's dive into their differences.
Shady Rays shades cover a limited lifetime warranty, while Goodr offers a one-year warranty. The latter is made from recycled plastic, whereas the former is made of 2K automotive-grade urethane.
Do you want to know more? Only one way to find out! Stick around till the end.
A Brief Comparison Table
| | | |
| --- | --- | --- |
| Product Description | Goodr | Shady Rays |
| Warranty Period | One-year | Limited lifetime |
| Type of Material Used | Recycled plastic | 2K automotive grade urethane |
| Lens Material | Triacetate cellulose | Clear polycarbonate |
| Quality | Great | Excellent |
| Durability | Moderate | Excellent |
| Approval | Not ANSI approved | ANSI approved |
| Customization Options | No available customization | Various customization options |
| Number of Styles Produced | Eight | Sixteen |
| Price Range | Between $25 and $40 | Between $54 and $84 |
In-depth Differences Between Goodr And Shady Rays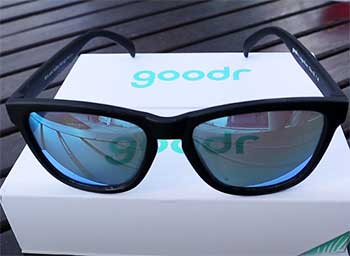 Guess what?
No matter where the adventure takes you, you no longer have to live with worry.
The most significant difference between the two shades lies in the warranty period provided.
Goodr offers a one-year warranty that is in action from the original date of purchase.
On the other hand, Shady Rays provides a limited lifetime warranty for craftsmanship and one year for broken parts and prescription issues.
The material used in manufacturing has a significant impact on the lifespan of the glasses. Goodr glasses are made of lightweight recycled plastic with a no-slip function, so you can freely move around without them falling or bouncing.
On the flip side, Shady Rays are made of 2K automotive grade urethane and superior optics that are UV and chip-resistant.
Goodr shades use polarized triacetate cellulose lens material and implement an exceptionally advanced technology that offers supreme visuals and excellent clarity.
On the contrary, Shady Rays come with a clear polycarbonate lens sturdy enough to withstand force, improve vision, and provide a streamlined look through their narrow profiles.
Shady Rays comes first if you are going for the absolute best quality. They offer excellent comfort, meaning you can wear them for hours without noticing. The frame and metal hinges are made of high-end quality that lowers the risk of damage.
Contrarily, Goodr comes second regarding quality. Nonetheless, this pair of sunglasses has its perks too. It is integrated with a silicone coating to reduce slippage anytime you break some sweat.
Shades are not just a summer necessity but also accessories you can wear all year round.
Therefore, you don't want a pair that is super delicate and prone to damage.
Goodr is made of solid, thick frames and full-width hinges that can serve you for a considerable amount of time.
Nevertheless, if you are looking for excellent durability in your glasses, Shady Rays are the way to go. Are they shatter-resistant? Without a doubt!
And best of all, you can constantly wear them over your head without them molding to the shape of your head.
Shady Rays are ANSI Z87 rated, confirming that they comply with the safety standards and provide the best quality to their consumers. In addition, the certification is proof of compliance with the set standards.
Conversely, Goodr shades are not ANSI-approved. If you consider approval an essential feature in glasses, Shady Rays are the better pick.
Goodr glasses, unfortunately, do not offer any customization options. But on the bright side, they provide a broad range of products you can choose from.
Inversely, Shady Rays provide you with a variety of customization options. You have the flexibility and comfort to turn your glasses into precisely what you want.
Number of Styles Produced
Goodr offers eight styles of glasses that are all uniquely designed. The models include LFGs, PHGs, VRGs, BFGs, Runways, Mach Gs, Circle Gs, and OGs.
On the other hand, Shady Rays have sixteen styles you can pick from. If you are the type who likes to switch frequently from style to style, this brand is what you should go for.
Last but not least is the price factor. Goodr is more affordable, costing between $25 and $40. And with its features, it does seem too good to be true. So, if you have no plans of spending much, this is the perfect option.
Contradictorily, Shady Rays are expensive as their price is between $54 and $84.
Which One Is The Better Pick: Goodr Or Shady Rays?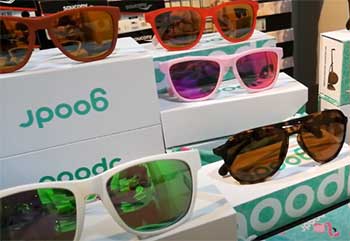 We're now at the most sensitive part; deciding which one is the better option.
The answer solely lies in your needs.
And with the comprehensive comparison, it shouldn't be a hard nut to crack.
What are you waiting for if you want a cheap pair of glasses with a warranty?
Grab a pair of Goodr shades. However, regarding quality and durability, Shady Rays win the race.
Frequently Asked Questions (FAQ)
How many times can you replace Shady Rays?
You can replace Shady Rays twice as long as the necessary supplies are available.
Are Shady Rays made in China?
Shady Rays glasses are assembled and configured in the USA, specifically Atlanta, and then manufactured in China.
Who are Shady Rays owned by?
Chris Ratterman, who holds a BSBA in Marketing and Finance and MBA, is the founder of Shady Rays sunglasses.
Is Shady Rays an American company?
Shady Rays is an American company that is owned independently.
Final Thoughts
Having gone through the nitty-gritty details of the Goodr and Shady Rays comparison, it wouldn't be a bad time to wrap up the discussion. The best shades should not only protect your peepers on the brightest of days but also make you look good and feel confident.
Are you looking for dirt-cheap shades that have a favorable warranty option?
Don't stress anymore! Goodr is the answer. Nevertheless, if you're a sucker for quality like I am, durability, and, most of all, customization options, I dare you to find a better pair than Shady Rays.