Looking for a nice pair of running sunglasses without breaking the bank? Well, you can't go wrong with either Knockaround or Goodr sunglasses.
Both glasses are stylish, comfortable, and most importantly, cheap. Most Knockaround or Goodr sunglasses can be bought for under 30 dollars.
The biggest difference between them is that for Knockaround sunglasses, you can customize your very own pair from their website with a wide variety of options.
You can't customize Goodr sunglasses, however, they have a wider selection of glasses than Knockaround. If you want to know more, then read on.
A Quick Comparison Table
| | | |
| --- | --- | --- |
| Specification | Knockaround Glasses | Goodr Glasses |
| Customizability | Full customization option with over a million different combinations | No customization option. |
| Number of Glasses Offered | 34 different sunglasses in total | 8 different styles and 87 different sunglasses in total |
| Protection Level | Fully polarized with UV 400 protection | Fully polarized with UV 400 protection |
| Additional Features | Super lightweight polycarbonate construction, impact resistance lenses, rubber nose pads. | Scratch-resistant, shatterproof, anti-salt water, special grip coating, |
| Price Range | Between $28 and $34 | Between $25 and $40 |
In-depth Comparison of Knockaround And Goodr Running Sunglasses
If you are an avid runner, especially if you live somewhere hot and sunny, it is very important to own a good pair of sunglasses.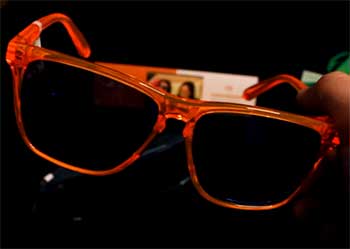 Of course, a nice pair of sunglasses looks stylish, but more importantly than that, they protect your eyes from the sun, dust, dirt, and other natural factors that can affect your vision.
When out running, sunglasses also help you see better during bright days, and help your body stay relaxed since you don't need to squint to see where you are going.
After going through the comparison table, you should have a pretty good idea about all the characteristics and differences between the two brands of sunglasses.
Now, let's go a bit more in-depth into the characteristics of the glasses and really break down and discuss each characteristic of Knockaround and Goodr sunglasses separately.
This is where the biggest difference lies between Knockaround and Goodr sunglasses.
Knockaround gives you the option to design and build your own custom pair of sunglasses. There are over a million different combinations you can explore to create a custom pair.
You can choose the frame type and color, the lens color, choose polarized or non-polarized lenses, etc.
On the other hand, Goodr does not have the option to build your own custom pair of sunglasses. However, they do make up for that by offering a far larger variety of sunglasses to choose from.
Number of Sunglasses Offered
Although, as mentioned before, Knockaround has the option to build your own custom pair, their actual sunglasses selection is not that big.
They currently only offer 34 different pairs of sunglasses. Most of the 34 pairs are also pretty much the exact same style.
So, if you're someone who likes to switch up styles every now and then, Knockaround glasses may not be for you. If you want to see all the available glasses for yourself, check out their official website.
On the other hand, Goodr offers a much wider variety of sunglasses, at 87 compared to Knockaround's 34. Not only that, the 87 different glasses are split between 8 different styles. Let us see all 8 styles.
Goodr OGs: The Goodr OGs are their signature and most popular line of sunglasses. Of the 87 total sunglasses offered, 36 of them are of this style.
Goodr Circle Gs: The Goodr Circle Gs have frames with a circular appearance, as well as round lenses. Of the 87 total sunglasses offered, 17 of them are of this style.
Goodr Mach Gs: The Goodr Mach Gs are stylish aviator sunglasses. Of the 87 total sunglasses, 9 of them are Goodr Mach Gs.
Goodr Runways: The Goodr Runways are sunglasses that are styled in a high-fashion cat eye shape. Of the 87 total sunglasses available, 7 of them are Goodr Runways.
Goodr BFGs: This sunglass is a slightly bigger version of the Goodr OGs. It is mainly for those who have bigger heads or need more coverage. Currently, only one kind of these sunglasses is sold.
Goodr VRGs: The Goodr VRGs are futuristic-looking sunglasses with a single. There are 5 kinds of Goodr VRGs offered.
Goodr PHGs: The Goodr PHGs are sunglasses with round frames and a distinct double nose bridge feature that is snug and light. Goodr currently offers 6 different kinds of PHGs.
Goodr LFGs: These sunglasses are a smaller version of the Goodr OGs. Of the 87 total available sunglasses, 6 of them are Goodr LFGs.
If you want to check out all 87 sunglasses and all the different styles offered, check out their website.
Sunglass Protection Level
As mentioned before, the main reason many runners wear sunglasses is to protect their eyes from mainly the sun, as well as some other natural factors.
Both Knockaround and Goodr offer polarized sunglasses. Polarized sunglasses, also called anti-glare have specially made lenses that reduce light glare and overall strain on your eyes when you are outside.
Along with polarized lenses, both glasses are also equipped with UV400 protection. This feature blocks out all harmful light from the sun, including, of course, UV rays.
Polarized lenses along with UV400 protection make both glasses ideal for running or just being outside, as they improve vision and protect your eyes.
Additional Sunglass Features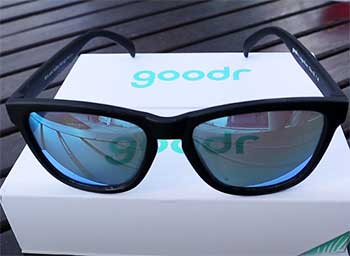 Now, let us discuss some additional features of Knockaround and Goodr sunglasses that set them apart from each other.
Knockaround sunglass frames are made of super light, polycarbonate materials.
This makes the frame both durable and snug when wearing it.
The sunglasses also have impact-resistant lenses. These lenses can withstand direct damage without shattering or being damaged.
The frames also feature rubber nose pads. This helps the glasses stay firmly on your face without moving around, even when you are all sweaty.
Goodr lenses are scratch-resistant, shatterproof, and salt waterproof. The frames also have a special grip coating on them. This helps the sunglasses remain firm and snug on you, without moving.
The final feature we are going to talk about is the price of each brand. Both sunglasses are very cheap and have very similar price ranges, with a few differences.
Most Knockaround sunglasses go for only 28 dollars a pair. Some select ones can go for 34 dollars.
Goodr sunglasses are mostly sold for 25 dollars a pair. But some models can go for 40 dollars.
To judge a brand as how valuable, it would be is to look at the packaging of its product in which the product is being sent.
When you compare Knockaround and Goodr on the packing of their sunglasses, Goodr is much loved because of its elegant packaging.
At the same time, Knockaround may not impress you as the Goodr does. Yet, it comes with good packing whenever you order a pair of sunglasses from the brand.
Durability and Sturdiness Of Frames
I've also purchased sunglasses from both brands, and in my experience, the frame of Knockaround looks sturdier as well as it is supposed to be extra durable.
On the other hand, while holding Goodr glasses in the hands, it doesn't look sturdy or durable.
Yet, many claims. Goodr sunglasses run for a lifetime and show better working when used with care.
It determines how stretchable the frame of either brand's glasses can be. Usually, the frames with more elasticity do not break easily compared to those less elastic.
In that case, Goodr gives you sunglasses with higher stretching and flexibility, ensuring you can bend them the way you want.
On the other hand, the elasticity with Knockaround frames is not that great!
From the design and construction, it can be observed that Knockaround sunglasses frames provide easy and strong gripping.
The same thing feels less when you are holding Goodr sunglasses.
That simply means the difference between the form factor, design, and construction of both brand's glasses frames.
Customer's Recommendations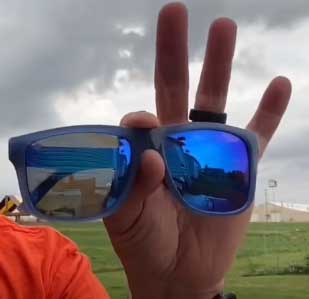 Even if Goodr is a little more expensive brand for buying sunglasses than Knockaround, many people recommend this brand.
They are impressed by the quality and tell that the brand is worth the price.
There are many options to choose from, and the glasses run longer.
In contrast, you'll find fewer recommendations with the knock-around brand.
Comparing both brands on how they serve their customers, I've heard many good things about Goodr customer service.
People are pleased with how easily replacements are made at this brand. At the same time, I didn't hear much about the customer service of Knockaround, which is a clue that Goodr is better than Knockaround in prioritizing its customers.
Which Sunglasses Should You Buy?
We now come to the question many of you may have. Which brand of sunglasses should you choose? The answer to this question depends on your preference.
Are you someone who does not care much for style and just wants a good but cheap pair of sunglasses to go running? Then, you should go for Knockaround sunglasses.
But, if you are someone who wants a wide selection of sunglasses of different styles, you should look at Goodr sunglasses instead. Here is an executive summary between the two for you.
| | | |
| --- | --- | --- |
| Features | Knockaround Sunglasses | Goodr Running Sunglasses |
| Packing | Slightly not a good packing | Excellent Packing |
| Durability and sturdiness of frames | Sturdier and looks more durable | Feel less sturdy and durable |
| Elasticity | Lower | Higher |
| Grip | Less Grippy Texture | More Grippy Texture |
| Customer's Recommendations | Fewer Recommendations | Higher Recommendations |
| Customer Service | Not that great | Excellent |
Frequently Asked Questions (FAQ)
Are Knockaround sunglasses Made in China?
Knockaround sunglasses are based in San Diego but are manufactured in China.
Are Goodr sunglasses good for your eyes?
Goodr glasses are polarized and have full UV400 protection. These keep your eyes safe when you are out and about.
Are Knockaround sunglasses scratch resistant?
No, since most Knockaround sunglasses have polarized lenses that scratch easily.
Are Goodr sunglasses anti-fog?
Goodr sunglasses don't fog up when you are outside.
Final Words
Sunglasses are an important part of any runner's belongings. A good pair protects your eyes from natural elements and lets you focus fully on your run and your surroundings.
Hopefully, this comparison of Knockaround and Goodr sunglasses helped you understand their characteristics and their differences. The information here should help you pick the best pair of glasses for you.