When it comes to laminate flooring, Golden Arowana and Mohawk are two of the most popular brands on the market. Both offer durable, attractive floors at affordable prices. But which one is the better option for your home?
Here we'll compare the pros and cons of Golden Arowana vs Mohawk laminate flooring so you can decide which suits your needs.
A Brief Comparison Table
| | | |
| --- | --- | --- |
| Feature | Golden Arowana | Mohawk |
| Price | $1 – $3 per sq ft | $3 – $7 per sq ft |
| Warranty | 25 years | Up to lifetime |
| Abrasion Rating | AC4 | AC4, AC5 |
| Plank Thickness | 7 – 12 mm | 12 – 13 mm |
| Installation | Click-lock floating | Click-lock floating |
| Waterproof | No | Select products only |
| Designs | Oak, cherry, maple, etc | Wide range including exotic woods |
| Antimicrobial | No | Yes on some products |
| Indoor Air Quality | Low VOC | GreenGuard certified options |
| Scratch Resistance | Moderate | Very good with ScratchGuard |
| Fade Resistance | Moderate | Very good |
Overview of Golden Arowana Flooring

Golden Arowana laminate flooring is manufactured by Nature Flooring, a company based in China. Their laminate floors are composed of a high-density fiberboard (HDF) core layered between a backing layer and a hard-wearing AC4 rated surface layer.
Some key features of Golden Arowana laminate flooring include:
Attractive wood grain patterns that mimic natural hardwoods like oak, cherry, maple, etc.
AC4 abrasion rating for durability
HDF core resists swelling from moisture
Available in 7-12 mm thickness
25 year residential warranty
Low VOC emissions
Water-resistant, can be used in kitchens and bathrooms
Textured surface provides traction
Floating click-lock installation
Golden Arowana floors are very budget-friendly, making them a great option for cost-conscious homeowners. Their affordable pricing doesn't compromise the look and durability though.
Overview of Mohawk Laminate Flooring
Mohawk is an American brand and one of the largest flooring manufacturers worldwide. Their laminate floors feature: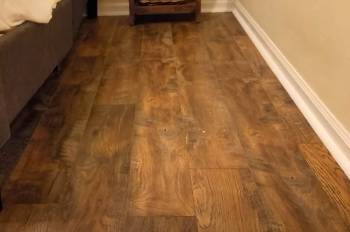 Realistic wood and stone designs
Proprietary ScratchGuard Advanced finish for scratch and scuff protection
Available in multiple widths (3.5″-7.5″) for natural look
Thicker 12mm and 13mm boards for stability
Waterloo click-locking system for easy DIY or pro installation
AC3 and AC4 wear layers with up to 25 year warranties
GreenGuard certification for indoor air quality
Antimicrobial protection inhibits bacteria, mold, and mildew
Mohawk offers very natural-looking laminate floors that resist scratches, fading, and moisture. Their quality comes at a higher price point than Golden Arowana but they offer great durability guarantees.
Comparing the Pros and Cons
To help decide between Golden Arowana and Mohawk, let's directly compare some of the pros and cons of each brand.
Durability
Golden Arowana – AC4 rated wear layer provides good durability for daily foot traffic. Not quite as scratch resistant as Mohawk but suitable for most homes.
Mohawk – Offers more premium AC4 options along with proprietary ScratchGuard technology for better scratch, scuff, and fade resistance. More durable for active households.
Designs
Golden Arowana – Attractive wood looks that mimic oak, hickory, cherry, etc. Fairly limited color options compared to Mohawk.
Mohawk – Wider range of wood species designs that look very natural. More exotic visuals like distressed barnwood or painted colors.
Warranties
Golden Arowana – 25 year residential warranty is decent but not as long as Mohawk's options.
Mohawk – Up to a lifetime limited residential warranty available. Better protects your investment long-term.
Moisture Protection
Golden Arowana – Core is resistant to moisture damage but not 100% waterproof. Cannot withstand standing water.
Mohawk – Some options are completely waterproof with lifetime warranties when used in wet areas. Better for bathrooms and laundry rooms.
Installation
Golden Arowana – Floating click-lock system is easy for DIY installation. Locks tightly without glue.
Mohawk – Also utilizes click-lock systems like Uniclic Multifit for simple floating installation. Quick to install.
Affordability
Golden Arowana – Much more budget-friendly price point, often hundreds less per square foot. Great value laminate floors.
Mohawk – More expensive floors due to thicker planks and premium design and finish. Higher cost but come with better warranties.
Indoor Air Quality
Golden Arowana – Low VOC emissions are decent. No other certifications though.
Mohawk – Options with GreenGuard certification for good indoor air quality during use. Added antimicrobial protection.
Which Is Better – Golden Arowana Or Mohawk?
For shoppers on a tight budget, Golden Arowana is the better choice. You can get attractive, decently durable laminate floors at very affordable prices. They offer great value and perform well for everyday use.
Homeowners wanting the highest quality and durability should lean towards Mohawk. You'll pay more but get premium laminate floors with better scratch, fade, and moisture resistance backed by strong warranties.
Golden Arowana is sufficient for most low-traffic areas of the home. Active households and those wanting wood floors that emulate the look of real hardwood should go for a Mohawk product. Their added antimicrobial protection also makes Mohawk a smart choice for properties rented out to tenants.
Neither option is necessarily "better" outright. Choose Golden Arowana if you want budget-friendly but attractive laminate flooring. Go with Mohawk if you don't mind paying extra for enhanced durability and high-end visuals.
Your needs and budget will determine which brand is right for your home.
Frequently Asked Questions (FAQ)
Is golden arowana flooring good?
Yes, Golden Arowana laminate flooring provides good quality and performance for the money. Their AC4 wear layer holds up well to foot traffic and daily use. For homeowners on a tight budget, Golden Arowana floors are an excellent choice.
What is the best quality laminate flooring brand?
Mohawk and Pergo are two of the highest quality laminate flooring brands. They offer premium laminates with proprietary technologies like ScratchGuard and PermaMax to resist scratches, fading, and moisture. Both provide very realistic wood looks. Mohawk also has antimicrobial product options.
What type of vinyl flooring is the most durable?
Luxury vinyl plank (LVP) flooring is the most durable form of vinyl flooring. LVP features a rigid composite core in the planks along with a resilient vinyl wear layer on top. Brands like COREtec and Shaw's Floorte offer waterproof LVP with scratch and stain resistance warranties of 15-30 years or more.
What is the rating of golden arowana?
Most Golden Arowana laminate floors have an AC4 abrasion rating. AC ratings measure a floor's resistance to surface wear. AC4 is good for residential use while AC5+ is better for commercial applications. Golden Arowana's AC4 rating means it resists abrasions well and is fairly scratch-resistant for everyday use.
Final Thoughts
In summary, when choosing between Golden Arowana and Mohawk laminate flooring, consider Golden Arowana for affordable but attractive floors and Mohawk for premium quality and durability.
Evaluate your budget, traffic levels, and desired visuals. For most homeowners looking for good value, Golden Arowana is an excellent option that still provides pleasing aesthetics and decent longevity.
Go with Mohawk if you want enhanced protection from scuffs, moisture, fading, and antimicrobial issues. Both brands make quality floors that can transform the look of your rooms.