If you ask me to suggest a single brand that is durable, has a smooth texture, and at the same time, has varieties in designs, I'd love to prefer the American Spirit Hardwood flooring.
Believe it or not, its jaw-dropping modern look can easily take the "wow" out of your lips!
On top of that, its double layer adds optimum protection. To find out whether the American Spirit Hardwood is ideal for your sweet home or not, you must check out the entire article.
Features of American Spirit Hardwood

If you're a fan of hardwood flooring, you shouldn't miss any of the features the American Spirit comes with. So these are some of its prominent specs.
Variety in Designs and Colors
In these modern days, the majority of us don't want to stay limited to a single model. In fact, everyone has their own taste and choice in terms of decorating their sweet home.
So, when it comes down to the American Spirit Hardwood, the manufacturer adds a number of different colors and styles to suit everyone's decoration, including hickory stone, suede, brown, hickory provincial, and many more.
Apart from the style and vibrant color choices, the American Spirit Flooring also stands out for its sturdy build quality. Thanks to the engineered Oak hardwood it gets; this one right here adds a thin layer of plywood core too, making the flooring way long-lasting.
So, it doesn't matter for what reason you're going to choose such a floor, this can withstand light to heavy traffic, thankfully!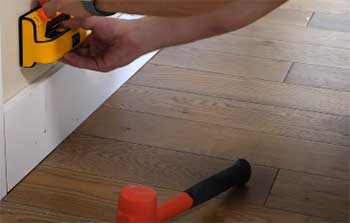 From 3/8" x 7" x 6' to 1/2" x 7" x 6', American Spirit provides you with different size options.
In this way, all you need is to measure the place of your home/office and then choose the right one.
However, if you still find the size unmatchable to your décor, feel free to take advice from experts.
They may trim the extra-long part for a perfect match, and for this, you'll need to count some extra bucks.
Soft & Smooth Floor Texture
Nothing can easily beat the smoothness and softness that American Spirit Flooring offers. While stepping over, users won't feel any roughness or discomfort. The credit goes to its engineered hardwood material.
Double-layer Offers Excellent Protection
As this flooring combines hardwood and thin layers of plywood core, American Spirit is able to deliver minimal sound-proof protection.
This is a unique thing about hardwood flooring because other models mightn't let you get such a benefit in this category.
What Could Have Been Better With American Spirit Hardwood Flooring?
A couple of things could be better, although it's quite normal to have some specific drawbacks. Customers complained about the following things given below.
Requires Extra Tools for Installation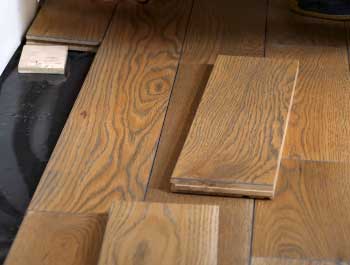 In order to ensure a complete setup, you'll need to collect a variety of different tools and stuff, including a pry bar, power saw (crosscut), hand saw, chisel, scotch delicate, multiple types of tapes, and many more!
So, installing American Spirit Hardwood Flooring isn't child's play.
This is why you'll need to count some extra dollars for an ideal installation. And never try to do it yourself if you only have basic knowledge.
But the good thing is that the American Spirit is friendly with different installation types, such as glue down, floating, and staple down installations. Each will require specific tools and a budget to get your work done.
Wet Mopping Isn't Permissible
Do you want to ruin the quality of your American Spirit Hardwood flooring?
If not, then never try to apply anything like wet mopping in terms of cleaning up the surface. Rather, using a piece of dry cloth or rag is always the safest option.
As for cleaning the surface, try to perform the task every 3-4 days per month. In this way, your hardwood floor will remain alluring for a long period of time.
Not Compatible with Outdoor Surfaces
Chances are the smoothness and glossiness of the American Spirit Hardwood floor's surface may ruin by extreme heat and natural light. In this case, it is always better and suggested by experts to utilize it in indoor places.
Frequently Asked Questions (FAQ)
Which brand of hardwood flooring is best?
To be honest, I'd say there is not a single brand that has to be a "one and only" winner! This is because the current market features many striking models with different specs and characteristics.
Among them, Monarch plank, Pure SPC Max, American Standard, and Doma will stand out.
Where is American Spirit hardwood flooring made?
The hand-crafted US-based flooring is made in the location of Nashville, Tennessee. They have a reputation for providing lots of floor models, which equip style, durability, and functionality.
Who makes American Spirit flooring?
Lumberjack Direct is the distributor and manufacturer of American spirit flooring. They are known for offering both premium hardwood and waterproof flooring to meet your needs. And these can be suitable for home, residential, and commercial shops. 
What is the most scratch-resistant hardwood flooring?
Solid maple, Oak, and Hickory: these 3 are so popular and effective for those who are in need of scratch-resistant flooring. These materials can withstand minor damages and scratches offered by pets or children.
Besides that, deeper grain patterns in hardwood floors can assist in hiding minor scratches or spots.
Final Words!
So that was everything on American Spirit Hardwood flooring reviews. Its high-quality construction with a perfect blend of eye-catching designs makes it durable and aesthetic at the same time.
But to keep the floor long-lasting, always prefer dry mopping instead of wet. And calling an expert will be a must, especially if you need to get the installation task done quite safely.