Ever had anyone told you that you smell like the food you're eating?
A good range hood like the Fotile or Pacific ones can save you from that. Fotile and Pacific both are amazing range hoods but some things make them different. Build, filter, noise level, cleanup, and cost are the major differences you'll spot between them.
If you're someone who owns a professional kitchen, you already know how important range hoods are. So if you're confused between Fotile and Pacific, here is a little comparison to help you decide.
A Quick Summary of Comparison
| | | |
| --- | --- | --- |
| Feature | Fotile Range Hood | Pacific Range Hood |
| Build | Better | Good |
| Filter | Better | Good |
| Noise level | Low | Higher |
| Cleanup | Easier | Easy |
Have time to dig in? Good, let's get to the details then.
Key Differences Between Fotile And Pacific Range Hoods
Both Fotile and Pacific are popular to almost a fault for their amazing output. This makes it a little hard to compare and differentiate between them. That doesn't mean it is possible though.
Build, filter, noise level, cleanup, and cost are some of the major differences between Fotile and Pacific range hoods. Let's see how it makes them different.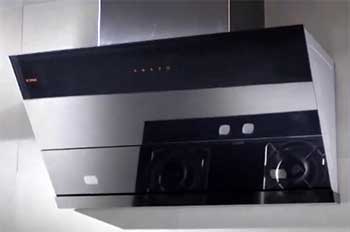 A good and durable build is one of the key features of a range hood.
Both Fotile and Pacific check off this box, but Fotile is miles ahead of Pacific in a head-to-head comparison.
Fotile range hoods are known for their versatile designs.
They actively invest in research and it shows. Their designs are constantly improving and becoming more versatile.
Usually, when people hear something is China-made, they get a negative image of the product quality. It is the opposite of Fotile.
This China-made range hood can deal with any level of workload. They're good enough to adapt to the high-heat, high-aroma Chinese cooking so you get the idea.
The Taiwan-made Pacific range hoods are no less, but they are yet to reach Fotile's level. Plus Pacific is known for having build issues.
Unless you get yours from a trusted dealer, you might end up with a not-so-good unit.
This is one of the main components of a range hood. A strong filter means your range hood will extract more grime, smoke, and smell.
Fotile has one of the strongest filters among all range hoods. Pacific runs close, but not to the same level.
Fotile has one of the strongest filters in business. No matter what you're throwing their way, they can get it out.
Their CFM range goes higher than Pacific and they actually pay well on that label.
Pacific on the other hand is a little backfooted here. Compared to the noise level you'll get, it extracts fewer elements from the kitchen. If you open the filter vents, you'll find Pacific's one emptier than Fotile.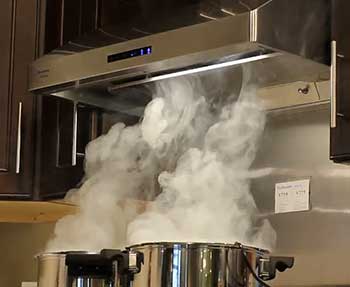 This is where range hoods get the most complaints.
Most of them make pretty loud noises which makes it harder to stick around.
Fortunately for you, Fotile is almost silent in its work.
The noise only gets slightly higher when you put the fan at full speed.
Other than that it is all quiet in there.
Pacific is the opposite, again. They're notorious for making noises. This is actually the primary reason why most people don't go back to using Pacific once they switch.
If you want to get their range hoods, keep this in mind.
Fotile range hoods are really easy to assemble and disassemble. You won't have to spend an hour trying to get to the vents. Most range hoods from Fotile have easily accessible vents for easy cleanup.
The only problem is, Fotile range hoods usually don't go with anything except the 409 all-purpose cleaner. Fotile strictly recommends only 409 for cleaning.
Pacific on the other hand is a little harder to take apart. Plus the filter and surrounding area can be harder to clean compared to Fotile.
The plus point here is that you can use pretty much any cleaning element for taking the gunk out.
Which Range Hood Should You Choose?
This is very close to a trick question because there is no straight answer to this. Both brands are amazing and have good product lineups and solid reputations backing them up.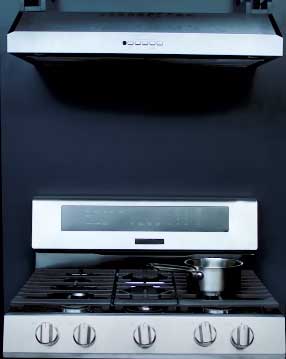 You'll have to be ready for some serious trade-offs to get the right one for you.
If you want something powerful and don't mind a little splurging, the Fotile range hood is the best option for you.
Fotile range hoods come in a bunch of practical models so you can get the right fit. The best part is they're pretty quiet and easy to clean up.
Another plus with the Fotile range hood is that they have really strong suction. Even if you run a Chinese restaurant and work with high-flame, high-aroma ingredients; Fotile will sweep these away.
Pacific is a much better option if you're looking for something cheaper. They have good suction, are pretty easy to clean, and come in multiple practical designs.
The problem with Pacific is mostly the noise. You'll have to learn how to ignore that if you want this to work. Plus if you can't find a good dealer, you might end up with a worse-quality pacific lookalike.
Overall, the Fotile range hood is the better choice here. They check off pretty much every box you could ask for (except the affordable one). But if you're looking for something less pricey, Pacific is as good as any.
Frequently Asked Questions (FAQ)
Here are a bunch of questions people usually ask about Fotile, Pacific, and range hoods in general.
Which brand is best for range hood?
That boils down to a pretty subjective answer, it will all depend on your personal preference. Fotile, Zephyr, Pacific, Hauslane- these are some of the best range hood options you'll find.
Which Rangehood is best for Chinese cooking?
You'll need a range hood with a strong extractor for Chinese cooking. Fotile is known to be very good at Chinese cooking.
Where are Pacific range hoods made?
Pacific range hoods are designed in the USA, but the manufacturing process happens in Taiwan.
Where is Fotile range hood made?
Fotile's high-quality range of hoods is designed and manufactured in China.
Final Verdict
Fotile or Pacific range hood is a pretty old discourse when it comes to the range hood. Both brands are amazing and bring their own attributes to the table.
But in an overall sense, Fotile is the better choice. Whatever brand you choose, make sure to find a trusted dealer for your range hood.