Festool dust cleaners have many appraise when finding one of the best dust extractors for your house. However, people sometimes confuse deciding whether to get a Midi or CT26 dust extractor.
Both are excellent products, but with MIDI, you can enjoy easy and faster cleaning in narrow places.
On the other hand, CT26 is less agile in movement but good with capacity. And it is also lightweight to move freely in more vast places.
A Quick Comparison Table
| | | |
| --- | --- | --- |
| Specifications | Festool Midi | Festool CT26 |
| Usage | Extracting dust from your house | Extracting dust from the house |
| Suction Capacity | 130 CFM | 137 CFM |
| Container Or Bag Capacity | 3.9 Gallons | 6.9 Gallons |
| Power Usage | 400-1200 watts | 400-1200 watts |
| Weight | 21.4 lbs. | 28.7 lbs. |
| Filtration System | Hepa Filtration System | Hepa Filtration System |
| Size | Smaller | Larger as compared |
| Pricing | Cheaper | A Bit Expensive as compared |
Key Differences Between The Festool Midi And CT26 Dust Extractors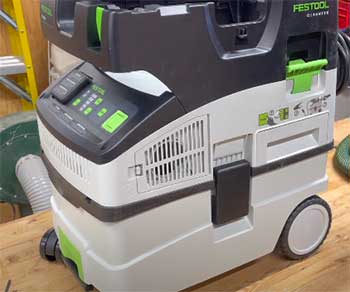 Since you are reading about dust extractors, the sole purpose of both of these machines or vacuum cleaners is to extract dust from your house.
Yes, both cleaners are from the Same brand.
But there can be some differences in their working, usability, or size when used on your floor.
The MIDI is smaller in size compared to the CT26 model and is best for all those quick in and out projects.
You can use it perfectly on smaller tools like the Domino, Sanders, TS Saws, etc. It is considered very elegant in most interior places.
However, working or using CT26 in tough or tight places could be a little hazardous. That's because this machine is way bigger and covers more space.
But that's an excellent choice for dust extraction from multiple places in the house. It could also include those benchtop tools, including the table saw, Kapex, or CMS.
The suction capacity of a dust extractor is defined as the speed with which it can extract dust from the floor or any location in your house.
When this is concerned, using the MIDI model gives you a suction speed of 130 CFM. Due to its small size offers a little less speed than the CT26 model.
Because while using this CT26 model, you can have a suction speed of 137 CFM. It is faster and quicker than MIDI in extracting dust from your house.
Container Or Bag Capacity
That's the difference you will find most prominent between these two dust extractors from Festool.
The one with container space requires less fatigue on emptying the container because it doesn't get filled quickly.
However, an extractor with a lower capacity may require you to keep the container empty repeatedly.
So, if you don't want to face the hassles of emptying the container repeatedly while cleaning the mess from your house, you should go for the CT26 model. It has 6.9 gallons container capacity, which can easily contain more dust.
On the other hand, the MIDI extractor comes with only a 3.9 gallons container, which is less than CT26.
Both models from Festool use the same power in the house, so your electricity expenses might not be huge monthly.
A MIDI and a CT26 model can efficiently run on a power level of 400 to 1200 watts. It means these machines can efficiently run on the regular electricity supply of your house.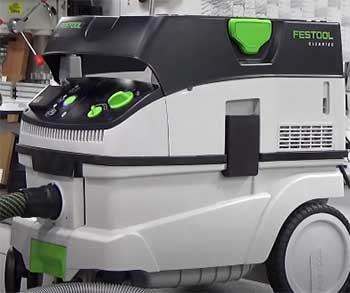 When you need to have efficient and effective cleaning by using a dust extractor like this, you need something that should be portable and lightweight.
If you think more weight is difficult to move on the floor, consider getting a MIDI model with just 21.4 lbs.
And suppose you think you need an extractor with more capacity to store dust.
In that case, you will have to compromise a little on portability. For this, consider the CT26 model, which has 28.7 lbs. weight.
The filtration system both machines use to keep the dust and air separate is named the Hepa Filtration system.
It is an exceptionally designed filtration system by Festool that is used in these machines. The filter provides better extraction and quicker cleaning, which you may not get from other cleaners.
When portability is concerned, size always matters. The MIDI model comes in smaller sizes, and at the same time, it offers you less capacity.
But when the size is a little bigger in comparison, you can have the CT26 model with more capacity. In both cases, portability is ensured but more with the prior model than later.
From all these comparisons, you have an idea that MIDI is a smaller model than CT26.
It means the smaller model will always be cheaper than the larger model of the Festool Dust extractor. That's why MIDI is way cheaper than CT26.
But a specific price could change depending on your nearby store. So, that's not a problem.
However, a MIDI model may cost you 600 to 700 USD. And the CT26 model can go from 700 to 800 USD.
Which Festool Dust Extractor Model Is Better For You?
If I conclude this comparison, I will always go for the CT26 model because of its large container capacity, faster Suction speed, and other considerations.
However, if space is concerned, I would suggest buying both simultaneously. You can use the MIDI at your most tight places and CT26 at vast places.
Moreover, Festool MIDI can also go to vast places but will offer lesser container capacity. So, always choose wisely. Here is an unboxing video of MIDI.
Frequently Asked Questions (FAQ)
What Is The Difference Between Festool Extractors?
They come with various container capacities, different suction speed limits, different weights, and different sizes depending on your vast or tight dust extraction needs.
What Is The Difference Between A Festool Mini And A MIDI?
A Festool midi is the latest version of Festool mini. It has the same features but a little more capacity than the mini version. Mini is 2.6 gallons, and MIDI is 3.9 gallons.
What's The Difference Between Festool CTL And CTM?
Festool CTM MIDI Is an approved class M Extractor. And the Festool CTM MIDI is an approved class L extractor.
How Long Do Festool Bags Last?
These Festool bags last up to a maximum of 500 uses.
Final Thoughts
Lastly, there are many things worth comparing between Festool MIDI and CT26 but each of these has its importance. You can choose the CT26 model for extensive cleaning operations, but it will be a little expensive.
However, for tight cleaning operations, you can choose the MIDI model, which will be a cheaper option. So, it all depends on you as to what you desire. But thanks for reading. Have a great day!