In a screened porch, one of the most important elements is the windows. Two of the most popular porch windows are the EZVue and Eze Breeze windows.
The most significant difference between the two is that EZVue has memory vinyl screens, while Eze Breeze uses full fiberglass. However, there are a few more differences between the two.
Below is a full comparison of the 4-track windows for both EZVue and Eze Breeze. If you want to know more, read on.
A Quick Comparison Table
| | | |
| --- | --- | --- |
| Specification | EZVue | Eze Breeze |
| Frame | Electrostatically painted aluminum frame | Powder-coated aluminum frame |
| Screen | Memory vinyl screens | Full fiberglass screens |
| Maximum Height | 100 inches high | 113 inches high |
| Additional Features | Custom-fit, custom colors, removable panels, and more | Custom-fit, windows openable both ways, removable panels, and more |
| Price | $350-$450 per panel | $400 per panel |
Key Differences Between EZVue And Eze Breeze Windows
After going through the comparison table, you should now have a fairly good idea about the features and characteristics of the two windows.
Now, let's go a bit more in-depth into the characteristics of the windows and really break down and discuss each characteristic separately.
As mentioned before, for simplicity's sake, we will be comparing the 4-track windows of both EZVue and Eze Breeze.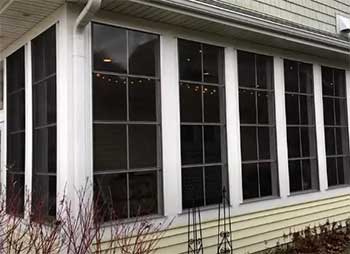 The frame is the structure into which the screen of the window is fitted.
A good window frame needs to be strong, durable, and resistant to the elements.
EZVue windows are made using durable, extruded aluminum frames.
The frames have an electrostatic coating of paint. An electrostatic coating uses an electric charge to attract paint to the metal's surface.
Before use, the paint needs to be dried for a few hours overnight. This electrostatic coating provides a colorful finish to the frame that is durable and will last for years.
Eze Breeze frames are also made using durable, high-quality aluminum. However, unlike EZVue frames, Eze Breeze has a powder coating on its frame instead of an electrostatic coating.
A powder coating has a similar application process to an electrostatic coating. The difference is that after the coating, the powder coat has to be baked in an oven rather than left to dry overnight.
Like an electrostatic coating, a powder coating also provides a durable, long-lasting finish to the frame.
The screen is the most important part of a porch window. This characteristic is also where the biggest difference between EZVue and Eze Breeze windows lies.
Eze Breeze windows use fiberglass instead of regular glass. The main advantage of fiberglass is its resistance to bending, tension, and compression.
Fiberglass is also non-flammable, has high temperature and humidity resistance, and is a good insulator.
On the other hand, EZVue windows have memory vinyl screens. The main advantage of this material is its ability to retain its original shape within minutes of any distortion.
Vinyl windows also keep heat in during the winter and out during the summer.
They are also 100% scratch-resistant and can be easily cleaned with soap and water. Vinyl windows are also very resistant to the elements. They are also the least expensive of all window materials.
Maximum Window Height Available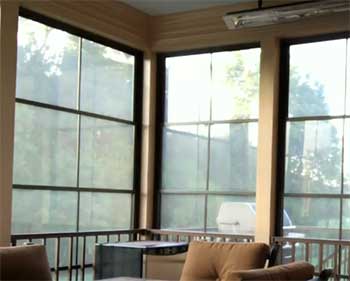 For different houses and porches, people may want different-sized windows.
Depending on your preference, both EZVue and Eze Breeze have windows of varying heights.
EZVue windows can be fitted to extend up to 100 inches high.
Eze Breeze windows can be custom fitted to extend up to 113 inches high for floor-to-ceiling windows.
Additional Window Features
Apart from their differing frames and screens, EZVue and Eze Breeze windows have a host of additional features that set them apart from each other.
Let's take a look at all the features of each window individually.
EZVue windows can be custom-made to fit into an existing opening or a new one. The frames have different colors available for maximum customization.
The window utilizes vinyl screens that retain their original shape after any distortion. EZVue offers gray, dark gray, bronze, and clear glazing for the vinyl screens, depending on your preference.
Each panel of the window can be removed individually. This allows for easy cleaning from the inside. The window also comes with spreader bars for stability.
EZVue also offers additional sunscreen for the windows, which keeps out heat during the summer and gives more privacy. A special pet-resistant screen is also available for the windows.
Like EZVue windows, Eze Breeze windows can also be custom-made to fit new or existing openings in porches. Each window can have two, three, or four easy-moving vents.
Outside and inside mount frames are available from Eze Breeze. However, screens are attached to inside mounts only.
The vents are equal, with an option for an unequal top or bottom vent. Each vent can be opened vertically, both ways.
Different frame colors are available, with the option of having mixed-color sashes. Additionally, a sunscreen option is also available.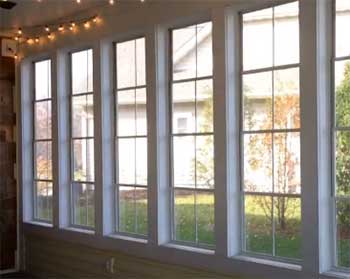 The price is an important aspect to consider before any purchase.
Fortunately, both EZVue and Eze Breeze windows are relatively inexpensive.
EZVue windows will cost you between $350 and $450 per unit, depending on the size and excluding labor and other additional costs.
Eze Breeze windows cost on average $400 per panel, excluding labor and other costs.
Which Window Should You Choose?
Both EZVue and Eze Breeze are great options for your screened porch. They both have various features that make them different from each other.
However, after the analysis, we can see that there is no specific feature that makes one definitively better than the other. So, the window you choose depends entirely on your preference based on all of its features.
Frequently Asked Questions (FAQ)
Below are some frequently asked questions about porch windows and their answers.
Which is better Sunspace vs Eze Breeze?
The quality of Sunspace windows is much higher and the installation is much smoother.
How much does it cost to install an Eze Breeze window?
Eze Breeze installation costs range between $2,700 and $3,700.
How much do Eze Breeze porch windows cost?
Eze Breeze windows cost on average $400 per unit.
What is an Eze Breeze porch?
Eze Breeze is a porch enclosure system that can transform the outdoors into a beautiful indoor/outdoor space.
Final Words
A screened porch is ideal for when you want to experience the beauty and ambiance of the outdoors, without any of the annoyances such as insects, dust, debris, etc. The windows are the main part that allows for an outdoor experience while indoors.
Hopefully, this article compares the features and characteristics of EZVue Vs. Eze Breeze windows help you choose the perfect windows for your porch.