Everbilt wire shelves from Home Depot are consistently bigger than Lowe's ClosetMaid shelves on the size of standards, brackets, and shelving. It means Everbilt wire shelves have larger gauges of wire than ClosetMaid. So, these shelves will be thicker and sturdier.
Have you wondered why wire shelves in your house do not last long as you were promised?
Well, maybe because you don't have the right product. You need to consider a few things to get the best shelve system. That's why I'll show you the differences between Everbilt and ClosetMaid, two of the best wire shelving systems.
A Quick Comparison Table
| | | |
| --- | --- | --- |
| Specifications | Everbilt | ClosetMaid |
| Special Feature | shelves are cut-to-fit | ShelfTrack wire closet organizer systems |
| Construction Materials | Steel | Vinyl Coated Steel extruded |
| Benefits | Offers More Benefits | Offers More Benefits |
| Load Capacity | 90 lbs./ Linear Feet | 60 lbs./ Linear Feet |
| Included Items | 7 Available Items | 8 Available Items |
| Warranty | 2 Years Guarantee | Free Replacement Policy |
| Price | Less Expensive | More Expensive |
Key Differences Between Everbilt And ClosetMaid Shelves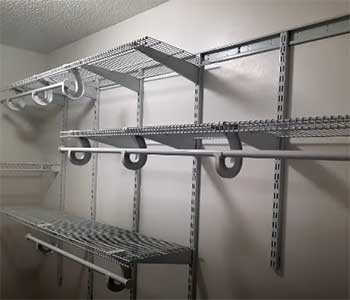 Everbilt Wire Shelving storage shelves are cut-to-fit.
They are height adjustable, shelves adjustable, and width adjustable wire racks.
Besides, these racks work as closet kit storage and are often track-mounted.
You will get flexible-looking shelves that offer custom looks as well.
On the other hand, ClosetMaid offers various ShelfTrack wire closet organizer systems.
They are all-in-one wire closet kits that come with all the necessary items. Because of the ShelfTrack system, these racks are configured as adjustable shelves that you can move at your convenience.
Construction material is crucial for a wire shelves because it can strengthen them and allow them to tolerate more loads. Everbilt wire closets are made from durable steel and have a white-coated finish. Besides, you will get wide mesh wire on these shelves.
In contrast, ClosetMaid wire shelves are made from vinyl-coated extruded alloy steel. The fully encapsulated vinyl-coating material will provide structural integrity to the shelves.
Plus, the wires are made from steel sheets.
The most crucial benefit of Everbilt wire racks is that they have a 1-inch deep standard, whereas ClosetMaid has a less than 1-inch deep standard. So, these shelves have a larger gauge of wire and are thicker.
Besides, the design of these shelves lets you continuously slide the hangers.
On the other hand, ClosetMaid shelves are vinyl coated. So they can resist chipping and rusting. Plus, they are SCS-certified. You can slide their hangers as well because of the super slide hang rod.
Everbilt wire shelve systems are thicker than ClosetMaid. So, their structural integrity is superior to their counterparts. That's why they can tolerate more load per linear foot. With 90 pounds per linear foot, Everbilt will allow you to store all your necessary items.
On the contrary, ClosetMaid has thicker standards, but they are made from extruded alloy steel which is very sturdy. So, even if their load capacity is not as high as Everbilt's, they can still bear 60 pounds per linear foot.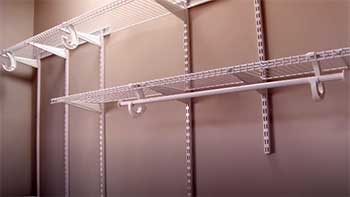 Included items refer to the necessary parts and accessories you will get when you purchase a wire shelve system.
For Everbilt, it's items that come with a package.
They are Panhead screws, anchors, bolts, toggles, closet rod caps, shelves, and shelf caps.
Conversely, the 8 items you will get from ClosetMaid packages are hang track, standards, shelf brackets, closet rod, hang rod support, wire shelves, shoe shelves, and installation hardware.
Everbilt has clear warranty coverage. All its products are covered by 2 year of guarantee. This means all the products will be guaranteed to be free of defects in material and workmanship.
On the other hand, ClosetMaid has a free replacement policy instead of a warranty. They will replace any faulty and damaged part completely free of cost. You have to contact them directly or call on their local dealer for that.
Everbilt wire shelf systems are less pricey compared to ClosetMaid. For example, a 5 – 8 feet decorative wire shelving storage from Everbilt will cost you around $189.99. But the same 5 to 8 feet wire closet organizer from ClosetMaid will cost around $223.99.
Which Will Be Better For You?
Choosing a closet organizer system is tricky because it involves many styles and other preferences. But if you seek my opinion, I would go for the Everbilt closet system.
They are thicker and probably will last longer for that, can definitely take more loads, have somewhat better warranty coverage, and will cost lower. So, it has all the possible benefits that you would ask for.
Frequently Asked Question (FAQ)
Is Everbilt compatible with Rubbermaid?
No Everbilt racks are not compatible with Rubbermaid. Both are somewhat similar, but Everbilt will not fit Rubbermaid. That's because Rubbermaid is not strong enough to hold the weight Everbilt racks can.
Besides, 25 inches Rubbermaid has a less than 1-inch deep standard, but Everbilt has a 1-inch deep standard.
Is ClosetMaid a good brand?
ClosetMaid is a pretty good brand in the closet and storage system industry. It offers robust and beautiful-looking wire shelves, cabinets, and storage systems made from high-quality materials and with good craftsmanship. Plus, you will get economical luxury storage systems there.
Who makes ClosetMaid?
ClosetMaid Corporation is owned by Griffon Corporation, a multinational conglomerate based in New York City. ClosetMaid is one of its five subsidiaries. All ClosetMaid products are made in the USA, and its manufacturing plant is in Ocala, Florida.
Are ClosetMaid and Rubbermaid parts interchangeable?
Yes, ClosetMaid and Rubbermaid parts are interchangeable. The shelf supports and even the shelves will fit interchangeably.
You can use ClosetMaid shelf supports and shelves with Rubbermaid hangers. And similarly, you can fit Rubbermaid shelves and supports to ClosetMaid hangers. For example, you can use a ClosetMaid cloth hamper in the Rubbermaid closet.
Final Thoughts
People are often drowned in doubts when they are looking for a wire shelve storage system. But I have laid out the differences between Everbilt and ClosetMaid as simply as possible.
Now you can confidently choose the right one for your home. And Everbilt turns out to be the best deal here. They're durable and can bear more loads; that's all that really matters.