Elfa brings high-quality and highly designed storage systems for all the places inside the house. It includes walls, doors, floors, kitchens, and more. If you have been using Elfa Closet System for a while, you might already know everything about it.
But in this guide, I'll enlighten some superior or exact alternatives to this Elfa Closet Systems with varying features. So, let's not waste time and dig into today's write-up.
Elfa Closet System Substitutes
Multiple brands sell unique closet systems or storage systems to give you dedicated space so you can store clothes, shoes, and other things inside. Here is a list of those alternatives: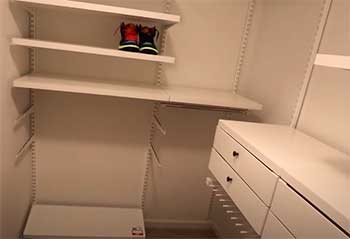 Rubbermaid Closet Systems
Closetmaid Storage Systems
Seville Classics Closet Systems
IKEA Elvarli Closet Systems
Modular Closet Systems
EasyCloset Storage Systems
Elfa has been a point of attraction for many people these past couple of years.
However, some people say the brand's products are a little costly and consider finding the best alternatives.
In that case, let's begin by explaining some highly admired alternatives of the Elfa Closet System that can be your best selection for storage needs in different rooms.
Rubbermaid Closet Systems
One of the best closet systems you can try in your house is from Rubbermaid.
They have a wide variety with multiple dedications to store whatever you want. Their imported products don't include any fabric.
You can have a closet system of 4 to 8ft. broad that can include everything from a single jacket to multiple pairs of shoes.
They also give you the mounting hardware and an installation manual to match the necessities you are already getting with the Elfa Model.
However, this could be a little flimsy compared to Elfa, which looks like a tank.
Closetmaid Storage Systems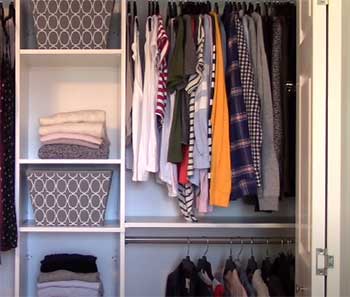 Closetmaid brings some heavy-duty wired and wooden-made Storage systems for every room in your house.
Whether you use them as your personal closets or for your wife and children, they would give you similar vibes as Elfa does.
They have closet systems for the kitchen, rooms, bathroom, and every space in the house you have dedicated to keeping stuff inside.
There might be no need for any adjustments sometimes, and you will have a space you need to keep stuff in these closest.
From the price point of view, they are way more costly than Elfa, and their clothes hamper is extremely impressive.
These systems are even sturdier than the above-discussed Rubbermaid Closet Systems.
Seville Classics Closet Systems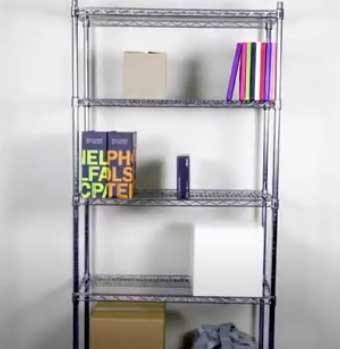 It doesn't matter whether you want to organize your shoes or clothes; get some supreme-designed closet systems from Seville Classics.
It will help you in considering a worthy alternative to Elfa.
These systems come in different sizes and for different places, including bedrooms, the entrance of your house, the kitchen, or wherever you want to keep them.
Their prices start from just $150, so you can have a handsome and well-made closet system for any specific space inside the home without spending much.
Just go with the exact capacity you need to keep things, and it will be a good purchase.
IKEA Elvarli Closet Systems
Elvarli Closet Systems are other options you can consider as an alternative to the Elfa. These products keep the classical vibes to create an open wardrobe system that becomes a perfect system for you.
These shelf systems are usually designed to keep and hang clothes, blankets, and other things inside.
However, one can also have a specific one to keep shoes or other household items. With excellent durability and a compelling outlook, these closet systems have become another great choice for your exceptional closet needs.
Ranging from 66 inches to 99 inches in width, Module closets come in a wide range of sizes meeting your specific needs to store all those necessary items you use daily.
Have closets with different and dedicated apartments to keep clothes, shoes, and other things you like. However, the price range is somewhat similar to what you pay for Elfa closet systems.
Otherwise, the solidness, durability, and value for money make these closets a perfect selection for something as a new addition to your home furniture.
EasyCloset Storage Systems
The last similar option you can try at Elfa for storage needs to keep your clothing, and daily wear-out items are these Easycloset Storage Systems.
You can ask them to build some custom closets for you to meet your specific needs and requirements.
The prices are meager, and according to many happy customers, they are superb.
With these closets, you get an easy-to-resemble utility, fantastic customer support, and high-demand quality. They cover space for everything, including the garage, laundry, and more.
Is Elfa Closet System Worth It?
Despite all these alternatives, Elfa is better at covering almost everything or every space in your house.
You can have their closet systems for shops, top hanging, accessible standing units, drawer systems, décor designs, and more in one place.
However, as stated earlier, you may not be happy with the price. But you would defiantly be happy with the quality they provide in these units.
Frequently Asked Questions (FAQ)
Does IKEA have anything like Elfa?
IKEA gives you many furniture products, including some incredible closet pieces at a very affordable price that Elfa may not do on the pricing side. However, IKEA and Elfa are good at keeping customers happy through the quality of whatever they provide. There is no compromise on quality on either side.
Is Elfa worth the money?
With durable designs, a classic look, various options, and much more to get, yes, Elfa is worth the money because it gives you more than what you pay for a specific furniture product.
Are Elfa and ClosetMaid interchangeable?
Both brands are interchangeable because both sell some highly admired and mostly purchased furniture items. On the Closetmaid side, you will get a very cheap installation service for only $5, which you may not get with the Elfa. But both are considered great brands.
Is Rubbermaid compatible with Elfa?
You cannot talk about compatibility, but Rubbermaid stands compared to Elfa. Their furniture products are also at the top of the list when making a decent choice.
Final Thoughts
All these alternatives to Elfa Closet System may help you decide what you can get best when you interchange the brands to get similar quality and durability. You may find a considerable fluctuation in the prices of these alternative brands' products.
However, all are worth considering. But if you still go with Elfa, that's also a good decision!