Evcon and Goodman are two of the most reliable brands in the air conditioner industry today. Though both brands offer top-notch performance, there are some differences in capacity, efficiency, and cost.
A good air conditioning unit is essential for any home, especially in a warm place. But choosing the right conditioner often gets stressful due to the complex specifications.
Below, I have compared the two air conditioners for you to show the differences and figure out the best choice for your home.
A Quick Comparison Table
Before we get to the detail, let's look at the table below and see the differences in various aspects.
| | | |
| --- | --- | --- |
| Specifications | Evcon | Goodman |
| Capacity | 1.5 to 5 ton | 1.58 to 4.42 ton |
| Efficiency | 13, 14 SEER, and 17 SEER efficiencies | 13 to 24.5 SEER |
| Noise level | Little noises | Quieter |
| Energy saving features | Fewer features | More features |
| Cost | $1900 to $2900 | $3200 to $4500 |
| Length of warranty | 10 years compressor and parts warranty | Lifetime compressor warranty, 10 years part warranty |
Key Differences Between Evcon And Goodman Air Conditioners
After the comparison table, let's discuss them in detail and see what these differences mean. These differences will ultimately decide which brand will be perfect for you.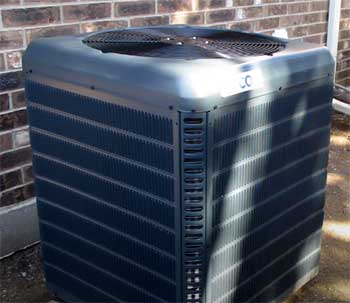 The capacity of your air conditioner is arguably the most crucial factor to consider when purchasing a new air conditioner.
You might have heard about the term ton, which doesn't represent the actual weight of the air conditioner.
So, what does the tonnage capacity mean? It shows how much heat your air conditioning unit can remove from the room.
Evcon offers air conditioner options ranging from 1.5 to 5 tons in this regard.
On the other hand, Goodman air conditioners' capacity ranges between 1.58 to 4.42 tons.
After the air conditioning capacity, let's compared Evcon and Goodman air conditioners in terms of energy efficiency. An energy-efficient air conditioner has a lot of benefits, including lower energy bills, environmental friendliness, and noise-free operation.
The efficiency of air conditioners is expressed as SEER (Seasonal Energy Efficiency Ratio).
In short, the higher the SEER rating, the more efficient the air conditioner is.
However, the higher SEER rating also comes with a hefty price bump. In terms of efficiency, Evcon has air conditioners ranging between 13 to 17 SEER. On the other hand, Goodman air conditioners have a SEER rating between 13 to 24.5.
So, if you got the money and want more energy-efficient options, Goodman is your ideal choice.
The amount of noise generated from the air conditioner is not directly related to the performance. However, if we talk about customer satisfaction and the overall experience, noise level significantly impacts that.
The noise level can vary depending on the outdoor temperature and fan speed. In terms of operational noise, Goodman performs better with lower noise under heavy loads than Evcon.
I have already talked about the efficiency of both Evcon and Goodman air conditioners. However, some secondary features can further help to reduce your energy bill. Evcon has a single-piece air handler and evaporator coil to provide more efficient cooling.
On the other hand, the Goodman air conditioner features a variable-speed swing and scroll compressor to control energy use.
The price will be the deciding factor since there is a huge discrepancy between these two brands. Evcon air conditioners are relatively cheap, from $1900 to $2900.
On the other hand, Goodman air conditioners have a higher price range between $3200 to $4500. However, given the higher SEER rating, it's somewhat expected for Goodman air conditioners to have a higher price tag.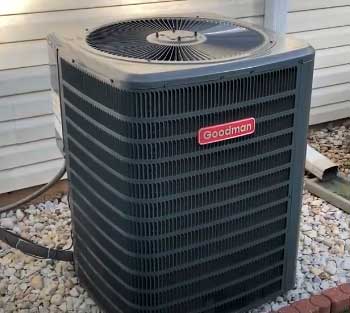 An air conditioner is not something we invest in every day. Once installed, everyone expects the service of a lifetime; the warranty is crucial to ensure you get that service.
Evcon offers a warranty of 10 years for all the parts and compressors of the air conditioners.
On the other hand, Goodman has a lifetime compressor warranty and 10 years parts warranty.
Since the compressor is an integral part of the AC that can cost you a lot of money later, its lifetime warranty puts Goodman ahead of Evcon in this particular segment.
Which One Will Be The Best Fit For Your House?
After the discussion above, Goodman air conditioners seem to have the upper hand over Evcon in every aspect except for the price. For mid-budget air conditioners, Evcon can be an excellent choice for medium capacity.
However, if you are looking for better efface, warranty, and noise-free operation, you should opt for Goodman air conditioners.
Frequently Asked Question (FAQ)
Who is Evcon made by?
Evcon air conditioners are now made under the banner of Coleman heating and air conditioning since Evcon industries acquired Coleman in 1990.
Are Goodman and Coleman the same?
No, Goodman and Coleman are two different brands under different groups. While Goodman is an independent subsidiary of famous Japanese conditioning manufacturing Daikin. On the other hand, Coleman is under the banner of the Johnson control group.
Where are Evcon air conditioners made?
Evcon manufactures its air conditioners in a high-tech factory it opened back in March 2002 in Wichita, Kansas. Just after one month, Evcon established a warehouse with the manufacturing plant. Since then, this plant along handles all the furnace air conditioner and heat pump manufacturing by Evcon.
Which brand of furnace is most reliable?
It's hard to mention just one brand since several key players in the furnace industry have excellent products. Regarding reliability, you can consider Lennox, Carrier, Payne, and BOSCH to buy your furnace. Their products offer inconsistent heating performance efficiently and have a reputation o last long.
Final Words
That's a wrap for today. I hope my comparison of Evcon vs. Goodman air conditioner helped you get a good look at both brands' products. As you have seen, there isn't much difference in raw performance.
However, the range of capacity and efficiency is why a customer might choose one brand over the other. So, first, you need to get your necessity and priorities straight, get your budget, and go for the one that suits your house the most.