ArcoAire and Goodman provide some of the best HVAC solutions in the market, but when it comes to price and performance, these brands are always compared.  
If you want to install a new air conditioner or furnace into your house, it's natural to be confused about which company can be trusted with your money.
Check out the differences between these brands to know more.
A Quick Comparison Table
| | | |
| --- | --- | --- |
| Specifications | Goodman AC | ArcoAire AC |
| Product Line | Six air conditioning units; SEER ratings: 24.5 to 17 | Split system air conditioner; SEER ratings: 13 to 19 |
| Price | Affordable | Affordable |
| Warranty | An extensive list of warranties. | Standard HVAC warranties |
Key Differences Between ArcoAire And Goodman AC
Goodman and ArcoAire are competing brands with a ton of similar products. However, their performance vastly varies. Learn more about their differences to understand which will be the best for you.
Goodman's product line might not be all bells and whistles like the rest of its competitors but users appreciate them for their reliable service. Plus, they are backed by a decent warranty, a good choice for budget-conscious buyers.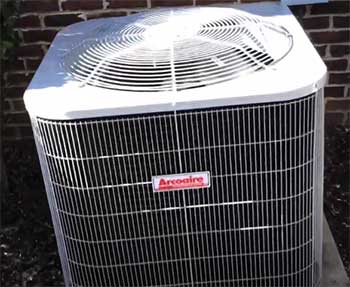 There are six different air conditioner units you can choose from at Goodman, including 3 that allow you to regulate the cooling power to decrease energy usage.
These units have earned fair SEER ratings, ranging from 24.5 to 17.
While the other three units are somewhat basic, they are durable and feature a 2-year unit replacement limited warranty.
In general, Goodman air conditioners offer single-, two-, and changing-speed Copeland compressors, 500-hour spray-salt tested cabinet finish, SEER ratings (24.5 maximum), and 10-year parts limited warranties as well as minimum 2-year unit replacement. 
On the other hand, ArcoAire has a wide variety of split system air conditioners spanning from 13 SEER efficiency ratings going up to 19 SEER. However, 19 SEER only applies to their best air conditioner models for a split system. 
The brand offers 3 different types of split system air conditioner units, including the DuraComfort Series, the DuraComfort Deluxe Series, and the Performance Series with the DuraComfort Deluxe Series. The list consists of top-of-the-line models.
HVAC systems from Goodman are considered to be some of the more affordable units in the market. You have to pay around $3,000 to $4,200 to have a Goodman heat pump air conditioner installed and $2,000 to $3,250 for a furnace.
Unfortunately, Goodman does not give direct pricing details to customers.
They will, however, refer you to a local Goodman dealer as the final price can differ based on dealer profit margins, installation fees, local taxes, and individual cooling and heating needs.
ArcoAire is also quite budget-friendly. Some of their best air conditioners are available at $2,000 without installation charges. However, expect to pay up to $3,500 for their products and services.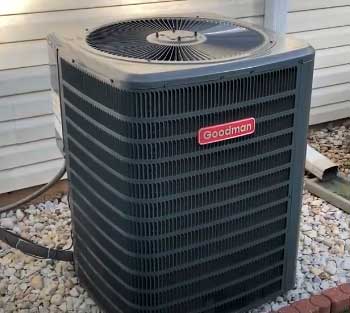 ArcoAire gives standard HVAC warranties on their units. Keep in mind that in this industry, when we talk about warranties, we mean warranties on parts.
To the user, this implies that you still have to pay for labor if the parts go bad.
Before purchasing a premium model, it is best to check in with your dealer about any available extended labor and parts warranty. 
Goodman offers convenient lifetime compressor and heat exchanger limited warranties, 2-year and 10-year unit replacement limited warranties, and 10-year parts limited warranty on specific products. The company says there is a reason behind such a strong warranty program.
They have faith in their units' performance as each product is tested thrice before it leaves the manufacturing line.
Which One Will Be The Best Fit For Your House?
One thing about the Goodman vs. ArcoAire discussion is that users rarely talk about the product collection. They are more focused on the performance and durability aspects of these brands, and it seems Goodman has a more stable reputation in the industry. 
That may be because they have been in the industry long but in general, both the brands are great choices for any of your HVAC requirements.
Frequently Asked Questions (FAQs)
Is ArcoAire the same as Carrier?
ArcoAire and Carrier come from the same parent company and share parts in production.
Where is ArcoAire manufactured?
ArcoAire is manufactured in the US and Mexico.
How long do ArcoAire furnaces last?
On average, around 25 years – given they have their warranty intact.
What brand is best for HVAC?
Carrier, Bryant, Goodman, and Lennox are some of the best for HVAC.
Final Words
In ArcoAire vs. Goodman, it is difficult to narrow down to a winner. For brands competing so closely with each other, often blurs the line of product differentiation.
Thus, you should select a brand you think can satisfy your personal needs better. But at the end of the day, both are fine choices.