Apart from flooring and carpet installation, Empire Today also specializes in window treatments. So, you can have both solutions from one company.
On the other hand, Luna Flooring offers the best price match guarantee. Besides, this company provides laser measurement estimation free of cost.
Installing floors and carpets is often too large a project to do yourself, and most homeowners trust a flooring company to do the job for them. In this write-up, I'll show the differences between the two companies and see who has more products, an experienced workforce, and a better reputation in this field.
A Quick Comparison Table
| | | |
| --- | --- | --- |
| Specifications | Empire Flooring |            Luna Flooring |
| Special Feature | Next-Day Floor Installation | Free Estimation Of Project |
| Available Flooring Products | 5 Different Flooring Options | 5 Different Flooring Options |
| Other Services | Windows Treatments | In-Home Consultation |
| Website Experience | Easier to Navigate | A Little Complex Interface |
| Financing | 2 Financing Options | 2 Financing Options |
| Installation Warranty | 1-Year Limited Workmanship Warranty | 2-Year Limited Installation Warranty |
| Costing | Costs Higher | Costs Lower |
Key Differences Between Empire Today Flooring And Luna Flooring
Empire Flooring offers a shop-at-home experience to its clients.
You can check out the products on their website, and they will bring your chosen ones to your home.
The ordering process is pretty simple; order from your home, and reps will bring them to you.
Then you can consult with the reps and finalize your order.
It offers handpicked materials and products that are durable and will last longer.
Empire flooring provides next-day floor installation, and their installers are experienced as well. Most importantly, it has no hidden costs, and you will get all-inclusive estimates up-front.
On the other hand, you can ask for a free estimation of your floor installation project from Luna flooring. They have SmartStrand carpet, which is thought to be the most durable and easy-to-clean carpet on the planet.
To place an order, you have to fill out a questionnaire with 6 straightforward questions.
Luna flooring uses the latest technologies to simplify the purchasing and installation process. You will get well-curated products and easy-to-understand price estimations from this company.
Available Flooring Products
Both companies have abundant products you can choose from. Among the 5 different flooring options, Empire has Berber, plush, Frieze, pattern, and other indoor & outdoor carpeting. You will get Oak, Red Oak, White Oak, etc., solid wood and Birch, Elm, etc. engineered hardwood from the hardwood section.
The vinyl section consists of vinyl plank, vinyl tile, and sheet. You will also get ceramic, porcelain tile, and wood laminated from Empire Today.
Similarly, Luna flooring has textured & plush, pattern, Frieze, etc., carpeting; laminated wood; ceramic and porcelain times; and various vinyl options. The hardwood section contains Acacia, Grigio, Cabernet, South American hardwood, solid wood, aged Bark, Brazilian Cherry, Oak-Brandy, etc., and engineered wood.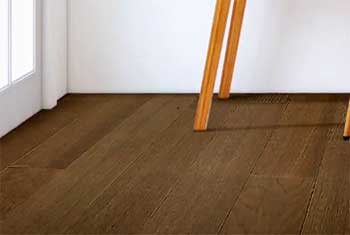 In addition to floor installation, Empire Today also provides window treatment services.
You will get custom blinds and shades from this company.
So, if you want to give your house a blended look, Empire Today can be an excellent place to get onboard with.
Luna does not have any window treatment services, but you will get free in-home consultations where flooring reps will bring chosen samples to your home, and you can make your final deal there.
Since Empire Today and Luna offer shop-at-home experiences through their websites, the website interface is crucial. Navigating through the Empire Today website is somewhat easier than Luna Flooring.
Although both of their websites look bulky, Empire's website has a clear product listing on the first page. You will also get much necessary information on the top.
In contrast, the Luna flooring website has a fixed menu on top that stays even if you scroll down. It kind of creates an interruption in the view.
As floor installation is an expensive project, you might not want to pay for all the costs upfront. A financing option can bring relief to the customers.
Empire Today and Luna Flooring offer 2 financing options for their clients. Both companies offer similar credit cards with two types of promotions.
The first one is interest-free balance payments in full within 12 months, and the second one is 48 monthly payment option with a 9.99% APR. You will have to make EMI on both promotions.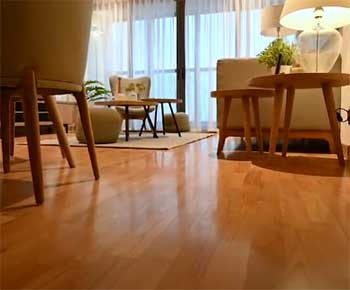 All Empire Today floorings are covered by 1 Year Limited workmanship and servicing warranty.
It's only applicable to the original purchaser and is available to inspect before the purchase order.
On the contrary, Luna flooring offers 2 years of installation warranty on all flooring products and installations to the original owners.
The warranty is available to inspect before the signage of the sales agreement.
Pricing can be important when installing floors and carpets in your house. Certainly, you would want a company that offers better results and costs less. In that case, Luna Flooring wins over Empire Today.
For example, according to a customer, Empire Today quoted them $5700 for LVP flooring. But Luna flooring quoted $4200 for similar flooring. And it's not an isolated incident; many other customers have stated the same. So, Empire floorings are costlier than Luna flooring.
Which Flooring Company Will Be Best For You?
Both of them are basically the same company, as they are owned by the same entity and provide the same solution. As you can see, a lot of similarities are there between them. But I would suggest you go with Luna Flooring.
The reason is that Luna flooring uses more technologically advanced processes for providing services. You can ask for a free estimation. Above all, this company offers the best price matching.
Frequently Asked Questions (FAQ)
Is Luna and Empire the same?
Luna and Empire today were once rival companies. But Empire Today LLC bought Luna flooring in 2012. Both of these flooring companies are now owned by H.I.G Capital, an investment firm. However, Luna and Empire flooring are still managed separately as two different entities.
Who makes Empire carpet?
Empire Today is an American flooring and home furnishing company based in Chicago, Illinois. It was founded in 1959. But in 2016, an investment firm, H.I.G Capital, purchased this company. In Empire carpets, you will get carpets from various brands, including Mohawk, Shaw, etc.
Is Empire today going out of business?
There were 70 Empire Today store locations in 30 states across the USA. But once a shop-at-home giant is now shutting down its physical store one by one. It has already closed stand-alone stores located in New York and Virginia. Besides its store-within-a-store in JCPenney located in Floria and Tempa are also closed.
Who owns Empire flooring?
H.I.G Capital owns Empire Today flooring. This is a Miami, Florida-based private equity and alternative assets investment firm with $50 billion worth of equity capital in its portfolio. It acquired Empire Today flooring in 2016 to diversify its portfolio.
Final Thoughts
I'm sure the differences between Empire and Luna are apparent to you now. So, which company attracted you the most?
Let me take a wild guess; it's Luna Flooring.
Why not? It certainly offers better service than Empire, comes with better warranty coverage, and you will get all that at a discounted price. Plus, nobody can beat their price quotation.