Eager to turn things up and switch to hassle-free cooking styles?
Whenever people think of a hands-free approach to cooking, they think about the finest automatic temperature controllers in the market, DigiQ and Egg Genius. Their vital difference is in their heating controls and performance.
However, there's more that we can dig into. So, if you're interested in knowing all about the hottest automatic temperature controllers and bagging them, keep reading!
A Quick Comparison Table
| | | |
| --- | --- | --- |
| Specifications | Egg Genius | DigiQ |
| Screens | Dot matrix 64-characters | 3-character |
| Internet Connection | Yes | Yes |
| Controls | Via the device's buttons, screens, modes, computers, smartphones & tablets | Via the grill buttons, digital thermometers, and multiple modes |
| Deals | Best | Good |
| Temperate | Consistent | moderate |
| Setup | Tricky | Easy |
| Screen Interface | Excellent | Good |
| Technology | Intuitive, Modern | Adequate |
| Ease of cleaning | High | Moderate |
| Cooking Results | Consistent | Oven-like |
Key Differences Between Egg Genius And DigiQ BBQ Guru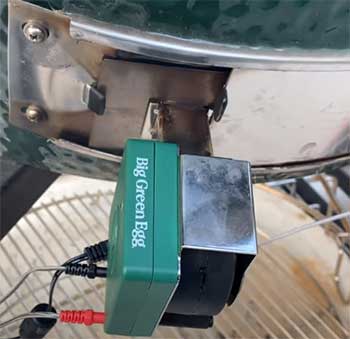 Egg Genius models such as the FlameBoss 400 or 500 have extra features, around three meat monitoring splitter cables, and a dot matrix screen worth 64-characters.
These settings seamlessly connect to the direct app and Wi-Fi and auto-update the firmware as needed.
This simple yet intuitive feature allows users to experience a tension-free cooking performance.
In retrospect, DigiQ is somewhat light years ahead in this game. Their newer versions have top-tier updates with around 10-plus controls to play with.
It has a 3-character screening calculator and a meat probe. Moreover, the device can connect to the internet, making every bbq and grilling venture worth it.
The DigiQ controllers have a heavy-duty build with grade-A materials. It has vivid red lettering on the digital screen with labels surrounding the bottom unit.
On the other hand, the Egg Genius has a green exterior with screens highlighting temperature, alerts, graphs, speed settings, and network information. The Egg Genius's entire interface is far more intuitively designed and optimized with modern technology.
Now the key difference between some of the DigiQ models and Egg Genius is that not all of their products come with related temperature management.
In reality, Egg Genius makes superior standard ATCs. Moreover, users claim that Egg Genius offers better deals for every need and exhibits adequate and consistent temperature controls.
On the other hand, when it comes to setting up the devices, most people feel that the DigiQ equipment is much quicker, easier, and more straightforward to set up and start grilling with than the Egg Genius.
Egg Genius's leads roll out easily, thus, minimizing potential risk and damage.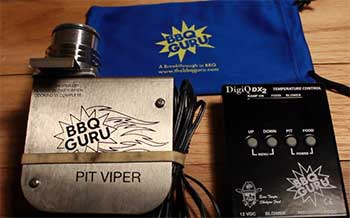 Unfortunately, the DigiQ models exhibit unpredictable temperature swings, which could overwhelm the entire bbq experience.
Next to this, Egg Genius is a far more reliable, user-friendly, and versatile brand that lets users understand what's happening to their meal even though it demands lower physical effort.
The DigiQ also features automatic internal temperature cookings with high precision in their sound alarms, promoting oven-like results. This also allows users to multitask while the meat gets cooked. But the Egg Genius isn't far behind, either.
It features designs that let the meat cook evenly while promoting high-quality and coherent cooking results every time. The Egg Genius also has better cleaning ease. Thus, users feel greater value for the price as they don't have to exert much effort during or after the meal prep.
Which Is Better For You?
So, what does it all mean? Well, to put it simply, other than weighing out the price points and your requirements, you need to understand how tech-savvy you need the automatic temperature controller to be.
In all honesty, if you love a completely hands-free approach with the best deals, go for the Egg Genius. However, if you want an easier setup and installation while not minding some labor, opt for the DigiQ models.
Here is how to set it up.
Frequently Asked Questions (FAQ)
What does the EGG Genius come with?
Egg Genius includes two thermometer probes for industrial duty, and one can utilize up to 3 probes at once. Additionally, separate Y-cables can be purchased too
Can you use the EGG Genius in the rain?
Even though the Egg genius has a solid and sturdy build, it's best not to get the equipment wet.
How does the Green EGG Genius work?
Egg genius controls the temperature of Eggs through computers, tablets, and smartphones. It allows users to scan and remotely handle cooking temperatures to experience hassle-free cooking and oversee past cooking graphs.
How do you connect EGG Genius to egg?
1. Choose the serial number and tap 'ok.'
2. Select the app model, i.e., app genius.
3. Ensure that the light is slowly blinking.
4. Go to the Wi-Fi options from your settings menu.
5. Choose the controller's ID number and join it. It should signal a blue mark once joined.
6. Select the Wi-Fi network that's associated with yours. Enter the password and wait till the LED light turns a solid color which means it's connected.
Conclusion
Let's boil down this Egg Genius vs. DigiQ comparison article by telling you who's the winner in our eyes. According to our observation, the Egg Genius controllers enable further consistent performance compared to DigiQ. Thus, it's our top choice.
However, DigiQ consists of different perks, like stylish outlooks, easier installation, and more control by the user. So, buyers must match their preference to either of these brands' features and price to make the final decision.
Good luck and happy cooking!