Have you ever wondered why induction cooking has got so much momentum?
Cause it is fast, efficient, and safe. It became a popular cooking method. Here comes the challenge, stores are filled with various range cookers.
So, choosing the best one seems a tiring job, checking out lots of options and ruling them out one by one. But to make it easy for you, I bring AGA range induction cookers featuring a state-of-the-art induction hob that offers optimal cooking flexibility.
Features of AGA Induction Range Cooker
An Advance Induction Technology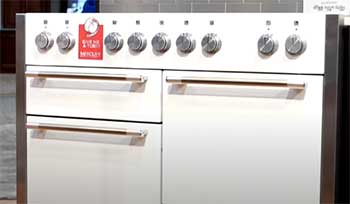 Conventional induction range cookers are made from cast iron, but AGA has brought an optional state-of-the-art induction hob with its range cookers, featuring outstanding cooking convenience.
They have technologically advanced and innovative features for a better cooking experience.
It gives me more control while cooking, making it fun and efficient at the same time.
Moreover, you can remove any spill because of the easy wipe surfaces. So, I found cleaning the AGA range induction cooker pretty easy and fast.
Innovative Pan Detection System
All advanced AGA induction hobs come with a pan detection feature where the range cooker can detect when a pan is placed in the cooking zone. More interestingly, it will switch off the cooker when you remove the pan.
Induction cookers use electric current guided by magnetic induction to heat the cooking zones. Only the cooking zone heats up, leaving the rest of it cool and safe to touch. You can use the child lock to make it even safer for your kids.
Two-Zone Induction Hub Features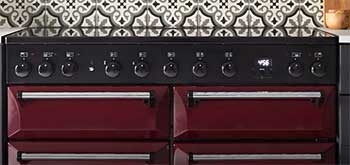 AGA two-zone range induction hob comes with a technologically advanced bridging system that allows you to bridge two or more cooking zones together, creating a large cooking surface for large pans and pots like griddles, fish kettles, etc.
You will also get a boil dry detection feature with AGA induction hobs.
It can detect when a pot is hotter than it is supposed to be and reduce the heat and power to keep it within the safe zone until you remove the pan.
Because of this feature, I never had any excessive heat incidents where food was ruined.
Contrary to the boil-dry detection system, AGA induction hobs also have a power boost function. So whenever I'm in a hurry but need to finish my cooking, I simply switch on the power boost feature to deliver maximum power to that cooking zone for up to 10 minutes.
So, it will come in handy when you are in a hurry, ensuring you are all set to go.
Excellent Low-Temperature & Slow Cooking
AGA induction range cookers have excellent low-temperature cooking and slow-cooking feature. They come with specialist temperature settings.
You will get three low-temperature settings which will maintain low-temperature cooking for two hours. I mostly use them for defrosting, warming, stewing, and simmering my foods.
The low temperatures are 44oC, ideal for melting butter and chocolate; 70oC, ideal for keeping cooked food at the right temperature; and 94oC, an optimal simmering temperature. This is an excellent feature that makes cooking very convenient.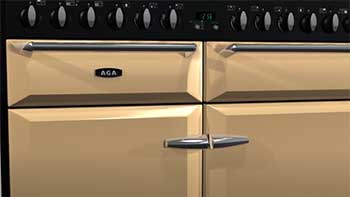 AGA induction range cookers are available in three series. Each of these series represents different styles and looks. AGA Classic series has a century-old heritage.
With cast iron bodies, these cookers use radiant heat to prepare food.
AGA Mercury series induction range cookers are sophisticated, sleek, and stylish.
They also come with many cutting-edge features and innovations with a stylish urban look. These induction cookers come with multi-oven designs.
AGA Elisa series induction cookers represent the farmhouse design, and they look rustic but redefined. The new Elisa has come a long way from the classic Elisa with a bold and timeless style. With an expanded palette design, these cookers come with various hardware options.
An interesting fact is that the AGA induction range comes with customized warranties. You will get a 1-year warranty for parts and labor with the AGA Classic Cast Iron Series, followed by a subsequent 4-years parts-only warranty.
The AGA Elisa series offers a 2-year warranty on parts and labor, except for cosmetic damage. The AGA Mercury Series has a 2-year warranty on parts and labor, except for cosmetic parts and lightbulb damages.
What Could Have Been Better With AGA Induction Range?
With all these good features, some things could still make the AGA induction range a better product. Let's see what they are missing.
Many people say that AGA induction range cookers are a bit pricey. Well, they are not wrong. I had to pay a premium to purchase my GA induction range. The Mercury series starts from $5,889.
The price of the AGA Elisa series starts from $6,669, and the AGA Classic series starts from $13,999. As you can see, this is a lot of money. So, it might not be suitable for many people.
Here is a demo of its favorite series for you.
Frequently Asked Questions (FAQ)
Is an AGA stove worth it?
AGA stoves are one of the best in the world. They come with many advanced features and technologies that make them a good product. You can cook slowly and evenly with these stoves.
Is an AGA induction heat?
Yes. AGA induction ranges feature three ovens and an induction cooktop. The cooktop uses electromagnetic heating to provide unprecedented cooking results by inducing the pan to heat.
Where are AGA Elise ranges made?
AGA Elisa ranges have an excellent farmhouse design and provide an outstanding cooking experience with a 7-mode multifunction oven and induction cooktop. They are manufactured in England.
How much is an AGA Elise?
It is a mid-priced AGA range. The Aga Elisa series induction range starts from $6,669, but the price can be as high as $10,259.
Final Thoughts
After reading the AGA induction range review, I'm sure I do not have to say it's a good brand. Instead, let me tell you, it's actually one of the best induction range brands in the world.
With great features and functionalities, no wonder it will make cooking convenient and fun for you. Most importantly, it cooks delicious food.