While finding a quality leaf blower, you will often come across this debate of Echo PB9019 vs. Stihl BR800. Both the leaf blowers are pretty popular in the veteran community.
So, when you try to get one of them, you will have difficulty.
Typically, the major difference between the two lies in power and effectiveness. The Echo PB9010 has a wider area of effectivity which makes it very powerful for working on larger areas.
Whereas the Stihl BR800 is powerful, it doesn't have that broad coverage. It may seem a bit difficult to process. Keep reading for differences between the two backpack blowers.
A Quick Comparisons Table
| | | |
| --- | --- | --- |
| Specifications | Echo PB9010 | Stihl BR800 |
| Engine size | 79.9cc | 79.9cc |
| Fuel capacity | 83.8oz | 67.6oz |
| Air Volume | 1110CFM | 912CFM |
| Velocity of air | 220mph | 239mph |
| Weight | 26.7lbs | 23lbs |
| Blowing force | 48N | 43N |
In-Depth Differences Between Echo PB 9010 And Stihl BR800 Backpack Blower
But you don't need to worry about that at all. Because I have got this comparison discussion all lined up for you. You can go through this article and determine which one of these blowers suits your needs.
Without wasting any time, let's hop right into it.
Starting with the fuel capacity for both blowers, you see a clear difference between them. Does it matter?
It does matter if you want to get the most out of your blower in a single usage.
The Echo PB9010 has an advantage in the fuel capacity factor over the Stihl BR800. In fact, Echo 9010 is a big improvement over Echo 8010 in this respect!
While the Echo features a capacity of 83.8oz, the Stihl falls a little behind with its 67.6oz capacity.
Even though the difference between the two is pretty low and almost negligible in some cases. There is still a difference to be considered.
So, hands down, when you want to get a little more juice out of your leaf blower, Echo should be your pick. However, don't hope for any significant difference because the Stihl fuel capacity isn't that far away either.
Pretty similar to the difference in fuel capacity, the air volume for both the blowers also sees a negligible difference. The Echo PB9010 takes the cake away here as well.
But once again, it's by a very slight margin, so you don't have to bother too much about it.
With the Echo leaf blower, you can expect to get 1110 CFM air volume, impressive. In contrast, the Stihl provides you with an air volume of around 912CFM.
I wouldn't say this is very big because the difference is meager to get past that without any trouble. It doesn't affect the performance of the leaf blower that much.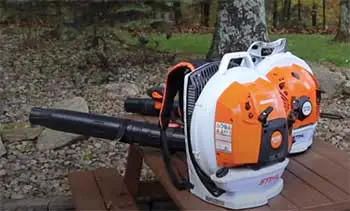 Well, both of these leaf blowers are backpack leaf blowers.
It means you will be carrying them on your back while blowing all the leaves in your backyard.
In short, the weight of the machine matters quite a lot. You surely don't want to carry a heavy blower on your back.
The difference in weight for both these blowers is also meager. The Echo PB9010 weighs 26.7lbs. On the other hand, the Stihl BR800 features a weight of 23lbs.
So, the Echo is a bit heavier than the Stihl in this case. But 3lbs is not that big of a difference either.
Still, if you want to get the slightest advantage, Stihl should be your pick in terms of the weight as it will give you a bit more relief than the Echo one.
The most crucial factor to consider for choosing one of these blowers has to be the performance factor. Fortunately, there is a difference between the performance of these two.
So, you can easily base your decision on this factor and choose the better one if you are seeking performance.
First of all, the Echo leaf blower tends to have more power or pressure in the air that it puts out. It also has a broader pattern of blowing the leaves that you will be working on.
With the 48N blowing force, you can quickly expect to get rid of most leaves lying on the ground of your backyard. It makes your cleaning job less troublesome and time-consuming.
On the other hand, the Stihl leaf blower doesn't have that wide range, but it is a great option to pick anyways. Even though you won't be able to clear out as many leaves as you would with the Echo one, it still does an excellent job.
The blowing force you get on this is 43N, so you can expect some good power coming from this as well.
I have to go with the Echo PB9010 because it provides better results in terms of efficiency and effectiveness.
Which Backpack Blower Is Suitable For Your Home?
Well, choosing one of these options is going to be quite difficult. Because both options are quite powerful and effective, if you are dealing with a larger work area, I think Echo PB9010 will suit your needs perfectly; in that case, the Stihl BR800 may fall a bit short.
However, Stihl BR800 can also shine through with its capabilities with limited spacing. Also, if you plan to save a little money, then Echo is a great way to go.
Frequently Asked Question (FAQ)
Is the STIHL blower better than ECHO?
You won't find a clear winner between the two for the most part. Both of them come up with excellent blowers. It will depend on the model you choose for both and the factors you are considering.
For example, STIHL blowers tend to be powerful, whereas ECHO focuses primarily on fuel capacity. However, that varies based on the models you are considering.
What is the most powerful backpack blower in the world?
While this will vary from time to time, the ECHO PB9010, at one point, seemed to be one of the most powerful backpack blowers you can find in the world.
What is Stihl's most powerful backpack blower?
The BR800 C-E Magnum is supposed to be the most powerful backpack leaf blower from Stihl.
Are STIHL br800 two strokes?
No, the STIHL BR800 is a 4-stroke engine. However, it does act like a 2-stroke engine. The manufacturers intended it to work like that.
Conclusion
To conclude this discussion about Echo PB9010 vs. Stihl BR800, I can say that neither of them will disappoint you. Stihl BR800 is still regarded as one of the best backpack leaf blowers you can find out there.
However, the Echo PB9010 excels in some of the factors and features of the blowers by a slight margin.
Choosing between them is very difficult. But if you want to save a little bit of money, you would go with the Echo PB9010 with a slightly better performance.